Rate Now
Share Your Experience
Have you seen Dr. Ruthann Rees?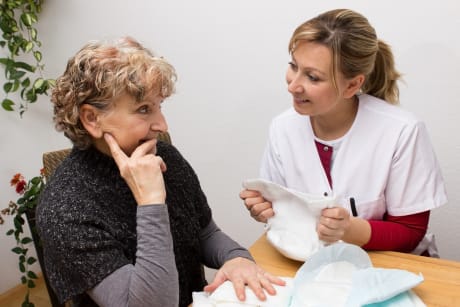 Urinary Incontinence
Learn about the symptoms and causes of urinary incontinence or urge incontinence.
51 Ratings with 25 Comments
5.0 Rating
January 12th, 2017
5.0 Rating
May 12th, 2016
Awesome Doctor
5.0 Rating
October 19th, 2015
Simply wonderful...
Dr.Rees is wonderful, simply delightful. I have recommended her to a large number of friends. Dr.Rees listens, cares and offers wonderful care and advice. She truly is amazing. She had delivered 3 of our 4 daughters and helped us through a miscarriage. She is highly professional and treats you with respect and her office staff is wonderful. I feel that Dr. Rees takes care of you the way she would want to be treated. It's disheartening to read the sleepy comments on such a talented Dr. as she is and completely bogus. I have been a patient of hers for over 15 years and have nothing but the upmost respect for Dr.Rees what a total blessing and incredible doctor she is. She is in total control whether it be in her office, labor and delivery or surgery room!! High recommend her without hesitation.
5.0 Rating
October 16th, 2015
Incredible
I have had the privilege to be under Dr. Rees' care for 3 years now. She is not only educated but she is wise as well. She is warm, welcoming, and honest regarding all aspects of your health. My experiences with her and her staff have been nothing short of wonderful. I work in healthcare as well and know quite well the physicians in her field and she is by far the biggest advocate for her patients. She is patient centered in her practice and patient focused in her decisions. She is great at addressing your concerns and questions regarding your health and will be 100% honest with you and also empowers you at the same time to advocate for yourself and your health. She and her staff were phenomenal through my first pregnancy in which i miscarried. And they were just as phenomenal through my 2nd pregnancy in which i carried full term. My birthing experience was great and she was so calm through it and so encouraging. I wouldnt want anyone else to deliver my children. And because of her diligence and care my husband and i have a beautiful healthy baby boy and i had a great recovery with zero complications. I'd recommend her to anyone!
5.0 Rating
September 4th, 2015
Mother of almost three
Dr. Rees has been my doctor for over five years. She has delivered two healthy babies! She has also been there to reassure me and support me medically and emotionally during a miscarriage. She even treated me long distance while I lived in North Carolina after my miscarriage. I found out I was pregnant with our second child while I was in town. She did tests and ultrasounds just to put us at ease. We moved back and she delivered my second child. Now I am pregnant with our third child. I needed to have knee surgery during my third pregnancy (it had to be done). Dr. Rees again advised me,reassured me and comforted me during a very scary time. She was there during my knee surgery just to make sure things went well and to be supportive! Dr. Rees is only a phone call away. Her staff has always remained prompt, organized, and attentive!! I could not ask for a better doctor!!! We consider her a friend and loyal doctor.
5.0 Rating
September 3rd, 2015
Best OB in Columbus, GA
Dr. Reed is an incredible physician and surgeon. She is very patient, always provides great treatment, and does not leave you out of the decision making process. Our son required an emergency C and was in distress. She kept us calm, and delivered our beautiful boy. We consider Dr. Rees as an extension to our family.
5.0 Rating
September 3rd, 2015
Dr. Rees is exceptional!
Dr. Rees came highly recommended by family, friends, and coworkers. And she didn't disappoint. She was very honest with me at all times and I trusted her completely; she's done this for many years so there was no reason not to. She was so friendly and comforting during every appt and exam. She even remembered my husband by name when he would come with me. She came to visit me in OB Triage when I thought I was going into early labor when it was a requirement for her to be there and was so sweet and comforting. I could always call her cell when I was having any questions to help ease my mind. My experience at the hospital when I was in labor was fantastic all thanks to Dr. Rees. She still keeps up with me and my baby girl today. We certainly love her and know we will be in great hands when it comes to baby #2!
5.0 Rating
September 3rd, 2015
1.0 Rating
August 7th, 2015
Worst doctor in the tri-city area
1.0 Rating
July 13th, 2015
RUN 4 UR LIFE
This doctors office is poorly managed. You call and ask for the office manager and the office staff says that is Dr. How can you focus 110% on patient care if youre also responsible for the customer service side of the practice.. I have never met kinder office staff. Her front office has always greeted me with a smile even though you can see the stress on their face. Her medical assistants are always nice and spend more time focused on my concerns than she ever has. I was in the office for an appointment and the nurse had to leave the door cracked for the monitor to be heard, I over hear the dr. Going off on a medical assistant becaus she didnt give eenough verbal information on the patient. ... HELLO go read it yourself.... all of my other doctors have a lap top they bring into the exam room... I could go on and on, but my point is run for the hills... she may have great staff, but they will move on once they get a grip. Rude rude rude