Rate Now
Share Your Experience
Have you seen Dr. Samantha Feder?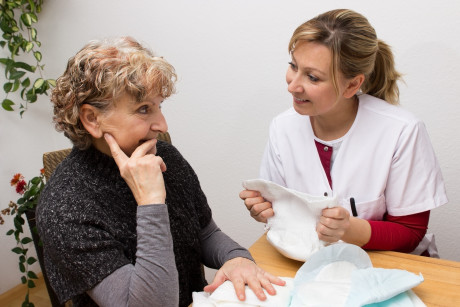 Urinary Incontinence
Learn about the symptoms and causes of urinary incontinence or urge incontinence.
34 Ratings with 23 Comments
4.0 Rating
January 14th, 2016
Medicare patients
She is a good doctor, this is a warning that she is not at the 60th street address anymore so if you are on medicare they will not pay your bill, since she has not updated her address with Social Security.
5.0 Rating
December 15th, 2015
Dr. Feder goes above and beyond !
Dr. Feder is the real deal !! She is humble, sensitive, classy and sympathetic.She informs you ( GOOD OR BAD) , but is optimistic while doing so and offers solutions , never leaving you feeling confused. She takes time to explain result , she triple checks all bloodwork, is very compassionate and educated on all levels. She follows up immediately, return calls promptly and is as accessible as any good doctor should be. I feel so comfortable in her care.I am having my first baby, and it is a wonderful experience because of her!! I am an actress who works in a very demanding career and I deal with many different characters in my industry on a daily basis.I know rude people! She is an angel. I read people well and only trust a few. She is definitely one of those "old souls " who "gets it". She is truly in love with her work , but her human touch is what separates her from the rest. Anyone who has NOT had a great experience with her is probably because they are difficult people themselves and are impossible patients overall. Dr.Feder is someone I recommend without a doubt and trust implicitly.
5.0 Rating
December 19th, 2013
Patient for over 10 years
Doctor Feder has delivered our two children and is preparing to deliver our third in January. She was tremendously supportive when it took a year and a half to conceive our first child. She very much made efforts to prevent a C section when labor would not progress, and allowed me as much time as was safe for my body to try to deliver the baby vaginally. When we went through a miscarriage, the level of care and support she provided was stellar. I am shocked by some of the experiences people report here. I appreciate her straightforwardness and have seen such a caring and nurturing side of her, when the time for it is needed. When I was not expecting and going to see her for an annual appointment, there was always a wait - and sometimes a long one. However, when expecting, the wait seems much less substantial and I think efforts are made to get future moms in and out quickly. The staff in her office are very sweet and friendly and have been helpful anytime I needed to call with questions or appointment needs. Dr. Feder is knowledgeable, practical, and thoughtful. We are so appreciative of being in her care through four pregnancies and soon to be three kids.
5.0 Rating
October 1st, 2013
Love Dr.Feder
Dr.Feder is the best OBGYN i could've had! Because of her knowledge and expertise she saved my son's life. I was in the hospital for 2 1/2 months, and during that time she stopped by on regular basis just to say hi. She even brought me a book she thought i would enjoy. After an amazing experience with her, she became my partner's OBGYN and that was a wonderful experience as well. As for wait time - it took awhile too. But perhaps i was used to NYC doctors. I was never seen by one on scheduled time. I am grateful to Dr.Feder every time i look at my beautiful boys!
5.0 Rating
November 8th, 2012
She is Awesome
I've been a patient of Dr. Feder's for 4 years now. She delivered my son. I have had nothing but great experiences whenever I visit her office. She is caring, thoughtful and considerate. She and her office staff keep pictures of my son (and the children of other patients) around the office and always remember to ask about him. Her staff is professional and thorough, and she is an awesome OB/GYN. The wait time could be improved upon, but I could be simply an impatient NYer.
5.0 Rating
September 26th, 2012
Thanks Dr. Feder
1.0 Rating
May 24th, 2012
Lacks empathy
1.0 Rating
September 27th, 2011
Very Bad, Don't Waste Your Time
5.0 Rating
August 1st, 2011
I have had nothing but positive experiences with Dr. Feder and her staff. In fact - she has been the most responsive and caring doctor I've had..maybe ever. She takes the time to talk through concerns and issues - is never judgemental - and her staff goes above and beyond to make you feel comfortable.
3.7 Rating
October 21st, 2010
3.7 Rating
September 27th, 2010
I love her!
1.0 Rating
September 3rd, 2010
Ladies - I couldn't agree with you more! Dr Feder is extremely "brisk" as mentioned below, and never on-time. I've been seeing her for 3 years... (using the word 'seeing' lightly, as I haven't spent more than 15 cumulative minutes talking to her). While the waiting (an hour each visit) was certainly annoying, I accepted it for what it was. What I can't accept, however, is at my last appointment in August, she found a lump in my breast. I immediately made an appointment for an ultrasound and mammography, and Dr Feder also suggested I schedule an appointment with a breast surgeon. I had the test over two weeks ago, and have yet to hear back from Dr Feder to discuss the results. I've called her office multiple times over the last week, and still have not received a response. Dr Feder, if you're reading this, it's urgent that you return my call and discuss with me the results of my test. In the meantime, if anyone has a recommendation for another OBGYN, I'm looking.