Rate Now
Share Your Experience
Have you seen Dr. Samantha Pfeifer?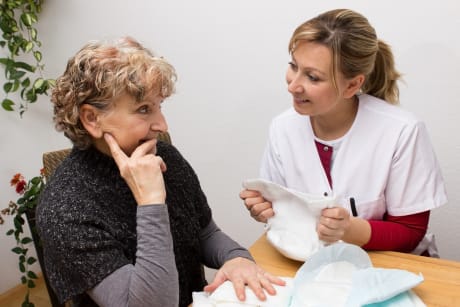 Urinary Incontinence
Learn about the symptoms and causes of urinary incontinence or urge incontinence.
65 Ratings with 23 Comments
1.0 Rating
May 5th, 2017
Spoke to me only once during IVF process
Pfeifer was great during IVF consultation. HOWEVER, during IBF she never called with any sort of results or follow up except for the morning of the transfer. That's it. After a positive pregnancy test, she didn't call. Her nurse did. After a lutheal test my HSG levels are low and might not be a viable pregnancy, still no call. When I asked her secretary for an appointment, receptionist said she will "pencil me in" for 2 weeks from today. I am SO disappointed. And sad really. Such a stressful time and then your doctor doesn't make an effort to speak with you - not a great feeling. I emailed the nurse with one more question after asking many questions on the phone, and she asked me to call Pfeifer. Yea... Good luck with that. GO WOTH someone else.
1.0 Rating
July 29th, 2016
5.0 Rating
May 12th, 2016
Two-horned uterus
Our daughter went a year suffering 10 out 10 pain every menstral cycle due to undiagnosed double uterus. Dr Pfeiffer was referred to us through our pediatric ObGyn. Surgery was needed to removed the rt uterus and remove her monthly pain. Dr Pfeiffer diagnosis and treatment was the best music to our eyes and the surgery went as described. Her consultation and bedside manner was encouraging and soothing. We're so happy to have met her and hope anyone with this problem gets a Dr who can help you like dr Pfeiffer helped us.
5.0 Rating
February 11th, 2016
1.0 Rating
November 17th, 2015
Please save yourself time and effort
The IVF process is a lonely and confusing time. I did not feel supported at all by this doctor; the follow up was completely lacking, there was zero proactive check in on how things were going and I felt that I literally had to fend for myself and be the only advocate of myself during the process. She was also very dismissive of my questions and input. Her nurse was kind and responsive, but I recommend that you try other doctors, please save yourself the energy, you need it much more for the process itself and not dealing with the lack of care.
1.0 Rating
November 6th, 2015
A good learning experience - try a different dr.
Ladies please be aware of this physician. I did my homework on the entire practice however, after all said and done was extremely disappointed with her and her staff. She sees you once during the entire process and that's it. She will run tests on you - everything under the sun and even if your FSH and AMH levels are horrible will never suggest other options on ways to become a mother. In fact, she NEVER discusses any of the test results with you. I found it to be my responsibility to call her. Any questions you have good luck on trying to reach her Nurses - they never return calls. There is supposed to be a physician on call during the injection process if you have a brief question - no dr. is on call either. This is very serious if you need to be doing an injection at a specific time. You are responsible for everything. Dr. P's nurse is supposed to run your insurance and see what is covered and what will be out of pocket. Her nurse never made any calls to help me. In fact, I had to call my ins. carrier to find out. If you have billing questions and need to contact the hospital - all the #'s they provide you are outdated. The departments in the hospital absolutely do not communicate with one another. The process is supposed to be stress free - lol Dr. Pfeifer's staff makes this process overwhelming and you have to obtain information YOURSELF. It really is a do it your self process because Dr. P and her staff are MIA. I would not suggest going to see her unless you enjoy headaches.
1.0 Rating
August 20th, 2015
thinking twice ! before you see Samantha M Pfeifer, Md
Hello, I wrote you my experience I had with the docotor Pfeifer, I meet the doctor once with my partner in his office that day she was accompanied by the apprentices, I board explained to the doctor that I was not able to be pregnant. She begin to explain all the steps to follow and in particular the price ! We did everything she told us the first day ! The doctor I saw once then never after that not even on the phone! I never had the same nurse throughout my procedure ! when I had questions and I did not feel well during the entire procedure I call , I came across different person each time. I felt sad I had an impression that nobody pay attention to me ! and when in the end it did not work out. I never got a call phone from nurse or doctor Pferffer I became depressed as a result I cried every day for several months. I did not know why it did not work I ask myself questions is what this is all my fault I did something I should not do ! Today I start again with a new doctor for early and I'm very glad she call me regularly and are well taken time to explain the entire procedure and show me pictures, and it will happen differently in my first experience . Dr. Pfeifer for me does not care about his patients she wants is our money then it just lets others take care of you! Then a tip if you want to experience with Dr. Pfeifer thinking twice! and I hope that she will read my letter
1.0 Rating
June 16th, 2015
Completely Ignored
5.0 Rating
June 10th, 2015
Excellent
1.0 Rating
January 7th, 2015
If you want to pay alot of money you dont need to, go here!
If you want someone who will test and charge you for everything under the sun even when you have had some of these test and when she tells you they would be covered under insurance, she is your women. Just be prepared to pay for it when insurance wont even cover a basic blood test just because she is a fertility doctor. Have all your base work done somewhere else and then go to another fertility doctor for the test only these doctors can run. I knew the process would cost money, thats not the issue. The issue was being lied to and conned into things that were not needed.
Nearby Doctors

Dr. Samantha Pfeifer is similar to the following 3 Doctors near New York, NY.

Dr. Katherine Dragisic

Reproductive Endocrinology and Infertility, Obstetrics and Gynecology

New York, NY 0 mi

Dr. Jack Yu Jen Huang

Reproductive Endocrinology and Infertility, Obstetrics and Gynecology

New York, NY 0.01 mi