Rate Now
Share Your Experience
Have you seen Dr. Samuel Epstein?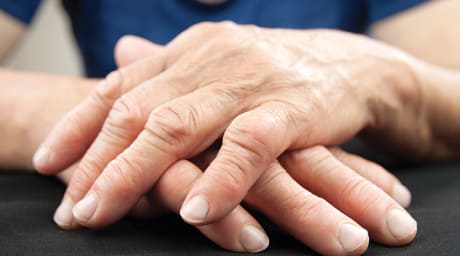 Osteoarthritis
Get the facts about osteoarthritis, including the symptoms and doctors who treat it.
38 Ratings with 16 Comments
5.0 Rating
December 10th, 2016
5.0 Rating
November 17th, 2016
5.0 Rating
March 29th, 2016
excellent
2.3 Rating
January 29th, 2015
5.0 Rating
August 11th, 2013
For me, Dr. Epstein is TOP DRAWER
About 5 years ago a friend who knew I had trouble in both knees and recommended the Doctor----some 20 miles away. I made an appoint-- ment and had a session with the Doctor who took X-rays and examined each knee and advised that we should try some prescriptions . He cautiously decided that surgery would be best for a patient of my age and size. The surgeries were done 4 months apart in S.O.C.H. hospital with no further problems. The Doctor, his staff and the staff at S.O.C.H. were excellent and attentive and friendly.
5.0 Rating
July 11th, 2013
Doctor Epstein and his staff are both accommodating and exceptional. Being extremely nervous about double surgery (partial lateral tear and carpal tunnel oh and bone spurs "surprise "), doc along with the staff made me feel confidant that I would be okay. Follow up visits were also as pleasant as could be. Six moths later, I feel great. If ever needed, I would absolutely and recommend the services of Dr. Samuel Epstein.
5.0 Rating
June 19th, 2013
Total Knee Replacement
This is to inform prospective total knee replacement patients of my personal experience with it and with Dr. Samuel Epstein, of Stafford Orthopedic Group, Manahawkin, NJ. I suffered arthritis knee pain for about three years. I had the injections which helped for a while but finally I wound up walking with a cane and in very severe pain. I have arthritis in both knees but the culprit was the left knee. I, like a lot of people, heard the horror stories of how painful the surgery was and the physical therapy. Also, about where I would go for the surgery. Some people said New York, Hospital for Special Surgery, others some local area hospitals. I wanted to be close to my family so that they could be there with me. I live in Toms River, NJ. I have past history with Dr. Epstein. He did a right rotator cuff surgery about three years agol. A total success and believe it or not minimal pain. He has done other work for my husband and grandson. The pain was so bad and at this point I could hardly walk. So we decided on Dr. Epstein and Southern Ocean County Hospital in Manahawkin, NJ. By-the-way the hospital is one of the cleaner and most well run hospitals I have ever been in. Well, day of surgery I received a nerve block and was given a morphine pump for pain. The first three days, granted, when I woke up it was painful, but it passed. The third day I was brought to physical therapy which is in the same hospital and stayed there until my release nine days later. Physical therapy also was a little difficult but nothing that was unmanageable. In the hospital anyone I talked to raved about Dr. Epstein. I also heard from another source that his success rate is 100%, because I did check it out with such a big surgery. A few years ago I met a woman who had knee replacement gone bad. She told me she then went to Dr. Epstein and he corrected the problem. My husband and I were to dinner one night and he said to me, "Look at that woman's knees." She had replacement on both knees. Her scars were very large and noticeable. My happens to be very thin and hardly noticeable. Not that it matters as long as I'm OK. Also I was off my walker in about three weeks and on a cane and off of that in one month with physical therapy. I want to another doctor of mine for my appointment and he could not believe that I was without cane or walker so soon. He told me some people come to his office after two months and are still on their walkers. So I did exceptionally well with my knee replacement. Minimal pain and very good results. I owe it all to Dr. Epstein. I was basically crippled and he has me walking and enjoying life again. If anyone out there is thinking about knee replacement and wondering who and where to go my recommendation is to give Dr. Epstein a call and see what he has to say. As far as I'm concened Dr. Epstein is thorough, compassionate and has a great track record. He is my hero! So I am a very satisfied, grateful and appreciative patient. PS: My right knee needs surgery also and you know it will by done by no one else but Dr. Epstein.
5.0 Rating
October 5th, 2012
1.0 Rating
March 26th, 2012
WORSE PLACE I HAVE EVER GONE TOO
HAD TWO DIFFERENT APPOINTMENTS, NEITHER TIME DID DR. EPSTEIN COME IN TYO LOOK OVER X-RAYS OR MRI A APN CAME IN BOTH TIMES AND THE FIRST THING SHE SAID WAS, ARE YOU OPEN TO HIP REPLACEMENT. NEVER SAW DR. EPSTEIN. BEFORE BOTH APPOINTMENTS I SPOKE WITH THE OFFICE STAFF ON THE PHONE AND ASKED WHO I WAS GOING TO SEE, THEY SAID BOTH TIMES DR. EPSTEIN. OBVIOUSLY THEY WERE FULL OF B.S WOULD NOT SEND MY WORSE ENEMY TO DR. EPSTEIN. ONLY INTERESTED IN THE MONEY.
Doctor's Response
Stafford Orthopedics has been serving Manahawkin and the surrounding communities for over 40 years. Dr. Epstein has been a part of Stafford Orthopedics for over 25 years. We strive to provide the best care possible treating the whole patient in the context of his or her life and circumstances. We value the doctor-patient relationship, high quality patient service, and accountability of physicians and staff to meet the needs of our patients. When we learn of a complaint we review our procedures to see where we might have fallen short in the eyes of the patient. In this case, while we were conscientious of the wait time to see Dr. Epstein we neglected to ask the patient if instead of waiting, they would prefer being seen by another practitioner. We always want to hear where we perform well and where we do not. That is the only way we can ensure we meet our needs as well as those of the patient. Sometimes things cannot be resolved; however, it is important that the patient feel they can contact us directly and be heard.
SHOW
5.0 Rating
February 23rd, 2012
Sincere Doctor
I have been using Dr. Epstein since I broke my toe as teenager at the jersey shore. Now, I live right outside of Philadelphia but have always made the ...
5.0 Rating
February 23rd, 2012
5.0 Rating
February 1st, 2012
Shoulder pain
Nearby Doctors

Dr. Samuel Epstein is similar to the following 3 Doctors near Manahawkin, NJ.