Rate Now
Share Your Experience
Have you seen Dr. Sandy Bidner?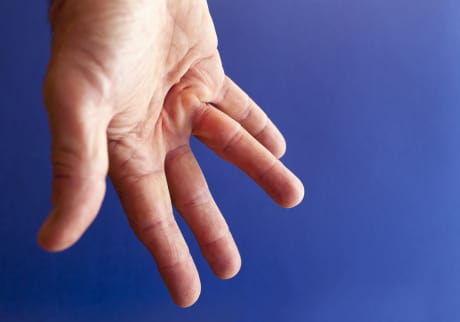 Dupuytren's Contracture
Dupuytren's contracture is a thickening of the tissue beneath the skin of the palm of your hand
19 Ratings with 5 Comments
5.0 Rating
September 11th, 2016
Surgery results
5.0 Rating
August 15th, 2016
A once of prevention is a pound of cure
This is a awesome Doctor, he and his staff are friendly, loyal, compassionate and concerned about the community. I visit this Doctor, while in Killeen. I am a resident from Georgia, and I did not have insurance while I was there helping my daughter, who was stationed in Fort Hood. I got on Indigent, and when I say Texas has it going on. I had the best of care and coverage. Doctor Bidner, understands his patients and he let you know several things you can try, to get better and if you need therapy, he give you your order to get it done immediately. P.S. I think the world of all of my Doctors I had while in Texas. Georgia has some good Doctors, but Texas has 100's of them
1.0 Rating
May 27th, 2014
patient
I was diagnosed with a rotator cuff tear. Dr. Bidner suggested surgery telling me it could never heal on it's own. He then told me of another patient he had preformed the same surgery on and that the guy felt so good at work the very next day that he tore his other cuff while building furniture!!! After my surgery I awoke in the recovery room with a tingling in BOTH of my hands and for the next 6 months watched as some of the muscles deteriorated away. I made several trips to cat scans and MRIs until I was told there was nothing that could be done for my situation. Bidner later told me the tear was only 3 mm long. when I told my primary what he'd done he couldn't believe Bidner had even preformed the surgery on such a minor injury. Bidner was only there to take my insurance money and showed no feelings for the permanent damage he inflicted on my hands and tricepts. FIND another Dr. or just skip surgery altogether.
1.0 Rating
September 21st, 2012
The doctor does not really seem interested. It is an assembly line type operation. Get patient in and out as fast as possible. Dr. Binder then set me up for conflicting procedures making me go to Temple for a waste of gas and time. Trying to get in touch with the office to cancel or change of appointment is VERY LENGTHY wait.Find someone else.
3.7 Rating
October 19th, 2009
my pleasure
i have not seen Dr. Bidner this will be my first visit, but the professionalism of her staff speak highly of her, the lady i spoke to when making my appointment was courtesy professionally friendly and very business getting the information she needed to get me in as soon as she could, i respect the good vibes....
4.0 Rating
September 19th, 2017
5.0 Rating
September 19th, 2017
5.0 Rating
February 15th, 2017
5.0 Rating
December 21st, 2016
4.0 Rating
January 21st, 2016
5.0 Rating
October 8th, 2015