Rate Now
Share Your Experience
Have you seen Dr. Sanjay Misra?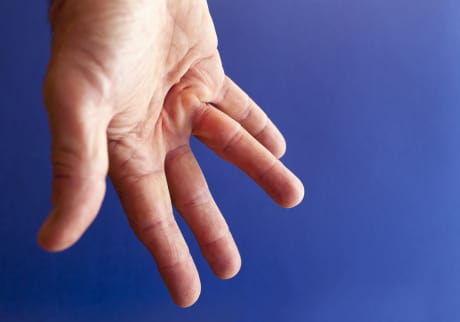 Dupuytren's Contracture
Dupuytren's contracture is a thickening of the tissue beneath the skin of the palm of your hand
65 Ratings with 23 Comments
2.0 Rating
August 30th, 2016
Orthopedic Doctor of Last Resort
Dr. is board certified and intelligent, but he has a bit of a rough manner. I'm sure some would appreciate his bluntness. I don't mind it, but he has a tendency to cuss a bit too much. He let's his politics show. The front end staff has no sense of urgency. They are courteous when addressed, but they have that "rather be fishing" attitude. They don't arrive early to let patients in and the doctor gets in late; so if you're scheduled at 9:00 am; your really going to see him at 10:45 am. They cram the waiting area with Medicaid/Medicare patients and when dr arrives, it's a cattle call. Waiting area needs a remodel and addition; way too small for number of patients seen daily. No frills.
1.0 Rating
April 7th, 2016
Poor poor
1.0 Rating
March 14th, 2016
Horrible
1.0 Rating
November 4th, 2015
Dr. Misra is not a people friendly doctor. He is abrupt to the point of rudeness. His office scheduled multiple patients for the same time slot and the wait time in his cramped waiting room is more than one hour. Good luck if you are in a wheelchair as you have to move out of the way multiple times to make room for others. Dr. Misra treated me for a hand injury and I would rather suffer with pain than see him again.
1.0 Rating
August 13th, 2015
The most horrible office staff ever!!!
Dr. Misra's expertise is not the problem, his office staff are the most disorganized, rude, unprofessional and sarcastic group of people I have ever encountered. I am seeing Dr. Misra for a knee issue and I have been out of work because of it, pending surgery, one of his "office personnel" told me that I could go back to work, she has seen people with broken arms and legs go back to work. They have no consideration for the patients time. They lie and say they have faxed over paperwork to my employer and my insurance company and they leave you on hold for 10 minutes in hoping you will get tired of waiting and just hang up. The most horrible customer service I have ever experienced. I will never recommend this Dr. because of his office staff.
1.0 Rating
August 4th, 2015
Misra did not give much instructions for after surgery. Also his staff/ office is completely Unprofessional. I have sent over urgent paperwork that was needed for work 3 times and they keep loosing everything! It is very inconvenient and unprofessional. the Office personnel are just very incompetent and not helpful at all. I just had surgery, but have to drive down to the office in person to try and get these people to complete my paperwork. They do not take their job serious. Good luck getting anything done with these people
1.0 Rating
August 4th, 2015
worst experience
This is the worst office I've been too. This doctors office never calls to follow up or returns my calls. The doctor said I needed surgery and now says to wait I don't need it now without giving an explanation. I told the office I'm in pain but they have no empathy towards their patients.
1.0 Rating
May 7th, 2015
Why is he still in business?!!!
This office is ridiculous I've called 4 times trying to make an appointment! They answer and leave you on hold for a long time, last time 30mins! I eventually hung up! I get in to the office, place is overcrowded not enough seats, it's muggy and gross I'm there! The staff doesn't care and then you finally see the doc and he's in and out saying I'm the reason I'm in pain. Ahh no you gave me an injection that messed me up even more! I absolutely hate this place >>>RUN<<<
2.0 Rating
April 18th, 2015
elbow replacment
Dr. Sanjay did my surgery about 3 years ago. have always had problems. when I would go go to see him with my problem, an x ray quite talk about 5 min. no answers. all he would say dam good. now my elbow so deform. and he allways look so tired, Now I have medicare and my elbow getting worse. His first excuse was never had done this kind of surgery wish I understand but my visit with him horrable.
3.7 Rating
February 7th, 2015
Nearby Doctors

Dr. Sanjay Misra is similar to the following 3 Doctors near San Antonio, TX.