Rate Now
Share Your Experience
Have you seen Dr. Scott Haufe?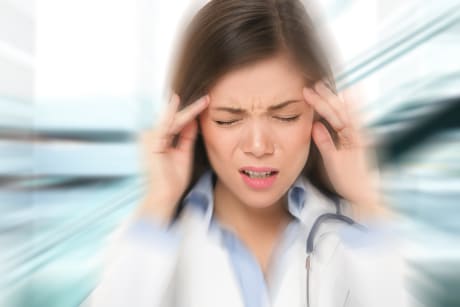 Migraine
Get the facts about migraine headaches, including the different types of migraine and migraine triggers.
Quality Rating
Highly Satisfied
74 Ratings with 43 Comments
5.0 Rating
June 16th, 2017
Excellent
5.0 Rating
April 21st, 2017
Upbeat
5.0 Rating
December 26th, 2016
Great Physician
My experience with Dr. Haufe and his staff from day one has been nothing but refreshing and professional! Dr. Haufe is a great listener and his experience in his field is vast, often times thinking outside of the box with medication suggestions and procedures to ensure his patients have the best quality of life possible. Thank you everyone!
5.0 Rating
October 21st, 2016
Great
1.0 Rating
June 17th, 2016
Injured Me
This office and "Doctor" are completely lacking. First, they called my husband and home number to verify some information rather than calling me. My number was right in front of them. My first AND ONLY VISIT wnet like this....put in a room. Doctor walks in not introducing himself. First thing out of his mouth is that I do not have the issue I was diagnosed with. WHAT? He said too many people do not know how to diagnose. I attempted to explain that i had a TEAM of 5 Doctors at UCLA diagnose me. He poo pooed them. I had a knee replacement 2 weeks prior to my appointment and he then told me I should be healed by now. Truly he has no concept of time. He than wanted to check my reflexes AND HIT THE KNEE I HAD JUST HAD SURGERY ON! Tears running down my face were met with a "I forgot, sorry". He actually broke open my newly healing scar and put back my progress over 2 weeks. I had horrible, painful scar tissue from his stupidity. What ever happened to "do no harm" STAY AWAY.
5.0 Rating
May 19th, 2016
Best in Northwest Florida
5.0 Rating
April 7th, 2016
happy
5.0 Rating
February 10th, 2016
impressed
5.0 Rating
January 26th, 2016
Ray
1.0 Rating
January 15th, 2016
DO NOT...
People, understand firstly, I don't have time to waste writing reviews. Probably, like most of you. However, for less than every 10 patients 1 is a possible "drug seeker." God forbid. Quickly, I take narcotics every day of my life. Have for 15 years. I take a lower dose now than 10 years ago, but a higher dose now than last month. That's the way pain works. I also swim for away therapy, run/walk, have sex w my wife, and play with my child and his friends. To get to the point, and as much as it tickles me, it angers me. This fellow is about as compassionate as rock. He's indifferent, and he has nothing against prescribing narcotics...as any reasonable dr. knows they are a godsend to patients. They allow for humans to live easier lives. By easier, you should see, if you aren't familiar with what I mean. Easier, hah, is still hades for many of us. I'm going to finish here by saying it all, go here if you don't mind being told this or that. Count yourself out of the "plan for your future." Don't expect any pain controll medications, even if you're battling any type of severe chronic pain... This dr. as he will brag, or let slip, enjoys the money. He enjoys the power, and he waves it. I don't know. Florida is trying to re-write some if it's horrible laws that only hurt pain patients in so many ways, not just in the non-prescribing of badly needed narcotics, but notice how scared drs are to even take on new patients. There is much wrong w the way pain patients are treated. Hopefully, at some point, the madness will stop, and patients won't have to see drs such as this man. And laughingly, there are 3 comments posted on her by staff making h out to be a caring dr. Money. Desperate patients. Sad combo. In truth, he seems as if he despises all of his patients. But he'll cash in on ya. Sorry, but I'm done! Good luck w each patient and his our her therapies, whatever they may be.
5.0 Rating
December 22nd, 2015
Knee pain
5.0 Rating
November 10th, 2015
The best in town
Those who live here know there aren't a lot of choices in the area. I have been to Chipman, stein and zonlo and I have to say dr. Haufe is the best of the group. What I liked is that he came up with a plan. Not just an epidural and pills but a plan. I only hope that his plan works but it is more than what I got in the past.