Rate Now
Share Your Experience
Have you seen Dr. Scott Spann?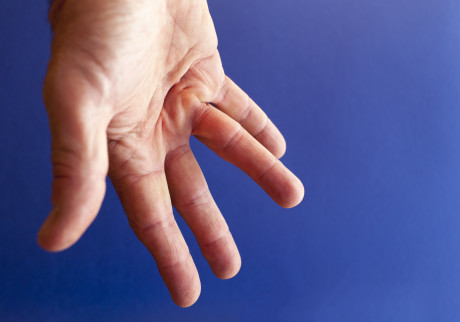 Dupuytren's Contracture
Dupuytren's contracture is a thickening of the tissue beneath the skin of the palm of your hand
21 Ratings with 10 Comments
1.0 Rating
June 18th, 2016
Its about all the Trust people have bestowed on their Doctors
Dr Spann operated on me twice. In retrospect of surgeons reviewing my case, I was told several times that the first surgery did not need to be as complex and invasive as it was performed. It changed my life for ever. I also got staph infection, and he had to operate on me again weeks after the first surgery. I remember vividly the conversation I had with Dr. Spann. I asked him, if he must operate again to clean the infected area, I pleaded for him to make sure to go as deep as needed to make sure the infected area was cleaned as much as possible. 9 months later, after bi-weekly or monthly follow up visits, never looking into why the surgical incision was not healing and oozing, I was in ER on Christmas Eve. I was told I was in imminent danger of septic shock due to an untreated staph infection, and subsequently death. I laid in ER thinking that I will not last long enough to see my son open his Christmas presents. It was difficult to find a surgeon to operate on me and literally save my life, but I got lucky and a orthopedic surgeon agreed to do an emergency surgery on me. I'm not being vindictive or looking for restitution of any sort. Just passing perhaps relevant information to someone out there. In fact, I read something that Dr. Spann wrote or was quoted himself, and I couldn't agree with him on that more, and I quote: "I believe divine intervention played a role in what happened next." To understand and empathized with people with pain and life changing problems, one is better equipped if they have been through similar experience.
5.0 Rating
June 17th, 2016
Dr. Scott Spann changed my life for the BETTER!!!!!!
5.0 Rating
May 13th, 2014
Dr. Spann - Anterior Cervical Fusion
I came to Dr. Spann on the referral from a friend whom he performed a cervical fusion on. I suffered neck pain for almost 10 years, seen by three different doctors and not one willing to perform surgery on me. Dr. Spann said he could help my problem with surgery. My insurance company originally disallowed some of the procedures Dr. Spann was going to do. He fought for me and had a peer to peer talk with a doctor at my insurance company and they agreed to cover all the procedures. It is now one year later and I have no pain at all in my neck and wonderful range of motion. I will say that it was a tough year because the pain was not relieved right away but Dr. Spann insisted on patience and sure enough I am great today!! I highly recommend Westlake Orthopedics for anyone suffering from neck or back problems!!
5.0 Rating
August 1st, 2013
great!
2.3 Rating
June 25th, 2011
3.7 Rating
April 6th, 2011
Dr. Spann performed my lower lumbar fusion and did an excellent job. I couldn't be more pleased with the surgery itself. I used Dr. Spann as a 2nd opinion and felt comfortable knowing he over came tremendous back issues and would know what my concerns were. I saw him 1 time as a 2nd opinion, the next at surgery. I spent 3 days in the hospital, had 3 follow-up visits and never got to visit with him for any of them, only his PA. I was paying for his expertise and care-giving, and was never informed prior to the surgery that he even had a PA and that she would be the one I dealt with. As most patients would like to speak to their doctor, I feel it should be mandatory that a patient is informed of a PA and their role in your care giving so that can be factored into the decision. Very dissappointed and would think twice about using him again or recommending him.
5.0 Rating
January 28th, 2011
Cyprus...
5.0 Rating
August 6th, 2010
Excellent surgeon
I saw Dr. Spann for a shoulder tear, ended up having surgery and it could not have gone better! My shoulder is better than I can remember it ever being. No issues at all. Dr. Spann was so nice and informative. Others who have had the same surgery have not recovered nearly as fast or as fully as I have. Love Dr. Spann for getting me back to my old self and athletically active again!
1.0 Rating
December 19th, 2009
I asked too many questions
1.0 Rating
December 6th, 2009
Knowledgeable, experienced and caring
1.0 Rating
June 18th, 2016