Rate Now
Share Your Experience
Have you seen Dr. Scott Stanislaw?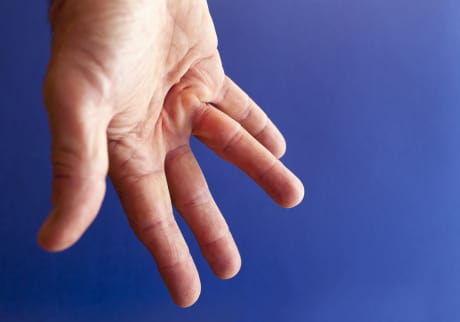 Dupuytren's Contracture
Dupuytren's contracture is a thickening of the tissue beneath the skin of the palm of your hand
22 Ratings with 8 Comments
1.0 Rating
May 8th, 2017
Poor doctor, poor communication, didn't want to spend the time to make or discuss a diagnosis
1.0 Rating
March 2nd, 2016
Dr. Stanislaw = Horrible
I've had two children with broken bones and have used Fondren with great results. However, this time we get Dr. Stanislaw and it was the worst experience. We actually had to cancel a scheduled surgery and get reimbursement the day before and was referred to a completely different hand surgeon to fix a jammed finger without any explanation. And to refer us to a Dr. outside of Fondren to start the whole process over???? What?
1.0 Rating
May 29th, 2013
I found this doctor to be very cold, arrogant and lacking in the most basic doctor/patient communication skills. He made an initial diagnosis which was incorrect, and after subsequent visits was not able to discover the problem. I will not go back and I would not recommend this doctor. I gave him a single star rating only because you can't rate any less than that.
1.0 Rating
May 21st, 2013
Dr. Stanislaw prescribed a compound ointment for my big toe.It was from Pyramid Pharmacy. It was delivered the next day. He did not tell me what the cost would be. Nor did the phamacy tell me the cost. When I went to my phamacy for regular pres. I had to pay full cost. I am on Medicare so I assumed I still had quite a bit of $ to be used. My prescription rang up at full cost. When I called Blue Cross to check prescription cost It cost $2,000.00 ! Dr. Stanislaw should have told me the cost - I never would have wanted anything this expensive. This was to treat my big toe!
5.0 Rating
April 1st, 2013
Excellent Physician
1.0 Rating
January 28th, 2013
TERRIBLE DOCTOR
Dr. Stanislaw "examined" my husband for back pain he's been experiencing the last 3 months. After spending about 5 minutes with my husband and not communicating any diagnosis to him, the doctor left the room with no intention of returning. When the nurse came to check my husband out, she was the one that told my husband his "diagnosis" so my husband asked to speak to the doctor again since he had no discussion with him on the topic. Dr. Stanislaw returned to the doorway, told my husband he's already put him behind, and that he could get an MRI to ease his mind. Dr. Stanislaw then proceeded to remind my husband AGAIN that he had put him behind. The whole 7 minutes he had spent with my husband was apparently more than they schedule which is I'm sure why he had to wait 30 minutes to see him in the first place. You can guarantee that we will never return to this office again.
5.0 Rating
November 3rd, 2012
Outstanding Orthopedic Surgeon!
Dr Stanislaw is an outstanding diagnostician. My husband had severe pain in his knee and sought treatment from 2 other doctors. Both doctors agreed that my husband had arthritis in his knee. We treated it us such for 2 years before seeing Dr Stanislaw for a 3rd opinion. Dr Stanislaw looked at the previous MRI that had been done and immediately diagnosed my husband with a torn meniscus which required surgery. We are incredible Greatful for his expertise and compassion!
5.0 Rating
October 10th, 2012
Great Doctor.
4.0 Rating
May 15th, 2017
4.0 Rating
May 15th, 2017
4.0 Rating
May 15th, 2017
4.0 Rating
May 14th, 2017