Rate Now
Share Your Experience
Have you seen Dr. Sean Frost?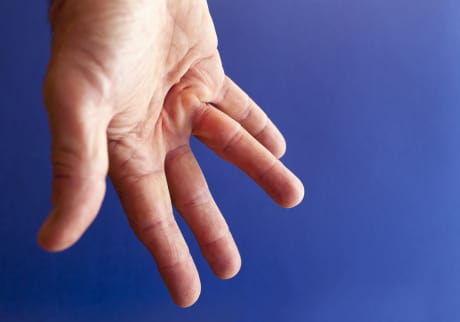 Dupuytren's Contracture
Dupuytren's contracture is a thickening of the tissue beneath the skin of the palm of your hand
Quality Rating
Highly Satisfied
33 Ratings with 13 Comments
5.0 Rating
August 1st, 2016
Superb Doctor
I had two surgeries with Dr. Frost and I can't say enough good and/or kind things about him. He was always patient and caring in his office visits and in the hospital setting you got to see his wonderful sense of humor as well as experience his vast skills as a surgeon. I have recommended him many times over and everyone has always been grateful to me and thankful for him. I highly recommend this amazing man! He changed my world! The entire staff is just amazing! So glad I found them all!! :-)
5.0 Rating
October 20th, 2015
1.0 Rating
August 29th, 2015
Dr. Frost
I saw this so called Dr. Today and I wish I never did! My appointment was for 11:30 and I was called in at 12:40. I should have known this was a sign. I finally get to see him, and not only is he conceited, he is rude, awful bedside manners, no compassion and as I've read previously, he points fingers to others. I felt as though he thought he was above me and more intelligent. I had to remind him several times, that I felt very uncomfortable and not to think I was below him....I too have a College degree. I left in tears. I left with no answers or plan or anything. He kept telling me to go see my previous Dr. I am so sorry I went to him! I would NOT recommend him to my worse enemy. Awful experience.
5.0 Rating
February 12th, 2014
Don't trust what some people say about this Dr.
Dr Frost did two surgeries on my knee. I was reading the reviews and came across a woman who was very angry at this Dr., but this Dr is not what she discussed. When he knows something is absolutely wrong with a patient he spends that time needed for the patient to understand what they are dealing with. It is only when he examines a patient and finds no problems that he can help them with, and he knows through his experiences when someone is doing all they can just to get pain medication, he doesn't have the time to discuss that issue, so the visit will be short. I highly recommend this Dr. as I found the reviews to read after I told a friend of mine to call him and he will do it right. I am so grateful for all his help and understanding when he fixed my problem. When I need something done by a specialist, I don't want him to just be friendly, or talkative (bedside manners) he says it like it is, and if you confront him he will and has apologized. What I wanted most from him was to find the problem, and help me to have a better life with less pain. I suggest that woman see a counselor, a behavior counselor. But I suggest when choosing a specialist to choose from their skills, not how friendly they will be.
5.0 Rating
May 26th, 2012
Top Notch, Caring, Good Natured, Excellent Surgeon
After having visited another Nashua surgeon who called me a wimp for being nervous about a shot, and told a friend who was a first-time visitor at that location near the NHS - North (you know who I mean) that it didn't matter what he suggested she do - she'd ignore it anyway, my GP suggested this practice. I couldn't be happier. He did an excellent job replacing my hip - 12 months later no limp, no pain, and both legs are perfectly even.He listened (imaging - a doctor who actually LISTENS) to my complaints about my shoulder and has done significant work to correct that painful problem.Super nice guy. I highly recommend!
2.3 Rating
April 1st, 2012
5.0 Rating
January 25th, 2012
Excellent Doctor
My entire experience with Dr Frost was excellent.Diagnosis was thorough, and explained completely to me. I had a total right knee replacement,and again, everything was explained, he answered my questions and life has never been better. His bedside manner was excellent, as well as all my care throughout the experience. My sister was so pleased with my experience that she saw him, and had her knee replaced when she needed to. The quality of care was excellent for her as well. I would recommend Dr Frost to anyone. The entire office staff was pleasant and professional as well. I am gearing up for my 1 year exam, and I couldn't be happier with the results. I will be hiking again this year thanks to his excellent care. Total thumbs up! Thanks to the entire office and Dr Frost!
5.0 Rating
January 14th, 2011
To the point...
After a couple of surgeries from two different Dr.s with no end in sight, I came across Dr. Frost. My wife and I met with him to get a third opinion. I explained what wad going on with my situation. When finished he asked a couple of questions, did a couple of test and used a lot of terminology I did not understand. He explained what he thought it might be and told me my options. My wife and I made a decision and had him do yet another surgery. Well it has been eight months pain free. Thanks again Dr.Frost. I read other peoples reviews and had to write one myself. People sometimes let emotions get in the way of facts. Meaning patients don't always hear what they want to hear, for what ever reason.
5.0 Rating
April 12th, 2010
Accurate and Professional
5.0 Rating
December 12th, 2009
5.0 Rating
December 11th, 2008
Dr. Frost is a terrific doctor
I've had shoulder surgery done by Dr. Frost, and have seen him several times for cortisone shots in my shoulder and my wrist. My husband also had shoulder surgery with him, and has seen him for knee injections as well. He's a terrific doctor, friendly, takes his time, accurate diagnoses. He seems almost shy but when you get to know him, he's friendly and a pleasure to work with. I highly recommend him.