Rate Now
Share Your Experience
Have you seen Dr. Shailesh Patel?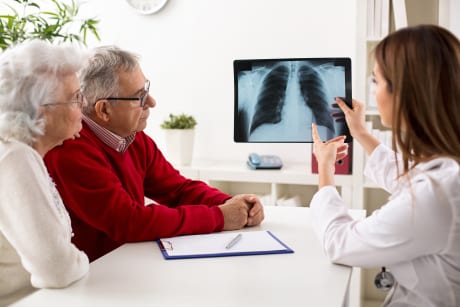 Lung Cancer
Get the facts about lung cancer, including how many people get it and what increases your risk for developing it.
30 Ratings with 15 Comments
3.0 Rating
April 22nd, 2015
5.0 Rating
March 19th, 2015
3.7 Rating
December 9th, 2014
See Dr. Patel in spite of his front desk staff
Dr. Patel is my doctor and my friend. He quite literally saved my life. But he has the most rude and condescending front staff I have ever encountered. I see other such reviews of his staff on this site. If you intend to see Dr. Patel and are having second-thoughts because of the low marks of his staff, do yourself a favor and get in to see him, despite the sour experience at the front desk.
5.0 Rating
June 15th, 2013
Excellent Doctor!
So relieved to find Dr. Patel! He truly cares and he has a wonderful affect as well as a holistic approach. I've been trying for 3 years to figure out what's wrong with me - I had been incorrectly diagnosed with asthma. He listened to me and made an accurate diagnosis of reactive airway in just a few minutes!
5.0 Rating
May 12th, 2013
I can't believe the negative comments about Dr. Shailesh's personality and about his only being interested in money! I've been his patient for four years and he has always been unfailingly polite, concerned and thorough. He has never failed to return a call, either. I find him very mindful of the cost involved in health care and he's always worked with on this. I would recommend Dr. Shailesh very highly
2.3 Rating
May 9th, 2013
The doctor is wonderful but his staff needs to get it together.
My husband and I have been seeing Dr. S. Patel for about 10 years now. It appears that each year his staff gets worse at what they do. I called in to make an appointment for a particular issue; I was told I had not had a physical in 2 years and that I had to come in for a full physical in order to see him. She called me back to schedule the appointment and it was to be on that Friday, if not the dr could not see for another 3 weeks. I went ahead and took the day off, but when I got there they did not have me on the schedule. After some time they fit me in, but was all extremely unorganized. A nurse that works for another doctor in the office evaluated me, drew my blood and did my EKG, she was great. Dr. Patel was wonderful as always, thorough and answered all my questions. But once out at the check out desk area everyone seemed disorganized and stressed. I gave one of them my urine sample and she put it in the basket I told it was not labeled. She said she would take care of it "later", mine was not the only cup in the basket! They always make sure though that you have an appointment before you leave. Well it has been 13 days since my appointment and I have yet to get my lab results. I received a call from the labs to tell me the insurance info the drs office gave them was incorrect. When I told her they seem unorganized she chuckled. I have called them twice held for more than 9 minutes each time and the person answering the phone is not helpful she just takes my number and says they will call me back. This is just one instance of the office staff's incompetence. I also seem to always have a problem with prescriptions getting refilled, it takes 3 to 5 days to get them to get it right with my pharmacy.
5.0 Rating
March 23rd, 2012
2.3 Rating
June 3rd, 2011
Dr. Patel is a wonderful Dr, however it is the office staff you need to beware of. Dr Patel is aware that one of his staff members has gone into "mens" personal history for her own benefit, She does not care if the man is married or single and calls him for a date. She has been caught doing this with more than 3 men. She has even offered one man to meet him at his own home, 25 miles away, to deliver medicine, or meet him at a restraurant to deliver the meds. Very unprofessional for a 5 star Dr's office. Dr Patel is aware of her antics. Sadly he has not terminated her for her dishonest and disruptive behavior.
1.0 Rating
June 3rd, 2011
Beware
Dr. Patel is a wonderful Dr, however it is the office staff you need to beware of. Dr Patel is aware that one of his staff members has gone into &quot ...
1.0 Rating
November 16th, 2010
david
3.7 Rating
October 19th, 2010
the doctor is great but the staff is horrible
dr. patel,i think that you are a fantastic doctor but you surround yourself with an incompetent staff. specifically, two of my last five visits were logged incorrectly and my appointment was cancelled without prior notification. furthermore, your staff never responds to my pharmacy's (maxons in sherman oaks) request for medication. they say that your office never responds to their faxes.
5.0 Rating
October 13th, 2010
Excellent, caring doctor
Dr Patel is a fantastic doctor. I am old enough to have experienced quite a few of them. In his quiet manner,which can be strict, he imparts information that is vital to you often saying that "I do that/or take that myself" so you feel comfortable with his suggestions. My experience over the last 7 years with Dr Patel and his office staff has been a very comfortable one. I highly recommed him.