Rate Now
Share Your Experience
Have you seen Dr. Sharon Mccloskey?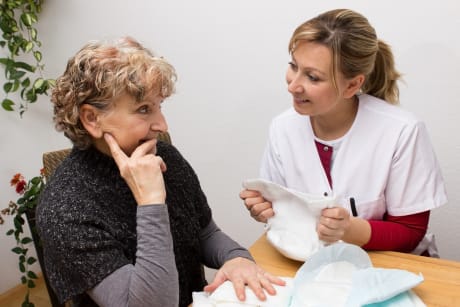 Urinary Incontinence
Learn about the symptoms and causes of urinary incontinence or urge incontinence.
Quality Rating
Highly Satisfied
29 Ratings with 13 Comments
2.0 Rating
September 13th, 2015
"Good luck trying to find ANY doctor who will take you!"
It's been a long time since I saw Dr. McClosky, but I'll never forget her. In 2009 I moved from Pennsylvania to Texas going into my seventh month of pregnancy with my daughter. I was 41 at the time and obese, but the pregnancy was going great. My OB in Pennsylvania was awesome. I'd already done most every test needed by that state to determine risk to me and the baby. All good. I had researched Dr. McCloskey when I had gotten pregnant in 2004. I thought she was a high risk pregnancy doctor. Anyway, she is a nice woman. Unfortunately she wasn't my doctor for long. Immediately things were rough. Even after getting all my medical files from PA, they were convinced I had diabetes, high blood pressure and more. So I was made to do a barrage of tests. All of which I passed with flying colors. And paid for out of pocket. But there was a catch. Since the baby was due after the first of the year, they required I pay $1500.00 upfront; half of my insurance deductible. I wanted to pay it, but was unable to. Moving state to state is hugely expensive. As it was we were playing catch up to the point I had to borrow money from my mom just to pay rent. But we were on a good path to make decent money in the new year. Hence the move in the first place. I told them my circumstances, and Dr. McClosky seemed grudgingly ok with it. But then, only a month after becoming her patient, and after going through a bunch of unnecessary tests, I went in for a routine appointment to get some results. When I was called back, it was not the Dr. who greeted me, but an older woman who I believe was her accountant. She immediately tore into me about how they were a for profit business and I was a lazy mooch trying to get something for nothing. I'm standing there flummoxed, with my two year old son standing with me. This woman was yelling at me. Calling me names. In front of my son. We were just inside that first door from the waiting room. Everyone could hear her. She ended her tirade with, "Good luck finding ANY doctor to take you! Perhaps you should try a clinic for the poor!" I thought she was going to spit at my feet at that point. Instead I was ushered brusquely out the exit. I was stunned and confused. I was into my eighth month of pregnancy and had no doctor. Terror set in right after. I started to get symptoms of postpartum depression. I dreamed of cutting my own baby out of my belly. After a month of standing in lines for 6 to 8 hours to fill out paperwork and see a doctor at other places, a doctor did finally agree to see me. I told him my story and he seemed sympathetic. But then he got a letter from Dr. McClosky's office saying they had to terminate me as a patient because of my super high risk pregnancy. So he dropped me, too. But at least he referred me to someone else. That someone else being the medical teaching college next door. So my daughter was born under the not so steady hands of students. And I am eternally grateful!
5.0 Rating
October 16th, 2014
Great Doc
2.3 Rating
October 10th, 2014
Great.. Until you're pregnant
I have been doing to Dr. McCloskey for years as my regular Gyno. I always felt she was great. Although, unless you had questions she was very in and out during your appointment. The moment I became pregnant ( first pregnancy ) things seemed to change. She seemed ready and willing to answer any question but her visits seemed sorter. She insisted on multiple ultrasounds during my first trimaster that wouldn't be covered by my insurance so I would have to pay out of pocket. There were a few other red flags that came up. I ultimately decided to transfer care and I was very glad I did.
5.0 Rating
August 23rd, 2014
Awesome Dr.
5.0 Rating
January 14th, 2014
professional Dr.
Dr. Mccloskey delivered my baby because my actual dr. wasnt available. She was really nice and sweet, kept cheching on me very often. Very professional and knows what she is doing.
5.0 Rating
March 4th, 2012
Good doctor
Dr McCloskey is a very good doctor. Very nice. Helped me through 2 miscarriages. Her assistant is also nice. Her nurse Beverly is excellent. Only down side is the wait time. Our first visit there we were there for 3 hours total, including wait time and exam. The next two appointments the wait time was less but it's still a long time.
5.0 Rating
January 19th, 2012
My favorite Ob-Gyn Doc!
5.0 Rating
January 10th, 2012
LOVE Dr. McCloskey!
She's amazing! She delivered my first child, and I was a nervous wreck the whole time, but she always explained everything before she did it. She walked me through every single detail! She makes you feel so comfortable, and relaxed and doesn't make you feel stupid like most doctors do! I am pregnant again, and went right back to her! You will not be disappointed with her services!
5.0 Rating
March 23rd, 2011
1.0 Rating
January 12th, 2011
Incompetent
5.0 Rating
April 15th, 2010
excellent doctor
1.0 Rating
March 4th, 2010
Beware of this practice if you're pregnant!
Beware of this doctor's practice if you're pregnant. After they collect your percentage of the global maternity costs, they still try to get money out of you and your insurance company by billing each visit. They are not supposed to bill visits if you pay the global maternity costs. The nursing staff isn't willing to work with you and your insurance company to minimize your out of pocket costs. This practice is only in the business of getting your money. Beware!
Nearby Doctors

Dr. Sharon Mccloskey is similar to the following 3 Doctors near Houston, TX.