Rate Now
Share Your Experience
Have you seen Dr. Sharon Zavala?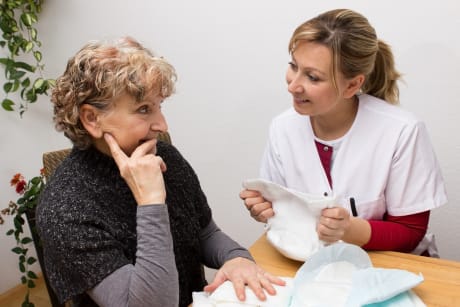 Urinary Incontinence
Learn about the symptoms and causes of urinary incontinence or urge incontinence.
32 Ratings with 11 Comments
5.0 Rating
May 24th, 2017
excellent!
4.0 Rating
March 2nd, 2017
Zavala is great her office staff is lacking
I love Dr. Zavala! She's always super sweet and chatty and never makes any of the visits awkward. She does seem to be in a hurry sometimes, but I don't think she's trying to be rude but more that's just her personality. Her nurse is incredible and always super helpful. I sincerely dislike the office staff at the Atascosita location. They are always rude and unkind. The staff at the Kingwood location is better. Both offices are clean and serene and I've never waited long.
5.0 Rating
February 4th, 2016
Fantastic experience
I went in as a young pregnant women with no husband and no family support. Dr. Zavala assured me that it was going to be okay and that she would be there throughout my pregnancy for support. I always remember her words...you can do this! I thank her almost a year later and yes I can do this. I now have a happy, healthy baby and yes at times it can be difficult but I always remember her words....
1.0 Rating
January 29th, 2016
1.0 Rating
September 10th, 2013
Worst experience ever
I saw her for years, I was satisfied with her so I dealt with her horrible staff and very inconvenient scheduling and wait to get an appointment but a few months ago she abruptly told me I had herpes after spending 10 seconds doing an exam she briefly patted my knee and walked out not caring to discuss or explain anything not even answer questions, she ordered a culture prescribed valtrex and walked out her nurse was nice enough to explain the meds and said they would call with my results I spent 6 days in pure he*l with anxiety attacks only to have to contact them for my results where they proceeded to tell me I was negative but positive for another infection. Needless to say I went to two new doctors both ran test both came back negative and to this day Dr Zavala's office still has failed to send over their test results to both of my new doctors. I highly recommend staying away from the entire care for women offices and doctors since my ordeal I've heard all kinds of horror stories. I highly recommend Dr. Heinrich Schettler he is absolutely amazing!!!!!
3.7 Rating
January 29th, 2013
constantly rescheduling
I have been going here for nearly 3 years. This past year I was pregnant and more than half of my appointments have had to be rescheduled, Many at the last min. This is a major inconvience, especially if you have a job and other children to schedule your appointments around. The doctors are nice, but their office staff are clueless. I once waited for about an hour, and then they tried to say I was late, when really they just overlooked me. Unfortunately the doctors are always overbooked, and this is really a pain. Also I too have noticed the doctors making your visit brief and then standing around chatting as you walk out. The doctors nurses do give a speedy response when you call/leave a message on the nurse line.
2.3 Rating
November 3rd, 2011
Dr.Zavala
I've been seeing Dr.Zavala for 10 years. I first saw her when I was pregnant withmy daughter. Loved Dr.Zavala so much the firstnine years but after my last visit I will never return.Her office staff is always rude. For some reasonDr.Zavala has changed. Was not sincere and didnot take the time to address my concerns. Her newMA is horrible. The office was not busy the morning I went.So why was she in such a hurry? Yet after she saw me, she found time to stand around and chat with her staffabout what was going on in her personal life. All it tookwas one bad visit. PS... Her bew location at Kingwood Hospitalis dirty and unorganized. Nothing like the " spa-like"atmosphere of the old office.
2.3 Rating
June 24th, 2010
High-Risk Patients, Go Elsewhere!
If you have a high-risk pregnancy, steer clear of this doctor and practice!I was referred to specialists whenever I had a difficult question for her or my concerns about my complications were minimized! I only saw the doctor for <3 min @ each visit and felt as if only my ins. benefits were valued -- not me and my baby! It was a waste of time going to each apppt. I got better prenatal care advice on Google than I received here!My amnio results were lost and they didn't even try to obtain them from the specialist! I had to wait 2 months for them!The medical asst. made errors in my paperwork, which caused problems with my ins. coverage and did NOT return my calls in a timely manner at all (3 days later)!Overall, unless you have a care-free, problem-free pregnancy, steer clear!
5.0 Rating
May 26th, 2010
Great Doctor
I think that Dr. Zavala is a great doctor, we were having some issues with my pregnancy so she sent me to a specialist which I think is great there were no questions asked when I wanted to go to a doctor that worked with Texas Childrens Hospital. We want the best for our baby girl. Dr. Zavala has amazing staff!! Shaneva is her mediacal phone asst and she is AMAZING! Always calls me back when I have a question! Wonderful office all around.
5.0 Rating
March 11th, 2010
1.0 Rating
March 24th, 2017
Nearby Doctors

Dr. Sharon Zavala is similar to the following 3 Doctors near Kingwood, TX.