Rate Now
Share Your Experience
Have you seen Dr. Shelley Shoun?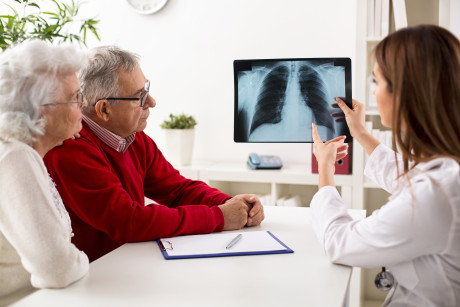 Lung Cancer
Get the facts about lung cancer, including how many people get it and what increases your risk for developing it.
Quality Rating
Highly Satisfied
63 Ratings with 14 Comments
1.0 Rating
March 2nd, 2015
My wife and I had a bad experience with Dr. Shoun. So much so that we changed doctors mid-pregnancy. The difference between Dr. Shoun and our new doctor is night and day. Here are the difficulties we had with Dr. Shoun: -We got blindsided with a $1400 bill for a genetic test that we did not request or need. (Neither of us have a family history of cystic fibrosis, thank you.) -The nurse did NOT run tests on my wife that we requested. -The only form my wife signed agree to be charged (at most) $400. After receiving no help from Dr. Shoun's office, we worked with an administrator, Samantha, and she reduced the bill. (Thank you Samantha!) -Dr. Shoun's availability is limited. (Other doctors have much more availability) -Some of the office staff was very difficult to work with even before we were hit with the $1400 bill. We are fairly certain that one assistant and one nurse were dishonest with us. To be fair these are the good things about Dr. Shoun: -One of the office staff (Natalie?) was very sympathetic. She really was. -All the quotes about prayer and the crosses on her office walls were very inspirational.
5.0 Rating
February 16th, 2015
Great OB/GYN
Great bedside manner! Dr. Shoun answered all my questions at each visit. Her staff was awesome at returning my calls by the end of every day. Anytime I needed to rearrange my appointment there was always availability. Love that I get in and out of my appointments with ease. Overall, great place to go for my prenatal care. Definitely recommend her for all my friends having babies.
5.0 Rating
December 22nd, 2014
Dr. shoun
I loved her she was great awesome I would send anyone to her she helped listened an if I was to have another I would prefer her the nurses was freaking out because my daughter cord was around her neck m in Dr. Shoun came in there like.move it move it move it she's awesome
1.0 Rating
September 22nd, 2014
Possible Insurance Fraud Case Pending
I had the worse experience with Dr. Shoun. They routinely made me wait 30-45 mins past my appt time, the nurse was incredibly rude and sent my refill to the wrong pharmacy 3 times, forgot to order a progesterone re-check on my baby until I reminded them (even though I am a high-risk pregnancy due to multiple miscarriages), and then there was the billing nightmare. They ordered over 20 lab tests before they even knew if my insurance would cover them. When I asked the nurse if I could talk to their billing dept, she first told me that she did all the billing and was back-logged and did not have time, then she changed stories on a separate occasion and said she knew nothing about billing. Meanwhile- I now have $3,000 in lab fees that I only consented to part of. One of the tests I did not consent to or know about was a drug test, which I found incredibly insulting. I would avoid Dr. Shoun and Harvard Family Physicians at all costs.
5.0 Rating
July 15th, 2013
I have been going to Dr. Shaun since my Dr passed away. She has great bedside manners and always makes you feel that any question you have is important. I had problems getting pregnant for years and she was able to help me find out what was wrong and throughout my pregnancy was great. She is by far the greatest Ob that I have had so far. Very Thankful!!
3.7 Rating
January 31st, 2013
1.0 Rating
March 20th, 2012
very unprofessional
I have an insurance with Assurant and had booked an appointment with Doc 3 weeks in advance. But one day before the appointment they called me up and told they dont take the insurance!!! Thats ridiculous why were you not aware you dont accept the insurance when i booked an appointment and her staff just hang up the call on us!!!!
5.0 Rating
December 20th, 2011
5.0 Rating
December 8th, 2011
Caring Doctor!!
5.0 Rating
October 17th, 2011
Love Dr. Shoun
Loved Dr. Shoun! She's a great doctor and very knowledgable, very pleased with her work. She was always very sweet and understanding. Every appointment i received an ultrasound!!! This was my first pregnancy so i didn't know what to expect. Dr. Shoun always went above and beyond and took precautions to make sure i was 100%. At the same she seemed laid back and like she loved her job...she makes you feel comfortable. Only had one issue with my appointment being cancelled after waiting for 20min, and that was because she had an emergency delivery to make; the staff was very apologetic. Finally, when it came time to deliver it was an hour til midnight and sweet Dr. Shoun came in her sweat pants and t-shirt to deliver my baby. :) I don't know why but seeing her in her cozy clothes made the delivery more laid back and not so scary. Then at 11:27pm my son was born, my best friend took a pic of my husband cutting the cord and there in the background dr. shoun is holding my son with the biggest smile on her face. :) Overall i would say that i couldn't have asked for a better doctor, in fact, i am going to plan my next pregnancy around dr. shoun's schedule to ensure that she will be my doctor.
5.0 Rating
June 27th, 2011
Great Surgeon
Nearby Doctors

Dr. Shelley Shoun is similar to the following 3 Doctors near Tulsa, OK.