Rate Now
Share Your Experience
Have you seen Dr. Sophy Feng?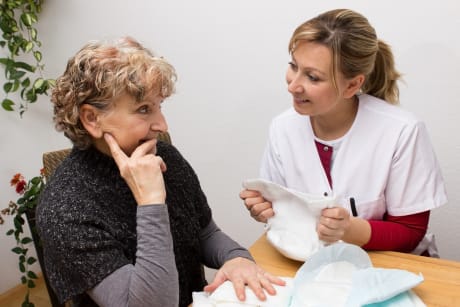 Urinary Incontinence
Learn about the symptoms and causes of urinary incontinence or urge incontinence.
47 Ratings with 26 Comments
1.0 Rating
May 25th, 2017
No compassionate. Cares more about money than patients health.
Horrible doctor's office. If you are looking for a compassionate office that cares about your health more than money do not go here. I had to change insurance in the middle the pregnancy. So I asked the office which insurance I should get so I could continue my care at their office. They told me they would accept Bluecross Blueshield. At my first appointment with that insurance I was told they did not accept it and that my only option was to pay them out of pocket b/ no other OBGYNs in Las Vegas or Henderson accepted my insurance, but the hospital I had choosen to deliver at would so my hospital charges would be covered. Luckily, I called my insurance company and they informed that were lots of OBGYNs that took my insurance, but the hospital Dr. Feng's office said would accept my insurance would not. So had I listened to them I would have paid for my entire pregnancy out of pocket. My last time in their office I asked for the deposit I made on my c-section back. They told me it would have to be mailed. After a year I called them b/ I had never received it. They sent my a check for a third of what I had paid. When I called to ask why I was told they had taken out my copays for the appointments I had at their office even though I had paid copays before every appointment b/ the doctor will not see you if you don't pay your copay before your appointment. I told them I was really upset and this didn't seem right especially since this whole problem was caused by their office telling me to get an insurance they didn't accept. She began to talk over me and said that their policy is not to help patients with insurance at all. So if a pregnant patient needs to change insurance in the middle of their pregnancy and asks them for help in choosing an insurance they will accept so they can continue their care at the same office they are suppose to refuse to help that patient. They will not tell them which insurance they will or will not take. The woman I spoke to actually said "I understand this policy is cruel, but it is our policy."
1.0 Rating
January 31st, 2017
Do not waste your time!
2.0 Rating
June 29th, 2016
1.0 Rating
December 22nd, 2015
This place is awful!
They had messed up scheduling twice, so I had to take time off work 3 days in a row to be able to get in and get the correct appointment. In doing so they changed which doctor I would see. I heard the horror stories about Dr. Feng, and let me tell you they are all true. Rude, disrespectful and terrible patient service. And now 5 months later I am still getting random bills that were already taken care of. Stay far away from this clinic.
1.0 Rating
August 15th, 2013
This office is not worth it
My first visit in anthem obgyn with Sophia fang went great. Then I went in for my second visit and the staff seemed untrained not knowledgable they asked the same questions as my first visit. I did some blood work and they never called me to let me know the results. I received a phone from the staff 2weeks after my visit and they asked me what is the nearest pharmacy to me then when I started to ask questions I found out that I had a uti. They gave me medication but not enough to cure the infection, days later I went to er to find out that I still had a uti. Anyways I did more blood work at anthem obgyn 4weeks ago for abdomen pain and I have yet to hear my results. The staff always over books and hires untrained team members. I don't recommend this place at all. And the wait time is horrible. It seems like your at the er waiting to be seen.
5.0 Rating
August 3rd, 2013
Friendly, caring and thorough
I had a wonderful experience bringing my first child into the world with Dr. Feng. Last summer when my husband and I started trying for a baby, I suffered two miscarriages in a row. Scared that I wouldn't be able to get pregnant, Dr. Feng discovered through blood work that I carried a Factor V Leiden gene that was most likely causing the miscarriages through blood clots. After going on a low-dose aspirin therapy, I was able to have a healthy pregnancy and Dr. Feng delivered our perfect boy in May. We will definitely be going back when it comes time for baby number two. She did an excellent job pinpointing my medical issue and offering a solution that worked. She is thorough, knowledgeable, and I felt like she was truly a friend throughout the whole experience. Thanks Dr. Feng!
1.0 Rating
July 7th, 2013
5.0 Rating
June 5th, 2013
Proficient & Professional
1.0 Rating
February 5th, 2013
Completely unprofessional
Although you can get an appointment with Dr. Feng, fairly easily, it was clear after consistently sitting in the waiting room for an hour every visit that this doctor was always overbooked. Aside from waiting a long time every visit throughout my first trimester, Dr. Feng opted to skip my annual Pap smear and pelvic exam. Also, when My husband and I wanted to test for Downs Syndrome Dr. Feng questioned us and our beliefs regarding the 'what-if's' of the outcome before even testing. I was put off by this and contemplated switching OBs. About a half hour into waiting for my first trimester checkup, I asked for a copy of my medical records. I was asked why and if I was thinking of switching. I said yes. Only a few minuted later following this conversation with the girl at the front called me back up to tell me that Dr Feng would not see me anymore and that she felt "awkward" now. Although I did not indefinitely have a new OBGYN I was told that it did not matter because "Dr. Feng said she felt awkward and that, unfortunately, [I] would have to find myself a new OBGYN". I was mortified!! Ethically, this can be considered abandonment and refusal of service. Between knowingly skipping my annual exam, questioning my morals regarding testing for Downs, and topped off with this! Sophy Feng is the most unprofessional and unethical doctors I have ever encountered! There are so many other better options, stay away!
1.0 Rating
January 30th, 2013
Feng
1.0 Rating
September 6th, 2012
1.0 Rating
September 6th, 2012
I went for pregnancy visit. And it is my first baby. She was very impatient and not willing to explain the detail to the patient. After seeing her, I went home with worry, nervous feeling and without knowing anything about what should I expect in the 40 weeks, my due date, the food and activities I should avoid etc. She would not comfort you, but make you worry over something not worthy to worry. And she will then order a lot of exams which are not necessary. She gives a feeling of sucking money and not caring patient. You will also see a lot of office cosmetic surgery flyers posting in her clinic office. After seeing another obgyn, with the comparison, I'm so sure and glad that I've changed my obgyn.
Nearby Doctors

Dr. Sophy Feng is similar to the following 3 Doctors near Henderson, NV.