Rate Now
Share Your Experience
Have you seen Dr. Sounder Eswar?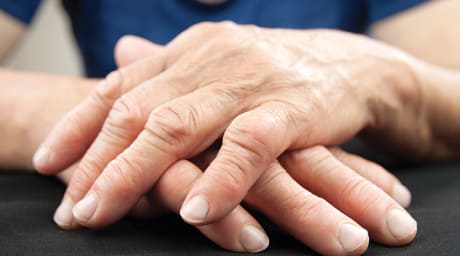 Osteoarthritis
Get the facts about osteoarthritis, including the symptoms and doctors who treat it.
35 Ratings with 14 Comments
5.0 Rating
February 2nd, 2016
He's the Best
The wait time is long because he is such a great doctor and has lots of patients. I took my son to him as a baby and he was wonderful. Since then, he has been my doctor when I broke my arm and for problems with my elbow. I am having a problem with my knee and would not even think of going to anyone else. Dr. Eswar is very knowledgeable and professional.
5.0 Rating
April 17th, 2015
Terrific! Saved my leg...
I had a horrific automobile accident that resulted in the Fire Dept having to use the "jaws of life" to remove me from the car! I had multiple injuries & fractures. By far, the worst was my ankle being crushed. Dr. Eswar described it as a cookie being crumbled. Had it not been for this terrific surgeon, I probably would be crippled today. But, I am not. Three surgeries later and a very long recovery with rehabilitation, I am as good as new. Dr. Eswar is my saving grace, he is compassionate and professional. I can not say anything at all negative about him. I recommend him to all!
2.3 Rating
June 16th, 2014
Bad bedside manner
2.3 Rating
March 1st, 2014
3.7 Rating
October 10th, 2013
Good
I had seen this doctor for an ankle injury back in March. I found his office staff to be very nice and had no problem making an appointment. I was told however to get X-rays prior to coming but I was in so much pain and didn't want to go to my primary and wait another day. I went without X-rays and the doctor took them anyway which I was happy about but I don't think he was. He seemed to be annoyed. He diagnosed me with an ankle sprain which was fine but he kept answering his cell phone and then I waited and then he was in his office on his computer and I had to wait again. I understand his time is valuable but so is mine. I asked his office staff how much longer and then I interrupted the doctor and saw that he was ordering something on his computer. Did h have to do it then? He also contradicted himself a few times but overall he diagnosed me with a sprain and provided a brace. Overall he was good, maybe I just caught him on a bad day.
5.0 Rating
June 16th, 2013
my experience with a wonderful, caring doctor
i first met this wonderful doctor in 1978. a very poor ortho ruined my right in my teenage years. however, when i consulted with dr. eswar he took the time to describe what he felt was the problem ... he determined that i had a congenital defect in both of my knees and that with one surgical procedure he could repair my left knee. that one surgery lasted 31 years until i sprained the knee in 2009. i then called him and consulted with him over the phone, he remembered me and the procedure he did and welcomed the ortho that was to repair the knee here in florida to call him to discuss the procedure. how many doctors, specialists particularly, not only remember the patient over such a long time, but actually remember the procedure. as this was a congenital defect, when each of my daughters were 6 months old i brought them to him to be sure that they did not have the same defect i did. they didn't and i couldn't be more pleased. i truly wish i still lived in new york so i could continue to be treated by him.
1.0 Rating
August 25th, 2012
TOLD ME MY SON NEEDED SURGURY AND WAS WAAAAAY OFF
So this doctor saw my 1 y.o. son with a protruding spine and took X-Rays (which we later found out weren't in the right area to even diagnose such a problem). He claimed my son had 2 vetabrae "fused" together and he may live like this forever, like a 6th finger or he may need surgury. I found a pediatric orthopedic specialist in Manhattan, one of the best in the nation. After a long deliberation with other doctors, the specialist said that not only were these X-Rays taken in the wrong area for diagnosis, but my son simply had abdominal gas and needed to fart at the time they were taken. Dr. Eswar had my wife and I crying our eyes out every night imagining our crippled son unable to walk. We went from operating on a two year old to.... he needed to fart. This doctor is a hack. I sent him a letter and told him he should be selling hot dogs on the side of the L.I.E.
5.0 Rating
April 16th, 2012
Good experience!
1.0 Rating
January 24th, 2012
Incompetent
Terrible doctor. Was recommended to this hand specialist by another heartless quack of a specialist after a fall off a bike that left my hand and wrist horribly swollen and painful. He checked the referral doctor's xray and said it wasn't broken and that he didn't see this kind of injury often though - even though he is a hand specialist - I looked it up and this type of injury was one of the most common. He gave me a prescription for hand therapy. After several therapy visits my hand was in agony. Finally had to go to another orthopedic dr who xrayed it and found a break in the wrist - a very common injury, one that this hand specialist didn't find. The therapy he recommended made the broken wrist worse.
5.0 Rating
January 23rd, 2012
5.0 Rating
October 14th, 2010
Great surgeon
1.0 Rating
February 25th, 2010
Too little too long
Nearby Doctors

Dr. Sounder Eswar is similar to the following 3 Doctors near Howard Beach, NY.