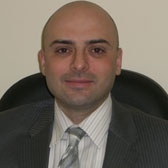 Endocrinology, Diabetes & Metabolism
14 years of experience
Video profile
Patient Reviews
Overall Rating:

Total Ratings

46

Total Reviews

6
Ratings

| | |
| --- | --- |
| 5 stars | |
| 4 stars | |
| 3 stars | |
| 2 stars | |
| 1 star | |

| | |
| --- | --- |
| Ease of Appointment: | |
| Promptness: | |
| Courteous Staff: | |
| Accurate Diagnosis: | |

| | |
| --- | --- |
| Bedside Manner: | |
| Spends Time with Me: | |
| Follows Up After Visit: | |
| Average Wait: | 13 minutes |

| | |
| --- | --- |
| Ease of Appointment: | |
| Promptness: | |
| Courteous Staff: | |
| Accurate Diagnosis: | |

| | |
| --- | --- |
| Bedside Manner: | |
| Spends Time with Me: | |
| Follows Up After Visit: | |
| Average Wait: | 13 minutes |
Write a Review
by Jessica on
Dec 11th, 2014
I have been Dr Goykhman patient for the past 3 years. He is an excellent endocrinologist and helped me with me medical problems. I would recommend him to my relatives too.
WENT TO MY PRIMARY DR. FOR YEARS ON WEIGHT GAIN, HAIR LOSS AND FATIGUE N HE TOLD ME I WAS JUST OVERWHELMED WITH WORK, STRESS AND MY KIDS. FINALLY WENT TO SEE DR. GOYKHMAN N FROM OUR FIRST MEETING HE NOTICED MY NECK WAS LARGER THAN NORMAL. HE DONE AN ULTRASOUND AND IMMEDIATELY BEGAN TREATING ME FOR MY THYROID. DR. GOYKHMAN IS AWESOME!! I WOULD RECOMMEND HIM HIGHLY.
It was very easy to make an appointment at a good time that I needed. The office is conveniently located with huge parking lot. The receptionist was nice and friendly. Doctor was very professional, introduced himself, explained everything, gave out some useful information. For his procedures that he has right there in the office - he explained everything that he will do. Will definitely recommend him to friends and family.
This doctor is everything that I want in a doctor. I called for an appointment and got one within the week at the time that I needed it. He is courteous and solicitous. He talked to me before examining me and was thorough in his explanations of what he was going to do. Even after he explained things to me he made time to answer any additional questions that I might have had. Also, he needed some extra information from another doctor that I had seen and called him on the spot. When he couldn't get the other physician, doctor Goykhman left a message. The other doctor called him after I left the office and doctor Goykhman, not his office staff, called me right back! I will definitely go back and recommend him to everyone.
Nice office , friendly stuff, very professional and helpful with my diabetes
by Brian Smith on
Aug 14th, 2010
Great Doctor, he really helped me with my Diabetes, Spend first appointment 45 min. Office staff polite