Rate Now
Share Your Experience
Have you seen Dr. Stephanie Brogden?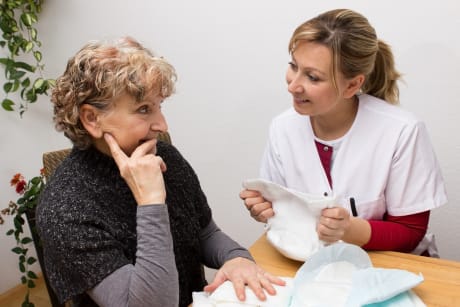 Urinary Incontinence
Learn about the symptoms and causes of urinary incontinence or urge incontinence.
15 Ratings with 6 Comments
5.0 Rating
August 31st, 2015
Dr. Brogden is a life saver...LITERALLY!
I wasn't a patient, but my Wife was when she was pregnant with my 9 year old. If it hadn't been for the wise decision to keep my Wife at the hospital the day my Son was born, we might have lost him. My Son had a true knot in the cord. This occurs in about 1.25% of births. It is something that is rarely noticeable in ultrasounds and is only discovered after the birth. Babies who have this knot are also 4 times as likely to die at some point during birth. Dr. Brogden knew something wasn't right with the vital signs so she kept my Wife. My Son was born with purple hands, purple feet, and not breathing. The team at Gordon worked on him for about 3 minutes to bring about his first breath in this world. It was the most terrified I have ever been in my life, but I recognized the gift Dr. Brogden had at that moment. We moved away from the area shortly after my Son's birth. We have recently returned to the area. My Wife has made an appointment in the following weeks and I plan on taking my Son to meet the lady who gave the orders that saved his life.
2.3 Rating
July 31st, 2013
Waiting too long
I was literally waiting for her for almost an hour in the patient room. I almost walked out. The staff didn't do their jobs. I am a nurse and the medical assistants in her office were so unprofessional. They didn't explain any procedure to me at all. Dr. Brogden didn't take her time when she saw me finally. I thought for someone that took so long to see me she would be thorough. It's not fun to wait in a patient gown for that long.
1.0 Rating
July 9th, 2012
Find another doctor!!
Dr. Stephanie J. Brogden will walk into the room and let you say three words before she will interrupt you and say she already knows whats wrong with you without you telling her. She does not listen, apparently does not care, and will talk over you until you just listen until she leaves the room. Don't waste your time if you have a copay.. her bedside manner contains ignorance and she will minimize any question or concern that you have. I rated this one star because it was a nice office and nice other staff but really bad doctor. I left speechless and enraged.
2.3 Rating
February 1st, 2011
I visited Dr. Brogden because I was having some problems. After telling Dr. Brogden about them, I figured she would at least prescribe birth control. Nope, she said, "I guess you don't want to be on birth control," and continued on about who knows what. I told her, "Yes, I do," because at that time I figured out she had no intentions of doing anything about the problems I was having. She didn't even care about them. Go to someone who actually cares about your problems and address them, because it sure isn't her.
1.0 Rating
December 17th, 2010
Teacher, Mother, and Wife
Dr. Brogdon did a vaginal hysterectomy on me, where she knicked my bowels. I woke up with a colostomy and abdominal scars vertically and horizontally. I had a week in the hospital, another surgery to reverse the colostomy, and now two bladder surgeries, an oophorectomy and incisional hernia repair surgeries, all to repair the damage. The ovaries were not taken out during the hysterectomy, despite complex cysts being present. To date, I have lost 7 months work and incurred massive bills with medical supply companies from the colostomy bags and self cathing supplies. I travel to numerous specialists each week in Atlanta. Dr. Brogden didn't take responsibility for any of my losses. She told me "The devil was in the room." Unfortunately she had the knife in her hand. Good luck with her. You will need it.
5.0 Rating
February 3rd, 2010
3.0 Rating
April 4th, 2016
5.0 Rating
September 29th, 2015
5.0 Rating
August 18th, 2015
5.0 Rating
May 18th, 2015
5.0 Rating
October 8th, 2014