Rate Now
Share Your Experience
Have you seen Dr. Stephen Hribar?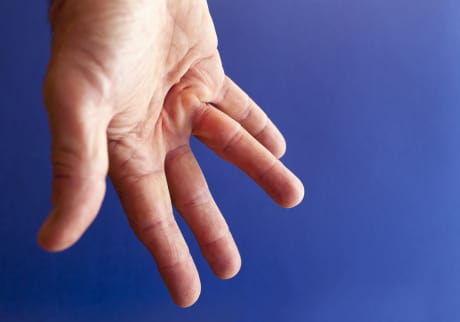 Dupuytren's Contracture
Dupuytren's contracture is a thickening of the tissue beneath the skin of the palm of your hand
Quality Rating
Highly Satisfied
23 Ratings with 6 Comments
5.0 Rating
July 15th, 2017
Excellent surgeon!
Dr. Hribar replaced both of my knees. The 2nd knee was done in May, 2016. I did not have any problems with recovery. Both surgeries went very well. I was able to return to work after 8 weeks. My only regret is that I didn't have them done when he first told me I needed a knee replacement. I caused weakness in my left leg by favoring my right leg. Thus, my right knee just went out on me one day and I had to have that knee replaced first. He's an excellent surgeon. I highly recommend him for knee replacements.
1.0 Rating
March 19th, 2017
Hips replacement surgery
He ruined my life. He did such a terrible job on my hip replacement that I'm in constant pain. The rod he put I n my leg is too long, but I didn't know that until it healed. Once he realized what he'd done, he dropped me like a hot potato. I never heard from him again. He had his nurse call and tell me I'd have to find another doctor. Some days I can barely walk, even with my cane. I've also had to purchase a liftchair as it's difficult for me to rise from a seated position. My life will never be the same.
5.0 Rating
May 6th, 2016
Dr. Hribar performed a Right Hip replacement approximately 9 years ago. From the beginning this total success hip replacement was a success. The Dr. chose a perfect implant for my young age (46 at time of Implant) and recovery was a breeze. I did my 8 year check-up today- Perfect, looks like I could get 20-30 years (No Issues). This Dr is personable, caring and most of all a Professional with a caring Human/Family oriented side. He supports the military and has been instrumental in allowing me to return to service and achieve retirement. My other hip (the one I have not had replaced yet) is beginning to fail- I have no doubt I will be seeking the skill and surgical skills Dr. Hribar provides for my future operation. God Bless you Dr. Hribar and STAFF- Thank you for being the professionals you all are and giving me a new lease on activity in the remaining years I have!
3.0 Rating
April 3rd, 2015
Bedside manner needs addressing
On my first visit, Dr. Hribar barreled into the exam room, and without even looking at me, threw my x-rays up on the viewer and began discussing my case. It was as if I wasn't there. I gave him the benefit of the doubt and did not leave, at once, as my head told me to do. I was in too much pain to not try to have someone, anyone, help me. Slowly, Dr. Hribar became more human and settled into a better bedside manner. Still, I had to start the in-depth conversation about my problem. Hribar listened, responded, adequately and seemed sincere. He also exhibited some warmth. And the treatment he recommended for me worked. But, I cannot shake that first impression of the first few seconds of meeting him. Dr. Hribar will have to work long and hard to erase my image of him as a somewhat callous and over-challenged MD.
5.0 Rating
November 20th, 2012
5.0 Rating
June 14th, 2011
Excellent, caring, orthopedic professional!
Both my wife and I have used Dr. Hribar's services for various orthopedic problems.On separate occasions in different years, both knees were injured skiing and I broke my femur skiing. He provided accurate diagnoses and care for each incident and the knees are as "good as new" as a result. He is providing follow-up care for my fracture, since it occurred in Maine. My wife has seen him for a broken knee cap last year and a torn meniscus this year. She was diagnosed accurately and treated in a professional manner for both problems and has recovered.I would recommend him for any orthopedic issue as a warm, caring, completely professional care-giver.
1.0 Rating
March 19th, 2017
5.0 Rating
February 28th, 2017
5.0 Rating
February 4th, 2017
4.0 Rating
January 15th, 2017
4.0 Rating
January 10th, 2017
Nearby Doctors

Dr. Stephen Hribar is similar to the following 3 Doctors near Coraopolis, PA.