Rate Now
Share Your Experience
Have you seen Dr. Steven Buckley?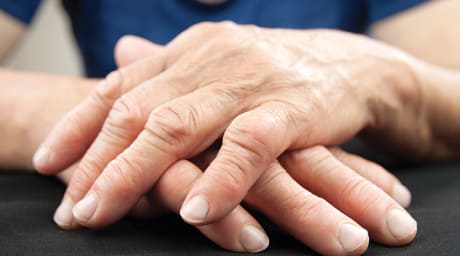 Osteoarthritis
Get the facts about osteoarthritis, including the symptoms and doctors who treat it.
28 Ratings with 11 Comments
1.0 Rating
October 27th, 2016
Don't go here!
Smacked on his gum and mumbled. Didn't read chart because asked about wrong body part. Didn't obtain xray ordered so nothing to discuss but didn't bother to tell me. Was there for 2 hours waiting and only saw him last 2 min. Quite rude saying he doesn't do much with my son's condition and acted like didn't care or that I should. I asked for it to not be billable since there for 2 hours for no reason, but no...he had to have his $. Doesn't card about patient..just $.
2.0 Rating
August 29th, 2016
scoliosis
Dr. Buckley and the staff have always treated us with respect, appointment wait times do not seem to be overly lengthy. Dr. Buckley is knowledgeable in his field and his staff have always worked well with my son. My chief complaints is in the way he seems to change his plan for my son every time we are in the office. I have even had to remind him of previous degrees of my sons scoliosis and basically tell him he was incorrect in what he was trying to convince me of. I definitely believe Dr. Buckley shouldn't be the only one providing recommendations for patients even if surgery isn't part of the plan.
4.0 Rating
February 2nd, 2016
Good Doctor
2.0 Rating
December 7th, 2015
Easily the worst doctor ever. Went in he ordered a cat scan of my lower back. Went back for a check up, he had no idea who I was or that I've ever even been in that office. Spent maybe 10 minutes with him all together within 3 visits. Told me I had a form or spinal biffida, but really it was just chronic pain from years of sports and heavy lifting.
1.0 Rating
June 16th, 2015
CHRYSTAL G CLAMP
1.0 Rating
May 14th, 2014
Wrong diagnosis
We took our child to Dr. Buckley with a knee injury. He did x-rays and came in the room only staying about 2 minutes. Evidently he doesn't read the paper work that you fill out because he came in asking our child if she had pain and I had put on the paperwork that she has no feeling in her legs due to spina bifida and he didn't even know how she got her injury which was also in the paperwork. He twisted on her leg and said she was fine. Her knee was very swollen and bruised. I asked him did he think she had tore something and he said "No kids can't tear things". He said she had a sprained knee and take her back to therapy. We didn't feel like we got a good exam of her knee. So we called and made an appointment with her orthopedic doctor in Birmingham. Her doctor was out of town the only reason we went to Dr. Buckley. Her orthopedic doctor did x-rays and told us no physical therapy for 2 weeks because she had fractured her growth plates. So if we had listened to Dr. Buckley and taken her back to therapy no telling what damage would have been done. We DO NOT recommend Dr. Buckley.
1.0 Rating
March 4th, 2013
2.3 Rating
February 11th, 2013
Will not try alternatives.
1.0 Rating
November 13th, 2009
hack
I believe he makes decisions based on his own agenda. My daughter has seen him since she was diagnosed with cerebral palsy in 2003. He's had us try a lot of different things that seemed to be a waste of time when we were doing them, and now, are proven to be just that. We were sent to his favorite CP center in Decatur, AL where they watched her play 2 days a week for a few hundred dollar a week. after a few months of this and no logical explanation of how this benefited my daughter, we tried another place of our choice and still, they were able to do nothing. They did TRY it appeared, but there was just nothing they could medically do. Next up was physical therapy that changed nothing, then a surgery he scheduled over christmas break in 2008, his exact words were "this should correct your daughter's problem". well, it didn't and now she has a huge scar on her leg accompanied by more pain than she ever had in the first place. He recommended operating on her other leg after saying for over 5 years that her problem was confined to only one leg. I said enough, i never felt like he was competent or cared but after 5 years and only a step BACKWARD that causes my daughter pain, it's just time to call it off. She wakes up in the middle of the night with severe cramps, can't walk some mornings and this all happened AFTER the surgery he said would correct her problem. We had to get a note from his office stating as much because she was having problems with attendance on days she couldn't walk, and after hitting her head last year while at school on a bad day, we figured it safest to keep her home. She makes straight As and is having no problems whatsoever, but it was a formality we were told. Well, as of yesterday, Dr. Buckley/his office has REFUSED to honor that note and said that it was only meant to detail my daughter's problems (unnecessary to even provide that info), and this just so happens to be the first contact AFTER we refused surgery #2 on her "good" leg.I guess this is why he's rarely out and about and has returned NONE of the 27 messages we've left for him over the past few years. He knows that his methods are questionable and i doubt our case is unique.
3.7 Rating
February 20th, 2009
5.0 Rating
September 18th, 2017
Nearby Doctors

Dr. Steven Buckley is similar to the following 3 Doctors near Huntsville, AL.