Rate Now
Share Your Experience
Have you seen Dr. Steven Fitts?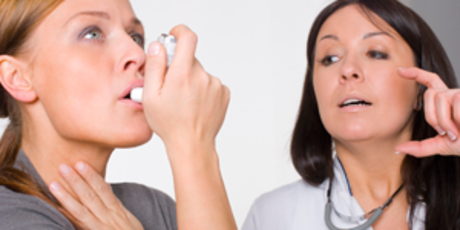 Asthma
More than 22 million Americans of all ages have asthma. Prepare to talk to your doctor about symptoms, diagnosis and treatment options.
18 Ratings with 10 Comments
1.0 Rating
September 13th, 2016
Horrible Experience!
Took our teen to see Dr. Fitts. He had an EGD at Saint Francis. Afterward, he had allergic reaction to a medication that Dr. Fitts prescribed. I called his office and left messages seven, yes, ( " 7" ) times, even spoke to his nurse about the importance of a call back from the doctor. We never received a call back! Then MONTHS later, we received a call out of the blue from his office and they wanted me to bring him back in, when I asked what for ????? , they said he needed an x-ray to see if he was constipated.??? This was a child with a swallowing problem!.... TRUST ME,......you do not want to take your child to this office!
1.0 Rating
April 8th, 2016
Disgusted Mother
1.0 Rating
December 3rd, 2015
DISAPPOINTED!!!!
My daughter has been seeing Dr. Fitts for almost a year and her symptoms have gotten worse. He acts like he doesn't care and just wanted to finish the visit as fast as he can. The last visit was her last one. He came in and said she was still "full of it" I said I am tired of hearing the same thing over and over again. He then stood up and started yelling at me and said "it is what it is and I can't change that" I was aghast at his response. He's a doctor what do you mean you can't change it? He realized what he said and did and walked out of the room. 5 to 10 minutes later he walks in and in front of my 9 year old might I add said "I will need to do a cat scan on her brain.......... she may have a brain tumor" he is absolutely ridiculous. I don't recommend anyone taking their dog there let alone their child.
2.0 Rating
November 18th, 2015
Go to OKC!
On our first visit, my son was seen by Dr. Fitts. Dr. Fitts seemed extremely... tired. Maybe ill? He acted like he would rather be in bed and talked like he was half asleep. We saw him for a total of one visit, then got his PA. His PA, Beth Hill, while a good PA, has an extremely disrespectful attitude towards patients and doesn't listen. Dr. Fitts and Beth love their Miralax. I can't believe they call their selves specialists because Miralax is not the answer to every constipation problem. The reason they get two stars is their nurses and front desk staff were always very courteous, nice, and the office is very clean.
1.0 Rating
November 2nd, 2015
We spent an entire year with Dr Fitts and finally gave up and switched to an Oklahoma City Dr. After one visit and the correct test being given we now have an answer and my son will be back to normal. I would not rvommend this Dr and would highly recommend the drive the Oklahoma City and the Pediatric Gastro Drs.
5.0 Rating
March 16th, 2015
Great experience
1.0 Rating
February 21st, 2015
Cannot believe he calls himself a specialist!!!!!
Dr. Fitts did not get a history on my daughter let alone a thorough one. He told us the same thing that we heard from every other doctor we had seen in the past four months. I decided to get a second opinion after leaving there in tears. We went to OKC and after 30 minutes the new GI specialist knew exactly what was going on with my daughter! If anyone is needing a pediatric GI doctor please make the drive to OKC, it is worth it!!
1.0 Rating
January 30th, 2015
Poor office support
Office staff will not return calls, he pushes Miralax for 4 years before scheduling a scope to see whats going on. Procedure scheduled 6 weeks out but they wait till 2 days before to file for insurance approval which is not enough time so it has to get rescheduled. We tried calling 2 weeks prior to the date to see if all was done and get the day before directions but they would not return our calls until the evening before to reschedule.
1.0 Rating
February 5th, 2013
NOT A GOOD Dr.
made my daughter go threw a procedure without taking other test first, and never did after that. From my understanding ( by another Dr.) he has been misdiagnosing his patients ( he even did it to my daughter and said she had H Pylori ) I never treated her for it because I felt she didn't have it ( mother thing I guess )and had to wait almost a month to get the results and she didn't even have it) He wasn't a good Dr. So now she has to go threw all these procedures again because we can't trust what he did the first time but at less we have a great Dr. now..
5.0 Rating
April 4th, 2012
Very Professional
1.0 Rating
January 1st, 2017