Rate Now
Share Your Experience
Have you seen Dr. Steven Jensen?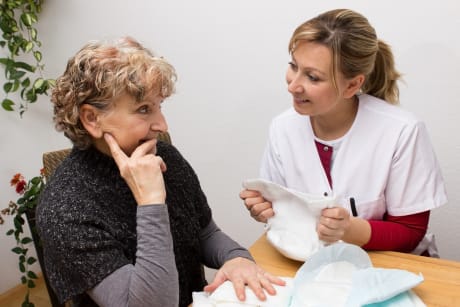 Urinary Incontinence
Learn about the symptoms and causes of urinary incontinence or urge incontinence.
127 Ratings with 42 Comments
1.0 Rating
March 13th, 2017
Extremely unhappy
EXTREMELY long waits, only to spend 3 minutes in the room. No procedures were explained, no plan explained to me. Went out to the front office to find out I was being scheduled for ultrasounds, x-rays, blood tests. When I asked "what for", no one could tell me. "We don't know, we just schedule what he tells us to". Went back for results of all these things, and was told everything is normal. Ok, great....now what. Oh, here's a prescription, come back in 6 weeks. Before I could ask.....Why? What's this for? Are there side effects? What are you treating me for? What was my PSA?.....he was gone. Poof! Sprinting down the hall, dictating into his recorder, with no desire to answer a single question. Well guess what...POOF! I'm no longer seeing him. DO NOT SEE THIS DR!! I wish there were options for "0" stars.
2.0 Rating
November 10th, 2016
The good and the bad
Dr. Jensen knows his stuff what he does not know is what its like to be his patient. Waiting three house in the waiting room and an other hour in the exam room is un-excusable and a shame to his profession. I can guarantee you he would throw a fit if he had to wait 3 hours to Tee off at the local country club . When you finally get to see him be sure to bind him in duct tape so he has to answer your question or he well soon be gone.
5.0 Rating
November 4th, 2016
Excellent!
Very compassionate and understanding, with a refreshing sense of humor. Took the time to listen and to talk to me about my medical issues. He made it easy for me to talk to him. He truly is an expert, and the best, at what he does and I felt comfortable placing my life in his hands. Everything went exactly as he told me they would. My surgery went perfectly and I am cancer free! After surgery he took the time to talk to my husband to inform him of exactly how things went. He kept asking my husband if he had any questions, but he didn't because Dr. Jensen was so thorough in explaining things to him. Yes, there is a long wait for scheduled appointments. However, he is the only one who specializes in robotic surgeries and other services in his field. I would rather wait for the best than to have a minimal wait for someone less knowledgeable, or to have to drive a long distance for another doctor, or for him to tell me he couldn't take me as a patient because he has too many patients. He puts in a lot of hours and provides round the clock care for his patients and for emergencies or surgeries at the hospitals in a wide range in this area. I feel people should be more understanding. You know you are going to have a long wait for your appointment because you are not his only patient, so take something to read or to do. Is your life worth the wait?
1.0 Rating
July 18th, 2016
I was very frustrated with the wait time for the appointment. I waited with a very nervous preteen for 2 hours, and then after a very quick, awkward exam with seemingly little concern for my son's feelings, we were told he needed surgery and someone would call. There was no explanation of the procedure needed. Considering how important this is, I would have liked more explanation and compassion.
1.0 Rating
July 15th, 2016
Run while you can.
He is arrogant and rude with a very poor bedside manner, keeps people waiting over 2 hours and does not even apologize. He is very rough and does not let you know when something is going to hurt or be uncomfortable. Neither he nor his staff gives any education regarding procedures or medical conditions. One of his staff actually told me the doctor would be going through my vagina to reach my bladder, which is impossible. He has not even looked me in the eye or called me by name. He ordered several tests/procedures and did not even tell me or discuss it with me. I found out from his office staff. I will not be doing those because I am not going back to him. I just got stuck with him because he was on call when I was in the emergency room. He is very condescending, and I would bet money that he has never had kidney stones.
1.0 Rating
June 28th, 2016
Don't waste your time
5.0 Rating
May 26th, 2016
1.0 Rating
May 19th, 2016
Terible
1.0 Rating
March 22nd, 2016
This guy will be late to his own funeral. Clearly does not care about anyone except himself. Beside manner is horrible. After waiting nearly two hours, he walked into the room, spent less than 30 seconds with me and left. His staff were unfriendly and acted like we created an inconvenience by being there. Heard good things about Dr Witzke in Midland and will try to get next apt with her. Stay away from this place!
5.0 Rating
February 6th, 2016
2.0 Rating
January 20th, 2016
4.0 Rating
September 19th, 2015
DiVinche robotic surgery
I was diagnoised w/ an aggressive cancer in Jan,2015 in Arkansas. I was given a series of hormone shots to shrink the mass. However the Dr. did not do the robotic surgery. We had planned a move back home to Mich so I waited to find a Urologist here. Ask 10 people, all said go to Steven Jen sen. I needed to schedule my surgery rather quickly and the office/ covenant hospt got me scheduled. My wife had lots of Qs and Dr Jensen did take time to answer all our concerns. If you want the best surgeon go to Dr. Jensen. Just don't get him talking about his love for quarter horses!! LOL.