Rate Now
Share Your Experience
Have you seen Dr. Steven Kelley?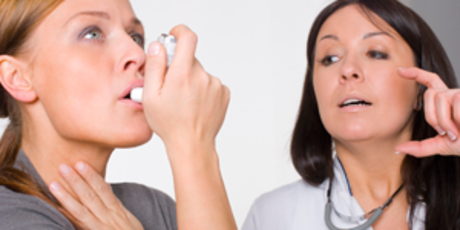 Asthma
More than 22 million Americans of all ages have asthma. Prepare to talk to your doctor about symptoms, diagnosis and treatment options.
33 Ratings with 13 Comments
2.0 Rating
July 7th, 2016
I have nothing against Dr. Kelly.....however, I had to make the decision to find another doctor, as the employees he has at the front desk are rude, and basically have no phone etiquette. While trying to make an appointment, you are put on hold And forgotten. I was put on hold for up to 15 minutes on several occasions. I feel the office handles quite a case load of people, and are short on staff. FRont desk needs to learn phone and people etiquette. Additionally, I feel the office over schedules...it's always a very long wait in the waiting room.....you are never just in and out...I ha e moved on....not worth the stress..
5.0 Rating
October 5th, 2015
4.0 Rating
August 18th, 2015
Good All inclusive Care and Treatment Facility
5.0 Rating
October 26th, 2014
excellent surgeon
I've had nurses volunteer their opinions that he is the best and that that is who they take their family to. He operated on my shoulder and did outstanding work.
1.0 Rating
July 21st, 2014
Wait time
I don't think "wait time" should be a deciding factor with Dr. Kelley. I was seen by him for 3 mos and each time, they took my $35 co-pay for about a 4 minute office visit. He didn't seem to evaluate each time. He just says "see you in two weeks for a check-up". After all that, said my bone was healed. A year later, I am still dealing with the same fracture. A quick visit isn't always a benefit. I needed better service.
5.0 Rating
January 31st, 2014
Great doctor
I've been seeing Dr. Kelley for around 7 years. I've never found him (or his staff) to be rude and uncaring. Totally the opposite in fact. As a previous review indicated Dr. Kelley isn't the huggy type. However he has always been pleasant, patient and caring. He has also performed surgery on me and made sure that I was informed every step of the way. To the reviewer that says he treats worker's comp patients differently than the "regular" patients - that is simply wrong. And I know because I've been both. I highly recommend Dr. Kelley
5.0 Rating
November 4th, 2013
Great Bone Doc.
I have been going to Dr. Kelly for about 4 years. I trust him and appreciate how easy it is to talk to him. Even when we are doing a 'quick' recheck, if I have questions or concerns, he sits down and gives his full attention to my questions, he never assumes, he listens and responds. Sometimes the course of treatment changes, sometimes it doesn't. That is the most important thing a Dr. can do, well that and give good inter-joint shots of steroids! Highly recommend.
5.0 Rating
July 21st, 2012
It is Gods blessing that Dr. Kelley is here.
5.0 Rating
May 10th, 2011
I like Dr. Kelley. I think he is knowledgeable and caring. He didn't rush my visits and he answered all of my questions, and he always had a smile on his face and shook my hand at every visit.His front office staff is pleasant in person,when he is in the hall or around the corner. However, on the phone and for follow-up details they are lacking professionalism, knowledge and inner office communication. Some of his staff don't smile, lack people skills, are not pleasant, and have an "I wish I wasn't here" attitude. The office is poorly ran as far as receiving medical records, returning phone calls, and scheduling appointments. They have a heavy patient load and seem frantic and stressed out daily they have an "your not the only patient" tone. They do not answer the phones during the office hours that the recording states or the website indicates, making it extremely frustrating to schedule an appointment or get any help you made need. Leaving a message will not do you any good either as they DO NOT return phone calls. I think Dr Kelley should expand his practice with more doctors and qualified office staff as well as an office manager to address the issues with his office. There are several people working in that office that should reconsider a career in health care simply because they DON'T care about the patients or take pride in their work or Dr. Kelley's reputation as a qualified surgeon.
5.0 Rating
January 4th, 2011
Do you need a great surgeon or a friend?
I have been a patient of Dr. Kelley's for over 2 years. If you're looking for a great surgeon, he is your man. If you're looking for a teddy bear to give you a hug and wipe your tears, find another doctor. He is very serious about his work and will make you better. In my opinion, he is all business and he is great at what he does. I don't need another doctor that gives me false hope with a smile, I need a doctor to fix my wounds or breaks and makes me better. That is doctor Kelley.
1.0 Rating
December 31st, 2010
2.3 Rating
October 27th, 2010
Workman's Comp
Dr. Kelley is probably a good orthopedic surgeon, however his Workman's comp patients do not get the same level of care as his private insurance patients. My perception is that he tries to save the WC company money so that they are happy with him, and in return continue to refer patients to him. He sent me back to work 1 week after surgery, telling me that "Workman's comp would rather your employer pay you, then they have to pay you."
Nearby Doctors

Dr. Steven Kelley is similar to the following 3 Doctors near Temecula, CA.

Dr. Brian Yost

Trauma Surgery, Orthopedics Reconstructive Surgery, Orthopedic Surgery

Temecula, CA 0 mi