Rate Now
Share Your Experience
Have you seen Dr. Steven Sokoloski?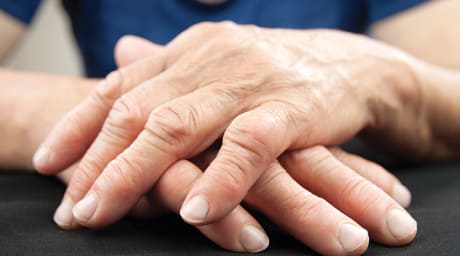 Osteoarthritis
Get the facts about osteoarthritis, including the symptoms and doctors who treat it.
71 Ratings with 17 Comments
5.0 Rating
May 23rd, 2017
So grateful...
1.0 Rating
February 28th, 2017
Arrogant, I was pinned between two cars at an auction. I had broke my femur crushed my knee and cut my artery.five hours later he showed up at the hospital. During therapy the P T's noticed my foot kicked out to the left. When asked he was adamant that it was set straight and released me to work. 1 year latter after second opinion with my foot rotated out 25℅ I am undergoing a serious operation to remove the hardware, re break the femur making an incision about the length of the thigh and installing a plate. He has 6 hours blocked off in the O.R. another 3 months of rehab which all could have been avoided if he had just done his job! Unfortunately he was the one on call
1.0 Rating
August 17th, 2016
The worst doctor I have ever seen! Incredibly rude and will not answer a single question or concern you may have. I went through a horrible accident at work and my leg from knee down had been torn and crushed. Its been almost 6 months and has no answers to why my bone is not healing or why i continue to have so much pain. He acts as if I'm bothering him with m questions and literally only spends less than 60 seconds in the room with me. He may be an ok surgeon but as far as a concerning doctor he sucks. Switching docs after my appt with him today.
5.0 Rating
July 28th, 2016
5.0 Rating
January 13th, 2016
2.0 Rating
August 28th, 2015
Dr Sokoloski's office called me on Monday morning to schedule an initial visit. They had been referred to me by another doctor. Much to my surprise, I was scheduled for Wednesday at 2:30. I'm not a fan of going to the doctors office, so it was with a general skepticism that I went. Imagine my relief when Dr Sokoloski's saw me and told me, based on his observations, that i was in better shape than I feared, and no follow up was necessary. You don't hear that from the dr. often. Needless to say, I was 1 happy camper! 5 Stars
4.0 Rating
March 11th, 2015
5.0 Rating
March 4th, 2015
Excellent Dr. S.
I found Dr. Sokoloski and his staff to be very friendly, professional, and knowledgable. He repaired/removed my torn meniscus about two months ago, but it already feels 100% better! I highly recommend choosing Dr. Sokoloski if you are in need of surgery.
5.0 Rating
June 23rd, 2014
patient
one of the best offices and staff around
1.0 Rating
June 11th, 2012
Rude
I have seen my share of doctors in my life, but none more rude than this one. Walks in the room after keeping you waiting in the room for over a hour and never introduces himself, just ask whats the problem, you are treated like a number instead of a person. After his 30 second exam he walked out of the room while I was asking a question and went to the next patient. Don't waste your time or gas in seeing this poor excuse for a doctor.
1.0 Rating
February 15th, 2012
If u want the proper care ans someone to listen to you. DON' T go to him. I'm in the medical profession and I will not recommend him to anyone. After almost 3 weeks of being in pain he told me to go back to work...., went for 2 nd opinion and this md looked at my MRI I have I menial and lateral meniscus tear and a lot of fluid on my knee. Do more time off work!!!!!!
1.0 Rating
December 29th, 2011
Does not care
At first I thought he had solved my problem. He removed a bone spur in my shoulder. But weeks later I began having a lot of pain in the area. He refused to give me anything more than Tylenol 3 which didn't even touch the pain. After 3 month of complaining of pain he released me back to work telling me I was fine & walked out of the office on me. I went to a different Dr. & he said I had soft tissue damage. Hmmm that don't sound like I am fine at all. PS this was workmans comp