Rate Now
Share Your Experience
Have you seen Dr. Steven Strong?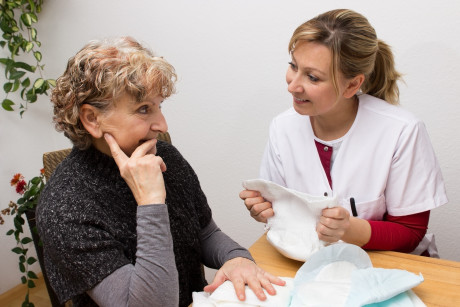 Urinary Incontinence
Learn about the symptoms and causes of urinary incontinence or urge incontinence.
Quality Rating
Highly Satisfied
18 Ratings with 7 Comments
5.0 Rating
September 23rd, 2015
Appointments are always efficient and timely. Dr. Strong andwered the questions that I had but this was my 2nd so I didn't have a whole lot. I felt like if I came prepared, he took the time necessary to ensure all my concerns were addressed but he didn't just volunteer information about the pregnancy, which was fine by me. He's practical and easy to talk to.
5.0 Rating
September 22nd, 2015
Super Experience
I have loved Dr. Stong's office and the fact that 90% of the time they are right on time and I have been a patient for many years. He delivered both of my sons. Always listened to my concerns and took precautions with both pregnancies. I'm the give me all the possible bad news type of person and he respected that and would always tell me the facts not just what I wanted to hear.
5.0 Rating
June 27th, 2015
Great Doctor
5.0 Rating
April 3rd, 2014
Love this doctor!!
He has delivered two of my babies and I am currently pregnant with my 4th and he continues to be my doctor. He is wonderful, he isn't pushy about any procedures and tells you his concerns without forcing anything. I have had all completely natural births and was late with one and he never once tried to force induction or drugs. He even delivered one of my babies on Christmas Day and came in at 3am in the morning, he wasn't the on call dr, with my other. He has always been extremely professional and always there. He is also always very prompt on appointments, there is never a wait! I had a female dr and she doesn't even compare. I refer him to all my friends and they love him. He is a true blessing!
2.3 Rating
December 11th, 2013
Disconnected with Patients
The positives: Dr. Strong has a lovely office and everything is new and modern and extremely clean. The staff is nice and efficient. The negatives: Dr. Strong seems very disconnected to his patients and doesn't seem to actually care about them or their symptoms. He treats them like they're just a number and didn't seem to want to hear about my symptoms and dismissed them rudely. He was more interested in looking at his computer or his phone and I felt like I didn't even need to be there. He didn't want to hear what I had to say or my health history so I felt as if he couldn't accurately diagnose or treat if he wasn't even willing to investigate further nor get to know his me as a patient. In the future I'll just have my GP do the well woman exams.
5.0 Rating
March 26th, 2013
1.0 Rating
May 23rd, 2011
Please Beware
Dr. Strong was my OB during my last pregnancy. I had gestational diabetese and he allowed me to go four days past my due date. My son was in distress my entire labor (30 hours), his heartrate dropping below 40 on five different occassions. I was not dialating normally, and never made it to a full 10. After a day and a half of laboring, he finally determined my son had a cord issue, and was in grave distress. Dr. Strong delivered my son via forcepts when I was only at 8cm. I suffered a fourth degree tare, and my son spent weeks in the NICU. I requested a C- Section on more than one occassion, and Dr. Strong wrote me off, stating I was fine and my baby was fine. Please, beware of using this doctor. I fear his arrogance gets in the way of his judgment. This almost cost both my son and I our lives.
5.0 Rating
April 18th, 2016
5.0 Rating
January 22nd, 2016
1.0 Rating
July 31st, 2015