Rate Now
Share Your Experience
Have you seen Dr. Sushmita Veloor?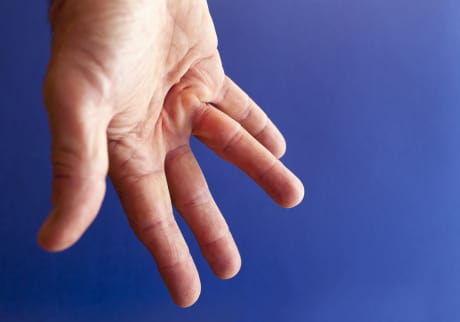 Dupuytren's Contracture
Dupuytren's contracture is a thickening of the tissue beneath the skin of the palm of your hand
27 Ratings with 13 Comments
5.0 Rating
April 24th, 2017
Excellent Doctor. Very professional.
5.0 Rating
July 16th, 2015
Excellent Doctor
1.0 Rating
April 8th, 2014
5.0 Rating
February 17th, 2014
Wonderful
5.0 Rating
June 2nd, 2012
She Helped Me !
1.0 Rating
May 8th, 2012
Should just be Veelor, not Dr. Veelor
1.0 Rating
April 23rd, 2012
poor excuse For a Doc.
Have been going to Dr. Veloor for 51/2 years, but for the last year I have not seen her at all. I have been seen only by her NA Janelle and she is not exactly the friendliest person around. I agree with the other people on this site that the sheet they made me sign was was wrong and I told them so when they had me sign it. It was like sign it or an immediate warning flag was going up. I told them all they had to do was a med check anytime and I would be more than happy to show up whenever they told me to be there. Was always told that I was the perfect patient, and I felt very let down when this crap came up. I am currently looking for another Dr. and am finding out that there are not that many around in Topeka, but I will either find one here or go to Kansas City or the surrounding area until I find a good Dr.
1.0 Rating
February 21st, 2012
1.0 Rating
January 26th, 2010
Sorry I Went
This Dr. is not very knowledgable in her field. He diagnosing is all wrong. I called and complained about my neck and she said nothing was wrong. I had to go to my primary and he said something was wrong with my neck, so he referred me. I am now getting the proper treatment for my neck problems. No thanks to Dr. Veloor. She did not help me with my chronic myalgia pain, but that is what her brochure says "Pain Management", ya right. DO NOT GO TO HER!!!
1.0 Rating
September 25th, 2009
BELITTLED
I HAD NECK SURGERY IN 2000. SINCE DAY 1 I HAVE HAD MUSCLE SPASMS, NERVERS THAT HAVE NO WHERE TO REST. DDD, AND JUST UNBEARABLE PAIN. I 1ST WENT TO SEE DR VELOOR IN JAN OF 2008. SHE TRIED VARIOUS PAIN MEDS TO HELP EASE MY PAIN. SO I AM CURRENTLY ON 60MG OF PERCOCETS AND SHE STATES (HAVE YOU SIGNED A PAIN SHEET) I HAD NO IDEA WHAT SHE WAS REFERING TO. SHE THEN HAS HER NURSE BRING IN SOME PAPER WORK WE GO OVER IT , I SIGN IT AND IM ON MY WAY. NOW YOU HAVE TO REALIZE I HAVE BEEN ON HEAVY DUTY PAIN MEDS IN THE PAST.WITH DR VELOOR I HAD TO HAND PICK UP MY RX EVERY 10 DAYS? SO MY RX WAS FOR 60 10MG PERCOCETS, IAM 51 YEARS OLD I AM ON A STRICT SCHEDULE WITH MY MEDS. I TAKE 2 AT 6AM 2 AT 12PM 2 AT 6PM. SO SHE GIVES ME A RX TO HAVE A UA. NO PROBLEM sHE DOES NOT STATE WHAT DAY THIS IS TO BE DONE. I PERSUME JUST AS LONG AS I DO THIS BEFORE MY NEXT DR APPT. NOT WITHIN THE 10 DAYS THAT MY MEDS LAST. (i HAVE NEVER HEARD OF HAND PICKING UP EVERY 10 DAYS. AND SO I GO TAKE MY LITTLE UA. HER RUDE NURSE CALLS ME THE NEXT DAY AND SAYS ( LEISA YOUR UA SCREEN CAME BACK AND THERE ARE NO OPIATES IN YOUR UA) I FELT AS IF I HAD BEEN RUN OVER BY A SEMI I ASKED HER WHAT DID YOU SAY? SHE REPEATED IT. SO I NOW START TO DEFEND MYSELF WHILE MY MIND IS REELING. SO I TOLD CANDANCE I WANT TO TALK TO DR VELOOR OH SHES NOT HERE OK WELL YOU PLEASE HAVE HER CONTACT ME ASAP. I HANG UP THE PHONE AND GO DIRECYLY TO GOOGLE. I INPUTED WHY DID OPIATES NOT SHOW UP IN UA TEST. THERE WERE 100,000 OF THOUSANDS OF PAGES. SO FOR 2 HOURS I CLICKED ON AND ON. NOW I HAVE NO MEDICAL SCHOOLING AT ALL. BUT FROM ALL OF THE PAGES AND SITES I VISITED ABOUT OPIATES MOST LIKELY WONT TURN UP UNLESS THE UA IS GIVEN RIGHT AFTER YOU TAKE YOUR MEDS. AND THAT NO DR SHOULD USE UAS IN DETERMATION IF A PATIENCE IS TAKING OR DOING WHATEVER WITH THEIR MEDS. SO I WANTED A REAL LIVE VOICE AND THEIR OPINION. I CONTACTED SOMEONE IN THE HEALTH PROFESSION. HE DID SOME LOOKING AND HE STATED FROM WHAT HE COULD FIND THIS DRUG HAD A SHORT HALF OF 2-5 HOURS AND EVERYONES METABOLISIM IS DIFFERENT AND THERE MOST LIKELY WASNT ANY OPIATES IN MY SYSTEM AND WHY SHOULD ANYONE BE SHOCKED? I THEN CALLED THE HANDY DANDY VOICEMAIL AT DR VELOORS OFFICE AND OF COURSE THERE WAS THE VERY UNFRIENDLY VOICE OF THAT RUDE NURSE CANDANCE. I JUST STATRED RAMBLING ABOUT I WILL NOT BE MADE OUT TO LOOK LIKE A WHATEVER. I SPEND $85.00 EVERY 10 DAYS FOR MY MEDS NOW WHY WOULD I DO WHATEVER THEY BELIEVED I WAS DOING WITH IT. BUT I WILL NOT BE EVEN MADE OUT TO LOOK LIKE I AM ABUSING MY MEDS. SO DR VELOOR CALLS MY HOME AROUND 7PM AND I PROCEED TO INFORM IM NOT A COMPLETE DUMMY. AND YES I CANT EVEN IMAGINE SOME OF THE LIES SHE IS TOLD. BUT AFETR RAISING 5 CHILDREN OF OUR OWN WE HAVE ADOPTED 2 GRANDSONS DUE TO THE WIDESPREAD FUNGUS OF DRUG ABUSE SHE THEN STATES (YOU CAN PICK UP YOUR RX TOMORROW) SO THURSDAY 9-24-09 COMES AND AT NOON I HAVENT HEAD A CALL FROM QUEEN CANDANCE SO I CALL AT 12;30PM I GET THE VOICEMAIL I LEAVE MESSAGE . THE AFTERNOON IS TURNING INTO 4PM NO CALL SO 4:15 I CALL VOICEMAIL ONCE MORE I SAY OK THE PHONES WILL BE SHUTTING OFF AT 4:30 COULD SOMEONE AT LEAST ACT LIKE THEY CARE.BINGO 5:00. OK I AM UPSET BY NOW I THEN LEAVE ANOTHER MESSAGE AS MY PAIN HAS BECOME A 10+ AND SO I AM LEFT TO JUST GROW MADDER OUT OF SHEER DISRESPECT AND BEING MADE TO FEEL LIKE I AM BEING DECETFUL TO GET MY MEDS THAT THIS DR HAS BEEN PERSCRIBING FOR ALMOST 2 YEARS. NO I DONT THINK SO THEY MADE THE WRONG PAIENCE LOOK LIKE A DRUG ADDICT BEGGING FOR MY PAIN MEDS. AND I ACTUALLY THOUGHT DR VELOOR AND I HAD A GOOD REPORE. SO NOW SOMEONE WILL GIVE ME SOME ANSWERS AND A APOLOGY. I DID NOT DESERVE ANY OF THIS WHY ISNT SHE MORE CONCERNED ABOUT ONE OF HER PAIENCES WHO TAKES 120 PILLS IN 9 DAYS? AND NO INSURANCE GO FIGURE.
1.0 Rating
March 23rd, 2009
Don't even waste your time
She shouldn't even be considered a DOCTOR. She can do absolutely nothing to help you but give you meds and just keep you hanging and coming back. She is earning peoples and insurances money and does nothing. What a waste of time and money! She should go back where she is from. Rip people off from her own country. She should be revoked. Don't even waste your time going to this joke!
1.0 Rating
March 3rd, 2009
Quack, same as above.
Nearby Doctors

Dr. Sushmita Veloor is similar to the following 3 Doctors near Topeka, KS.