Rate Now
Share Your Experience
Have you seen Dr. Suzanne Trupin?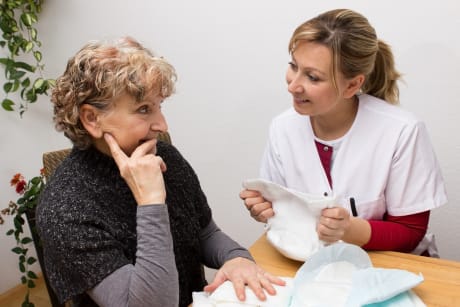 Urinary Incontinence
Learn about the symptoms and causes of urinary incontinence or urge incontinence.
29 Ratings with 14 Comments
1.0 Rating
February 13th, 2017
Dr. Trupin is really rude. Dr. Trupin doesn't allowed you questions have before procedures. Trupin has knowledge, but it is interested listening to patients. Trupin, YOU NEED JESUS CHRIST IN YOUR LIFE! I PRAY PEOPLE WILL LEAVE YOUR PRACTICE IN QUICKLY! PEOPLE WOULD NOT WALK, BUT RUN QUICKLY!!! BAD MANNER!!!!! EVIL SPIRIT-GIVE YOUR LIFE TO CHRIST BEFORE IT WAS LATE!
1.0 Rating
July 14th, 2015
RUN THE OTHER WAY!
Dr.Trupin is the WORST Dr I have ever dealt with. She tried convincing me my baby was growing in my tube and pushed methotrexate on me to abort it. I went to ER to get another sono and when they called her she told them don't do one...she already had and I needed to abort....tried another ER and baby was exactly where he needed to be; growing perfectly. He's turning FOUR this year. ..no thanks to her. He is our miracle baby! Stay away from her...she has no soul..aborts all day..He was just another disposable life to her.
5.0 Rating
June 13th, 2015
Great Choice for Women!
5.0 Rating
December 18th, 2014
1.0 Rating
December 30th, 2013
missed pap, harm
2.3 Rating
May 15th, 2013
Ready to find somewhere else
Do not recommend this office. Talking to the staff on the phone...awful. I have paid in full each time and they still have not billed my insurance from three months ago so that I can have it at least applied to my deductible even though I have called about it twice. Don't get any information from the Dr. Ready to find somewhere else. Feels like a waste of time.
3.7 Rating
August 16th, 2012
Great surgeon and doctor
My experience with Dr Trupin and her staff was great. I was new to Illinois and found her office. Had a history of some problems which she was attentive to. Ultimately ended up needing surgery which she did a great job. Maybe not the most warm and fuzzy but that's not what I'm looking for when needing surgery - I want someone who knows what they are doing. Her staff was extremely supportive throughout the diagnosis and treatment. When I had to move out of state I was very disappointed to no longer have her as my doctor.
3.7 Rating
September 22nd, 2011
Great clinicitian, Great staff, but too much turnover...improvement needed w/staff relations
Been a patient for years & always thought highly of Dr. Trupin in diagnosis & treatment. Wonderful in treatment prior to/during my hysterectomy a few years back. And great that she has now included cosmetic medicine/skincare with the addition of Hada or in-office. Too much turnover in staff. Much discord. With her extensive credentials, still needs training in staff management or to leave staff relations to an office mgr.
1.0 Rating
September 16th, 2011
Doctor is all over the place and heaven forbid if you're over weight cuz you will feel like a cow. If you have any sun damage or wrinkles as well, & are self-conscious look-out cuz she'll point it all out. Felt very fat & ugly when I came out only for an annual physical! Office staff is polite...nursing...o.k.
1.0 Rating
October 1st, 2010
Poor and selfish human being and doctor
She seems like a successful doctor with a nice practice, but her clinic lacks in warmth and somewhat formality. Except for her lab technician, recption and a few nurses her staff is poorly trained. Much gossip and informality runs about the clinic.Dr. Trupin herself is a loud, somewhat selfish being. Her first priority is herself and not the patient. The wait time in office is so long because you can hear her loud voice in the hallways fooling around, making small talk with her staff, laughing and goofing around. She barges into rooms without a care to the patient and likes being loud. Like she needs as much attention as possible. One visit she pulled out a digital camera and started taking pics of my skin. When I asked what for, she said she had a blog she wanted to put it on. I told her i was not comfortable with that. She said she wouldn't post the pics, but I still have to check every so often because I don't trust her. She didn't even ask permission, she just started to snap away. This again was all about her and what she wanted to do, not about me, the patient, and my privacy. Her approach and manner related to your health care are about control and fear. I changed doctors because I didn't want her to be near me nor my family during my pregnancy.
1.0 Rating
September 5th, 2010
the worst doctor ever
she is by far the worst doctor I have ever been to, the most horrible experience I had was with her. she even didn't care for even one second to ask me how do I feel after doing the most painful operation on me. her follow up was horrible and when the complication happened to to her poor practice she just denied everything and just tried to protect herself and not even care about my well being even a bit.she made to the most racial comment at the time I was going through a huge level of pain which made me feel so much uneasy !!!!!!!!!!! horrible horrible doctor. not even a human being!!!!
1.0 Rating
August 23rd, 2010
Keep looking.