Rate Now
Share Your Experience
Have you seen Dr. Takia Oglesby?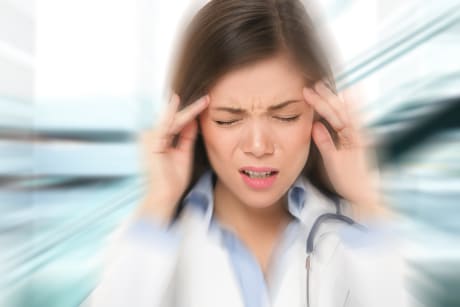 Migraine
Get the facts about migraine headaches, including the different types of migraine and migraine triggers.
17 Ratings with 6 Comments
1.0 Rating
February 25th, 2016
Kickbacks much?
He didn't listen to a word I said about medication allergies, and perscribed meds in the same family as the ones that made me sick. As he required to disclose med kickbacks, I looked him up...it is public record! It shows him making lots of dough! So is he a doctor who cares about you, or cares about his pockets? Just sayin.
1.0 Rating
November 30th, 2014
Billed $910.00 and never have seen this physician! Found out on line he works at Nexus Pain Center in Columbus Georgia. I saw a doctor there but NEVER had any encounter or procedures with this guy! I DO NOT ENDORSE NEXUS PAIN CENTER FOR ANYONE! I presented there to find out if I even wanted treatment from them and was not satisfied with any staff encounter! They over billed me and my insurance company for everything they could! I would not take my hamster there for treatment! The only reason for one star is I could not choose a big fat ZERO!
1.0 Rating
November 11th, 2014
Dr. Takia M. OGLESBY; WORSE DOCTOR I HAVE EVER HAD IN MY 49 YEARS!
I Agree with all statement's listed below, I have had the same experience in his operating room, this man has a open demeanor to show you he could careless about you nor your health, I truly believe he purposely cause me discomfort and excruciating pain, at one point I could literally feel as though I was paralyzed from the waist down I could not move he knew this I were screaming at the top of my lungs, he showed me nothing but contempt when I explained, Just as you stated to him and his staff were literally laughing, joking at me while I were getting dresssed, Today he cut me off my Meds abruptly because he found alcohol in my system, I been seeing this dr for close to 2 years now with no indicators of illegal drugs or alcohol problems. I asked the NP what i suppose to do about the withdrawal symptoms, he was not going to precribe me anything he was going to allow me to suffer through the pain and the withdrawals, furhermore he give me a urine test each vist which is uncommon, today he wanted me to take another urine test to charge my insurance he was persistent to charge my insurance but the same time not give me my MEDS! THIS IS A VERY DISGUSTING INDIVIDUAL AND A NON PROFESSIONAL!! I see there is a high employee turn around rate and the one who been around for awhile are all very unhappy, which is very obvious!
1.0 Rating
June 14th, 2014
1.0 Rating
May 22nd, 2014
Patient with pain
This doctor will not listen to what you tell him is and is not working he give meds that is making me feel worse than I did when I came to nexus I know what is working for me and he will not work with me because he is very controlling I know he does not like me by the way he talks to me with his tone and body language he has frustration in his voice and he is up and gone while you are still trying to talk to him I talked to my pharmacist today about a rx he gave in which he prescribed a higher dose and it already does not help my pain makes me feel sick and I cannot function I quit taking it he will not listen just keeps giving the same prescriptions when tell him they do not work. I don't feel he has enough experience for me I'm scared to continue with him so I wish him the best and I am changing doctors.
1.0 Rating
May 20th, 2014
Unhappy patient at his mercy
I don't like to write bad comments about anyone but I feel a doctor a pain manegment doctor on top of that should be compassionate towards his patients pain hurts and if he were in pain I'm sure he would want to be treated with kindness and compassion he does not give either he is always in a hurry he lets you know by his tone and body language that he does not care about you I feel I am just a number but I am at his mercy because I need my pain medicine every one tells me to change doctors I just hate starting over I am a nervous reck before and after each doctors visit with him I have never been treated by any other doctor like him I think he should have to take a class on bed side manners and how to treat people the way he would want to be treated. Maybe he had a hard life to get where he is but if you want to be a doctor it should be from the heart because you care and want to help your patients and let them know you care.
4.0 Rating
July 8th, 2016
5.0 Rating
July 1st, 2016
1.0 Rating
May 18th, 2016
1.0 Rating
December 28th, 2015
4.0 Rating
December 21st, 2015
5.0 Rating
October 8th, 2015