Rate Now
Share Your Experience
Have you seen Dr. Terry Mccaskill?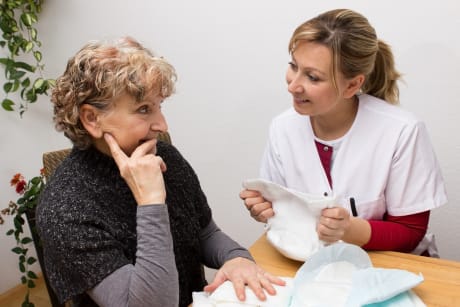 Urinary Incontinence
Learn about the symptoms and causes of urinary incontinence or urge incontinence.
22 Ratings with 8 Comments
1.0 Rating
April 8th, 2016
MCCaskill, undoctor like behavior
My wife was seen by her about an ultrasound exam that turned up a polyp (cancer, noncancerous!?!) She would not listen to my wife because she wanted a full hysterectomy due to cancer on both sides of her family with the women and all women having full hysterectomies. Dr. M would not listen to my wife. at the appointment yesterday, she said my wife was fat, without actually coming out and saying it. my wife has had 3 kids AND had her L4 and L5 disc removed and she also has degenerative disc disease in her back and has debilitating pain in her back due to a Dr. not diagnosing her correctly and causing her more pain. But Dr. M has no compassion which is a foremost aspect for being a Dr. due to her mobility issues, she can't exercise in a way that will help with her weight. I know, I live with her and she's in pain and was told by the back surgeon to NOT have any more surgeries. Dr. M only says what's she's going to do, and you the patient have no say. I honestly think she sizes up a patient, then comes to her neglectful and bias opinion about a particular patient. I was present in the room for my wife's appointments, glad I was because, I saw Dr. M's demeanor and lack of empathy for my wife. If a Dr. who is lacking in sympathy nor listens to her patients is your cup of tea, then by all means book an appointment today!
1.0 Rating
February 12th, 2016
TERRIBLE!!!
First of all.... for the first visit as a new patient it cost me over $ 500 to see the( nurse), after the visit no follow up call and very rude office manager / receptionist who threatened to hang up on me... When I called yesterday due to a severe pain issue, the receptionist said the nurse would call me back and never did. In closing the office of Dr McCaskill is very expensive and very unprofessional and I would not even rate it one star if this format would let me.
1.0 Rating
March 28th, 2014
unfriendly and unprofessional staff
Window kept closed by receptionist. There is never a friendly greeting. Dr. McCaskill was always cold and hostile. Asking many questions about what vitamins when I was cold and naked (with only a hospital gown on. Always trumping anything I said as unworthy. I hated going there. Her staff is also rude and unfriendly. They order you to put the gown on...rather than request.
5.0 Rating
March 19th, 2013
Long time patient
I've been seeing Dr. McCaskill for about 10 years and have never had an issue with her. I was actually shocked with bad reviews and felt compelled to write one myself to off set these. Dr. McCaskill performed two surgeries on me, my tubal and a hydro-oblation and both went very well. You could not ask for a more skilled and knowledgeable doctor.
5.0 Rating
March 5th, 2013
Wonderful Experience
I have a 14 year old daughter that was having heavy, painful periods and did not want her to see my gynecologist who is a male and was referred to Dr McCaskill by a friend. The staff was wonderful, polite and professional. Dr McCaskill took as much time as we needed, explained all our options and was very helpful and kind. I ended up bringing my daughter back for a 3 month birth control check, and it was found that the birth control was causing her blood pressure to rise (thanks for the 3 mo follow up that they scheduled) we then changed to something else. I felt this office was truly invested in my daughters well being. I even ended up switching to this office for my gynecology visits. Would recommend to all my friends.
5.0 Rating
December 15th, 2011
Amazing Doctor
Dr. McCaskill is by far the best OBGYN in Reno. I would not be alive today if it wasn't for her. I went in for a routine check-up and ended up finding out that I had a condition requiring an immediate hysterectomy. I was in and out of the hospital in a day because of her skill. She always made herself available to me, night or day.
1.0 Rating
November 2nd, 2011
I HATE THIS DOCTOR!!!!
I went to this doctor because she came up when I did a search for a new OBGYN. Her staff is so unprofessional but Im sure she doesnt realize it because she is as personable as a dry wall! I hate her and her services. I will never go back and I would HIGHLY ADVISE anyone and everyone to RUN...away! She is terrible! Like the other comment, she made me come back for a "follow-up" because of new birth control and did NOTHING! Terrible!
2.3 Rating
October 18th, 2011
Poor staffing
Not greeted by reception... I just sat and waited for 15 mintues. Once Reception opened the window there was no friendly greeting just the question "has any of your information changed?" when I got new birth control I had to come back after 3 months and waste my $75 to sit down with the doctor jsut to have the doctor tell me my blood pressure was ok and that I could keep taking the birth conrtol... $75 + PTO from work for that!! I am switching OBGYNs. Very rude, poorly trained "reception," and very inconsiderate.
5.0 Rating
November 22nd, 2016
5.0 Rating
March 22nd, 2016
Nearby Doctors

Dr. Terry Mccaskill is similar to the following 3 Doctors near Reno, NV.