Rate Now
Share Your Experience
Have you seen Dr. Thomas Craven?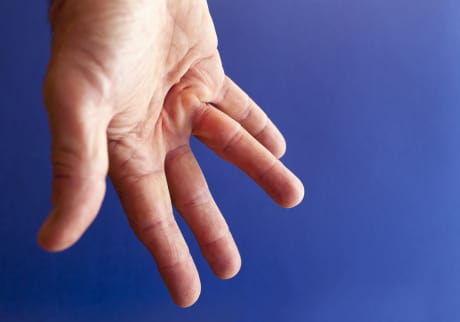 Dupuytren's Contracture
Dupuytren's contracture is a thickening of the tissue beneath the skin of the palm of your hand
40 Ratings with 19 Comments
2.0 Rating
March 31st, 2017
initial and second visits revealed he'd diagnosed me before I opened my mouth.
He denied any previous doctors' diagnosis. I had to talk him into checking further, and when he received the test results, he told me other people with my test results wouldn't be in pain (in other words, 'it's all in your head'). Brash and self-centered, doesn't listen. I'm still in pain, following lengthy therapy, and even got worse recently.
1.0 Rating
January 27th, 2016
Dr Craven was the rudest, unprofessional Dr. He walked out on me twice, only coming back because I said his behavior was unacceptable and unprofessional in which he sneered and told me (the patient that was referred to him) that I was being unprofessional! Why? Because I questioned him about my CT results. Obviously a big crime to him, and he obviously did not care to help me. He then stepped out and asked one of his staff members to show me where the exit was! I was mortified! Take your health concerns to ANY other Dr but him. I reported him to my Dr/hospital that referred me to him.
1.0 Rating
September 21st, 2015
I don't think he like his job
He just show up and get paid, the nurse do all his work.Hate answering question,as soon you ask him something ,he just told you I'll be right back and then send the nurse in to answer your concerns,he just want to cut you up or give you a steroid injection, Hey dr craven,is there any other way to ease back pain?
5.0 Rating
April 29th, 2015
3.0 Rating
April 3rd, 2015
Don't waste your time with this guy.
1.0 Rating
March 20th, 2015
1.0 Rating
March 16th, 2015
Dr Craven has a very cocky attitude and horrible personality. His bedside manners are horrible. He speaks terrible of other doctors and their diagnosing. I would never go to this "doctor" again.
5.0 Rating
February 19th, 2015
5.0 Rating
August 21st, 2014
Excellent surgeon!!
I would like to say that Dr. Craven gave my life back to me with the surgery he did. Nine years of pain and many doctors, surgeries, shots, physical therapy and emotional therapy due to the pain. The pain in my leg went from my hip to my toes. There were times I would have welcomed death if I had to continue life in that much pain!!! It has been over 10 weeks and I have not had that pain one single time!!! His bedside manner and the times I spent in his office were very professional and he explained everything very well. I would certainly recommend him to anyone. I know God worked through him so He gets the glory but Dr. Craven was the instrument God used. If I ever need surgery again, it will be done by Dr. Craven.
3.7 Rating
March 19th, 2014
Mrs.
1.0 Rating
February 24th, 2014
Patient
There is nothing I like about this Doctor. He has no bed side at all. Made up his mind about my case after looking at his on x- ray without my MRI. After checking my MRI he finds area of concern, but sends me to PT and if it didnt work, He would send me for the shot. PT didnt help made it worse, still waiting on shot. Still not sending me to get after surgery MRI and going on presurgery MRI and his x-ray. He has no way of knowing my prognosis. Now I have tingling in both legs and may end up with nerve damage due to his inaction! Felt like a hurded cow in his office shuffled in and out. Like he is tring to see how many cases he can see in a day. Spent less than 10 minutes with me in three visits. Don't feel that he even cared about what I had to say about my body. This is a work comp case and also feel that case worker and doctor are in on the case to spend the least amount possible. I'm thinking seriously about hiring a lawyer at this point
5.0 Rating
January 27th, 2014
Discectomy