Rate Now
Share Your Experience
Have you seen Dr. Thomas Ditkoff?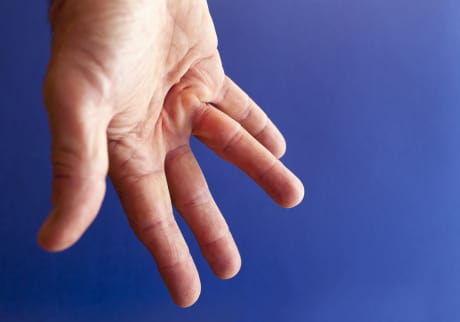 Dupuytren's Contracture
Dupuytren's contracture is a thickening of the tissue beneath the skin of the palm of your hand
18 Ratings with 10 Comments
1.0 Rating
October 1st, 2015
No patience, not helpful, no sympathy, uncaring
Completely blew off my daughter's pain symptoms. Suggested we were doctor shopping because we were searching desperately for answers. Actually said that maybe my daughter just didn't want to be a cheerleader any more and this was her way of telling me. Just because her xrays were normal, he did nothing to look further into the cause of her pain. My daughter decided to push through the pain to continue cheer, at HER choice, and here we are 2 years later, 2 more concussion/whiplash injuries, chronic neck/shoulder/jaw pain and she now suffers from depression and anxiety because nobody can figure out why she injures so easily and what is causing the dysfunction. So, thanks for nothing, Dr. Ditkoff. Probably the most unsympathetic doctor I've ever met. And to think he works with children.
1.0 Rating
March 20th, 2015
1.0 Rating
January 8th, 2015
Look Elsewhere
Dr. Ditkoff's abrupt and rude personality indicates to me he no longer enjoys his work and it's time for him to retire... Dr. Ditkoff told my daughter she had nothing more than a bad sprain. Today, under the care of a different doctor, my daughter will be going in for surgery to stabilize a fracture, repair a torn tendon and tighten ligaments.
1.0 Rating
March 18th, 2014
Worst experience we have ever had
1.0 Rating
September 16th, 2013
Condescending manner
Took my son here with broken femur. Doctor seemed a bit overboard with the xrays. I didn't really get the reasoning behind xraying the fracture every couple weeks. we were having no problems or pain. What really got me was when the dr asked me if we were going to physical therapy. When i answered that we were not, because my son seemed to be walking, running, climbing without a problem his reply was, " You son is not 4, he cant just bounce right back". my son was still young, age 11, and in fact Dr ditkoff he did bounce right back, without paying for and wasting time driving to PT in your office where you probably get a kick back for referring patients. we have also had over an hour waits in his waiting room.
1.0 Rating
August 8th, 2013
Waste of time & money
I waited 1 hour & 30 minutes to see him, no apology for being so late. I felt like he did not listen to a word I said and I was basically dismissed. I explained that I had been experiencing the problem for 2 months and stated that the things I had been trying did not work. His final recommendation was "keep doing what you've been doing and if it doesn't get better in 2 weeks give me a call," I will be looking for another physician.
1.0 Rating
September 27th, 2012
Very rude!
Waited 1.5 hours to see him, although I could make an appt easy to see him. His assistant burned my daughters foot taking the cast off. He was extremely rude. I never met a dr like him nor would I recommend him.
1.0 Rating
April 30th, 2012
Rude
1.0 Rating
November 1st, 2011
3.7 Rating
March 7th, 2011
Good enough
Went to Dr. after tearing hurting my knee during soccer. The Dr. was patient in hearing me out, carrying out tests, and careful about giving a clear answer without more information. He was professional and diligent in his approach, suggesting that the best approach to know what was going on inside my knee would be an MRI as my knee was quite strong from sports and thus my injury was somewhat difficult to diagnose. After having an MRI performed he was able to accurately tell me what the evidence suggested, which was a torn ACL, MCL, and Meniscus. As I like to be active, I elected for surgery. The Doctor sat down with me and explained all the complications as well as my options. Surgery was difficult, but I was up and walking in a brace with crutch support in 3 days. Would have liked to have seen the surgeon come in and check up on me in the RR, but his aide did and addressed some leakage issues. My only short-coming with everything is that I don't feel that I had a good number of references to talk to in regards to my surgery options (individuals that had opted for the different to whom I could consult). The recovery time on my Reconstruction, since it took tendon and bone from the front of my knee, has been pain-staking laborious and at many times has given me more pain than the rest of my knee. Currently, the knee is feeling unstable and there is a weird "looseness" about it. Heading back in.
5.0 Rating
November 14th, 2016
5.0 Rating
October 19th, 2015
Nearby Doctors

Dr. Thomas Ditkoff is similar to the following 3 Doctors near Southfield, MI.