Rate Now
Share Your Experience
Have you seen Dr. Thomas Donaldson?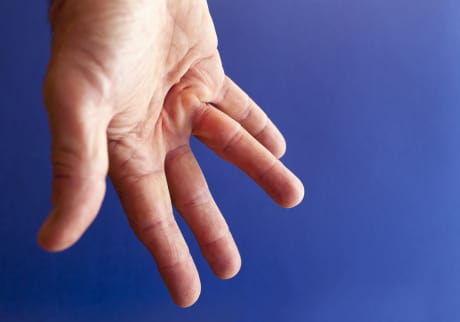 Dupuytren's Contracture
Dupuytren's contracture is a thickening of the tissue beneath the skin of the palm of your hand
Quality Rating
Highly Satisfied
48 Ratings with 16 Comments
5.0 Rating
April 25th, 2016
Best around!
5.0 Rating
January 20th, 2016
Dr. Donaldson was able to fix, what other doctors said could never be fixed. I was told I would lose my leg numerous times by other doctors. Because of Dr. Donaldson I still have my leg. He took my case when others gave up or were too scared, busy or just didn't think they could fix me. Thank you Dr. Donaldson. I am so greatful to you and your amazing and courteous staff.
5.0 Rating
January 11th, 2016
patient
5.0 Rating
August 3rd, 2015
4.0 Rating
February 28th, 2015
great doctor all of the ones i worked with in thomas donaldsons organization
his assistant doctor erin is a sweetheart , my fix could of been all bad and erins smile would make it better .but my both hip replacements are doing great i think ,so far any ways the left one is great and still expericencing a little stiffness and pain in my right but it has only been 2 weeks so time will make it better i think ,he had alot of bone fragments to clean out in the right side,it is definately geting better every day
5.0 Rating
July 12th, 2013
Reinsertion of hip joint
1.0 Rating
July 11th, 2013
If he fails you he fires you
I liked Dr. Donaldson until he refused to discuss problems that resulted from his care so that we could work it out and move on. A serious complication occurred with my surgical incision because he doesn't have trained staff to do his post op work. When I told him that I needed to talk with him, he said it sounded like a conversation for the office. When I showed for my appointment and discussion he came into the room, sat down and said, "let me tell you that the only opinions that matter are mine." From that point on it was useless to try to talk with him. I resorted to writing to him and his response was to fire me as his patient. I am so deeply disappointed in his behavior. I can't in good faith, recommend him to anyone. Especially when he said to me (another doctor did some plastic surgery to close the mess he made of my knee) that "Dr. Blank saved my butt on this one" Excuse me? Dr. Blank saved my leg. The only satisfaction I have from this horrible situation is the knowledge that he knows what he did. It is too bad he can't stand up to it and look me in the eye and talk to me. It is heart wrenching for me.
5.0 Rating
July 11th, 2013
Psychologist
I have seen Dr Donaldson twice and have yet to have surgery, next month, but he is amazing. His bedside manner is the best of Drs in this field. I have seen a d has many surgeries from ortho surgeons and they have not only had terrible bed side, but explained NOTHING, and actually told me rudely that I was neurotic because I asked how my functioning would be after a MAJOR surgery from bone cancer. dr Donaldson will be fixing a lot of the surgical problems from my past surgeries and I give him credit for even trying! He explained and took his time to make sure I understood the procedures.
2.3 Rating
April 25th, 2013
Can't judge a book by its cover
I had knee surgery and the incision became infected and opened. I had been to the doctor's office a total of 8 times in a 2 week period because I was concerned. Each time I was told my incision was ok until the last visit when it began to open. I asked the medical assist. who checked my wound to let the doctor know I was concerned. I was unable to get an appt. to see him. The result was two more surgeries and I now have a large area of flesh missing from my lower leg. This doctor does not oversee post-operative care. He relegates it to his medical assist and his PA. His medical assist said she wasn't familiar with wounds--he also doesn't train his staff. He is unreliable in terms of being available by phone when his office is closed. He doesn't leave anyone covering his practice at those times. I could have easily lost the use of my leg because of the lack of appropriate medical care. Doctors are responsible for overseeing their employees and making sure that they are able to take care of patients. In my case, had the PA or medical assistant ask Dr. Donaldson on the Friday my wound began to open, if he would come in to his office to see me, I might have been spared additional surgery to repair the incision , a skin graft, and weeks of follow-up care by the Wound Care Center. I have attempted to speak with this doctor about my concerns but he won't let me...his answer to addressing the problem was to tell me that the only opinion that counts is his. Dr. Donaldson is touted as being the surgeon who takes the tough cases. When something goes wrong that he is responsible for he changes his demeanor, becomes disrespectful, and defensive. I can't recommend this doctor because of his lack of over-sight of the post-operative care of his patients. That saddens me because when I first went to him he was very engaged, nice, and everything we would want in our doctor. You can't judge a book by it's cover.
5.0 Rating
February 28th, 2013
corrections officer
I am a 47 year old male who was suffering unbelievable pain in my hip. I had advanced arthritis with bone spurs. I had a short stem replacement done and was back to work full duty in 8 weeks. Pain free and active again I can't thank Dr. Donaldson enouph.He gave me back my life! I highly recommend him for those who are suffering with debilitating pain. Thanks Doc!
2.3 Rating
August 26th, 2012
Dr. Donaldson is a good practitioner. What is lacking is good training for his staff and his directions on how to handle patients who are need of assistance between visits. The staff, while pleasant are unreliable and often times they simply pass the buck for things gone wrong. This doctor needs to know what is going on in his office.
5.0 Rating
August 8th, 2012
I had hip resurfacing 7 years ago with Dr. Donaldson. He has given me my life back. I am a pilot (type rated in 3 different jets), I ride reining horses, I take bike trips with my children - up to 25 miles per day. With no pain, my life is so much more enjoyable. I am so thankful I followed my Doctors recommendation for the best Orthopaedic Doctor in our area, Dr. Donaldson.