Rate Now
Share Your Experience
Have you seen Dr. Thomas Namey?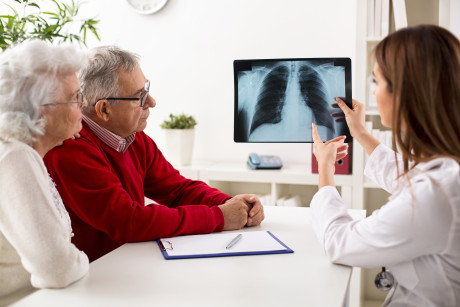 Lung Cancer
Get the facts about lung cancer, including how many people get it and what increases your risk for developing it.
Quality Rating
Highly Satisfied
110 Ratings with 62 Comments
1.0 Rating
September 20th, 2017
Misdiagnosed patient
My GP recommended Namey due to the high ratings on the Internet . He diagnosed me with ankylosing spondylitis and psoriatic arthritis. He said he could put the arthritis into remission and prescribed antibiotics. I questioned taking antibiotics on a long term basis and he asked if I would rather end up taken biologics and DMARDS. After approximately 1 1/2 yrs of seeing him, I decided to seek a 2nd opinion. I was misdiagnosed! I have osteoarthritis. The long term usage of antiobiotics caused havoc on my digestive system! Do not see this "Doctor."
1.0 Rating
June 19th, 2017
Don't go to this doctor! He diagnosed me with psoriatic arthritis. I went to Mayo Clinic in Jacksonville, FLorida, for second opinion. Mayo performed over 20 tests and confirmed I DO NOT have psoriatic arthritis
5.0 Rating
September 15th, 2016
Great doctor!
Took more time with me than anyother. Obviously book smart, but amazing clinical skiils. Looked at my tongue and diagnosed B12 deficiency. Looked at my neck and saw a white spot, and told me I might have a thyroid issue. I did, it was Hashimoto's Throiditis. And I was sent to him for a positive ANA, which turned out to be a false positive!
5.0 Rating
August 7th, 2016
5.0 Rating
July 30th, 2016
good in many areas
5.0 Rating
June 28th, 2016
5.0 Rating
June 16th, 2016
Excellent Rheumatologist! I question the validity of some of these negative reviews....
When I decided to see Dr. Namey I was barely able to get around. The pain was miserable and I honestly wanted to die. In an effort to find a diagnosis; I traveled out of state, I saw several specialists, and I had all kinds of tests and procedures. This pain occurred following a ruptured brain aneurysm. Either the hemorrhage triggered a gene for the type of arthritis I have or the Clostridium Difficile Colitis that I obtained in the hospital did. Who knows? He diagnosed me the first appointment. He put me on medication. He confirmed that diagnosis with tests, specifically genetic tests. Over the years that I have seen him I went from barely getting around to being energetic, vibrant and virtually pain free. He has my hormones under control. I'm losing weight. I joined the gym and am even hiking and participating in a boot camp fitness class. In this class I keep up with the men. Having worked in the medical field many years you can bet I thoroughly checked Dr. Namey out. Of course he is board certified. He is so intelligent he could pass the boards with his eyes closed. Also, patients do not sit around discussing one another's diagnosis. There is no way someone can honestly say Dr. Namey diagnoses patients with the same thing. That statement alone makes me question who is writing the review. Personally, I know two people who go there who are diagnosed with two different autoimmune conditions, not psoriatic arthritis. One person I referred myself. The other is a family friend. He spends a lot of time with his patients. He tries to save his patients money. From time to time I get steroid injections there. They work better than any other injections I have had. I don't know what I would do without him. No other doctors compare. One time I even saw an orthopedic specialist. He said "nothing could be done for me" and was so rude. Afterwards I contained myself until I got in the car and then I cried. It was foolish to go there because I have Dr. Namey who never fails me. Don't let these negative reviews keep you from going there. If he puts you on a treatment trust him and stay on the treatment even if you feel queasy at first. It will pass. My medications give me no side effects. The latest and greatest drugs aren't always the best. I've been in remission for years now and am on older and less expensive drugs. My labs are perfect. Know that he will be different from any physician or specialist you have probably ever seen. I enjoy going there. Being different is not always a bad thing. He has never been rude to me. He always listens to me. Sometimes he may talk about things not related to my condition. It's nothing bad. He's just making a connection and I am courteous and listen. Sometimes he may run behind but it's because he actually spends time with his patients. At my previous family doctor he was cutting me off and rushing out the door after 15 minutes. The main thing is I can finally live a normal life. At 45 I feel like I'm 25 again. If I sound protective, I am. I've been seeing him for years now. I know how bad of shape I was in then and how well I am doing now. It's all because of him. It upsets me to see some of these negative reviews because I question the motive of who is writing them. There will be negative reviews for any physician but some are very questionable.
5.0 Rating
June 4th, 2016
Amazing doc!
1.0 Rating
May 31st, 2016
I feel if you read the ratings you can see a pattern of a once highly respectable Doctor becoming less so My experience was not good Took a family member there . He of course diagnosed psoriatic arthritis, didn't listen to patient, spoke about his finances and personal matters. Something seems to be going on with him. Too many blood tests, not enough listening, downing other docs. Felt something wasn't right, refused to take my patient there again.
1.0 Rating
March 16th, 2016
If I had not found Dr. Namey, I would be dead now. I was in so much pain & kept getting misdiagnosed, until I had decided if something didn't change with my pain, I was going to jump off the bridge & end it. Going by his nutrition suggestions, I was able to lose 90 lbs. & go water ski & ride horses again. He gave me my life back.
3.0 Rating
January 26th, 2016