Rate Now
Share Your Experience
Have you seen Dr. Thomas Stovall?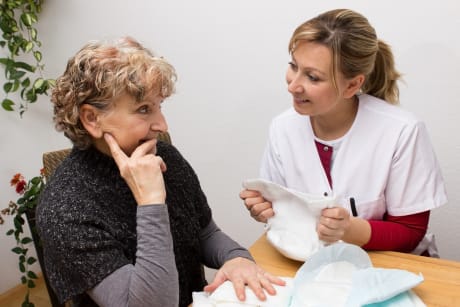 Urinary Incontinence
Learn about the symptoms and causes of urinary incontinence or urge incontinence.
44 Ratings with 23 Comments
1.0 Rating
May 25th, 2017
Having severe pain in left front abdomen and constantly urinating. Pain was so bad, my husband took off work early to take me to appointment, because I was afraid to drive
1.0 Rating
May 2nd, 2017
Current patient
The staff is friendly and I believe deep down Dr. Stovall is friendly. However, he comes in the room and he says, "I will see you next week." He is quick to walk out the room after that. I would move to ask him questions or share my concerns and his response to everything is, "that's normal". And then he continues to walk out the room. I've had plenty of doctors and he is by far the worse I have ever had in my entire life. I would think he is busy but he just goes to sit down in his office or he is at the desk joking around with his nurses. I really feel like he doesn't care about me. My pregnancy is going pretty well but if I have concerns they are true concerns. He couldn't be concerned just as long as he is getting paid. He had the nerve to tell me to get back to work so that I can pay him. Ummmm sir you will get paid either way.
5.0 Rating
August 19th, 2016
5.0 Rating
August 16th, 2016
Another pleasant exp..
Another pleasant experience
4.0 Rating
July 20th, 2016
Always very professi..
Always very professional and informative, really make sure you're comfortable and taken care of.
1.0 Rating
July 18th, 2016
1.0 Rating
July 18th, 2016
Dr. Thomas Stovall Review
I went in to see Dr. Thomas Stovall about a recent miscarriage. He was very insensitive and asked me how I knew I had a miscarriage. He also made sly, stereotypical remarks to me and my mother and seemed to not care about the seriousness of having a miscarriage. I felt uncomfortable and disrespected. I will not be going back to see him. The staff however was very sweet and kind.
5.0 Rating
May 23rd, 2016
5.0 Rating
April 23rd, 2016
Best OBGYN
He is the most hilarious and personable doctor I have had! He is the only doctor I have had that makes me comfortable to ask questions and not feel rushed. He makes sure you as his patient are well informed with your health. His office is very modern and you get results and appt. booking via your online portal which is very convenient. I been seeing him for two years and will continue.
5.0 Rating
April 8th, 2016
2.3 Rating
December 23rd, 2014
Not the Dr. for me
I can tell he's a nice man but like the other reviewers state, he does not listen. I know doctors particularly OBs are generally super busy but if I have a legitimate concern I would like more than a one word answer as he stretches for the exit door. I'm not comfortable asking questions because you can feel that he's ready to leave after being in the room for 30 seconds (seriously). Tried to give it a chance but I think I want someone else to deliver my baby.