Rate Now
Share Your Experience
Have you seen Dr. Todd Swick?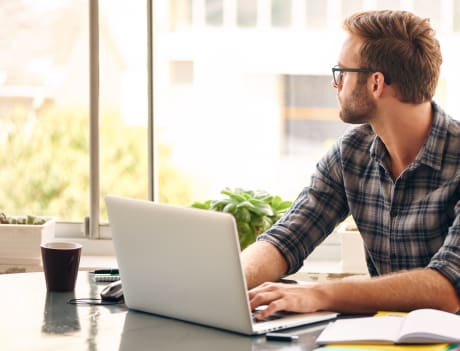 Adult ADHD
Get the facts about attention deficit hyperactivity disorder (ADHD) in adults, including the different types and symptoms of each.
53 Ratings with 21 Comments
5.0 Rating
September 16th, 2017
Finally!!
1.0 Rating
April 20th, 2017
THE WAY THIS DR TREATED ME WAS AN INSULT TO THE MEDICAL PROFESSION
I just left from a visit and not a minute too soon. I started to walk out in the middle of my visit but had already paid so I stuck it out. I take issue with paying to be treated in the manner that was displayed as if I am an inconvenience. I had problems getting used to the CPAP machine that I was prescribed and as a result had not used it on a regular basis. Instead of this man trying to help figure out what the problem was, all he did was show his disgust by typing on the laptop and pretty much ignoring anything I was saying. He obviously doesn't need my business and his lack of concern proved it. Moving on.
4.0 Rating
March 28th, 2017
1.0 Rating
December 23rd, 2016
Rude!!
5.0 Rating
December 29th, 2014
Attorney
Dr. Swick is a brilliant sleep specialist. He is thorough and he cares about me as a patient and a person. I have a terrible case of obstructive and central sleep apnea. Dr. Swick has been creative in finding ways to help me cope with this crippling illness. He referred me to Dr. Prehn who custom made a mask to assist me with my breathing problems. I realize that I probably will never get better from my condition. Sleep apnea destroyed my career as an attorney. Dr. Swick has given me hope so I can lead some semblance of a normal life. He is strict with me but he cares! You do not get this type of treatment from other doctors. He has literally saved my life. Thank you Dr. Swick!
5.0 Rating
May 23rd, 2013
SUPERB!!!
I have been a patient of Dr. Swick's for 2 years. He and his staff have always been professional, courteous and always concerned for me and my needs. They are very responsive and I could not be more impressed with the service and the dedication to the patients that I have observed. There is never a wait time at the office and the appointments are easy to schedule. They are the best!
1.0 Rating
February 18th, 2013
Ask for all costs before going!!!
First - I never actually met Dr. Swick, even though that is who I wanted to see in the first place. I ended up with a doctor not even listed on the website. Second - The actual sleep tests are ran by a secondary company and they charge you separately for each sleep test but don't tell you what the costs are until you are there signing the paperwork, ready to do the test. (so the photos of bedrooms don't actually belong to dr. swick's office, but the other company they don't mention on the website) A cost Dr. Swicks office never really talks about. On top of that, the sleep test company uses a third party billing company. So, Dr. Swick's office tells you to call the sleep test people and the sleep test people tell you to call the billing company to handle issues. Not very professional. Third - Dr. Swick's office charges $800 to interpret the tests which takes a doctor all of 30min to read, which should be included in the office visit, not a separate cost, this is what their job is. Which is on top of the office visit charges. Fourth - they use an outside company for the CPAP machines, which they too never really tell you the full cost the first time you talk to them. Every time I called, somehow an extra item kept being added. Overall, it feels like Dr. Swick's office knows that if they tell you the full costs up front of every part to do a sleep test and and to get a CPAP machine, no one would do it. Which seems a bit sneaky to me in the end off all of this. I will not go back to his office.
1.0 Rating
September 17th, 2012
poor doctor, never go.
This doctor looks like he is sick himself. He focus what to put into his computer, he care the answer short may just fit to the blank in his computer chart. does not have patient to listen, distupt you if you said more that he can put it in his note.and be care ful, he charge pt by reviewing/down loading information from your CPAP SD card. when call to office, the staff was realy bad showing attitude...., never ever go back to this doctor, please.
1.0 Rating
September 16th, 2012
About as good as any.
Hey people! Don't you know? They didn't go through all that school to get out and have to mess around with your blood and guts. Give the guy a break. They're all in it for the MONEY, just like everybody else out there. Lose some weight, stop eating cheeseburgers, try to keep healthy, get some exercise. My favorite doctor will be the one who will say that to my face and then write it on a Rx. That doesn't get them a trip to Maui though.
1.0 Rating
February 12th, 2012
False Diagnosis
Before the sleep study Dr. Swick told me sleep apnea was causing several different problems I was having and that treating it would cure them all.After the sleep study he told me I had "mild sleep apnea." But, many weeks later when I was still having trouble getting used to my breathing machine and not getting any results, I was discussing the situation with his nurse and was told I scored a 5 (apneas per hour) in the study, the lowest score that is called sleep apnea. I said that during the study I slept on my back because of the wires and the mask but normally I sleep on my side or stomach. If I sleep on my side or stomach wouldn't I have fewer apneas than on my back? She said, "Yes." I said, "Then under normal conditions, I don't have sleep apnea. And I don't need the machine." She didn't say yes or no.I don't believe Dr. Swick was honest with me. I believe he was deceptive. He knew that I do not sleep on my back and that everyone does sleeps on their back during a sleep study. He should have told me I don't have sleep apnea rather than having me return for ongoing treatment.