Rate Now
Share Your Experience
Have you seen Dr. Tom Mayer?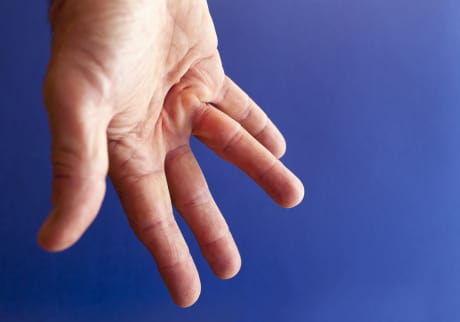 Dupuytren's Contracture
Dupuytren's contracture is a thickening of the tissue beneath the skin of the palm of your hand
26 Ratings with 12 Comments
5.0 Rating
March 20th, 2012
This Doctor is ahead of the curve when it comes to forwrd thinking, He already has proved that at P.R.I.D.E. If you ever have the need to use the facility for rehab or much prolong needed rehab for whatever reasons this is the place to go.
1.0 Rating
September 24th, 2011
1.0 Rating
August 4th, 2011
Worst "Doctor" I've Ever Met
Seriously the WORST Doctor...If you can even call him that, that I've ever met. Kept me waiting over 2 hours in the waiting room then got mad because he had to wait a couple of minutes on me to return from the restroom. I have a WC injury & was told I might have compression fractures & need an MRI he said "so what if you compression fractures? lots of people have them you don't need to know to about them but if you want an MRI fine..I'll be lucky if they pay for this visit" when the results came in & I returned he didn't even tell me the results or give me a copy, I had to ask for it. It turns out I had 2 bulging discs but he wasn't concerned about the pain that causes me & he just signed me up for his rehab program that did absolutely nothing. I don't see how he can help anyone because he doesn't shut his mouth long enough to listen and he has no empathy.
1.0 Rating
April 15th, 2011
***warning***
I was referred here and was scheduled to be 1st appt of the day. I waited over 2.5 hours before the dr came in. He was more closely akin to a car salesman as he tried to sell me on the oppurtunity I was blessed with to have access to his facility and program. He was rude, ingeniune, condecending, and a fast-talker (in a high pressure sales context). He told me how workers comp was so tedious and I was a doctors nightmare so no one else will probably want to deal with me. He promised to "have me hooked up to his (exercise) machines and working through the pain while I squeel like a pig". His waiting room seemed intimidated by him. His nurses were unfamiliar with his reknowned "blowfish toxin treatment". He did not review my medical file, MRI, examine me nor allow me to speak. He told me that if I wanted a prescription the i'd have to see his partner but he only sees those who have emotional issues that are co-morbid symptoms of the injury so if I wanted pain medicine I would need to "really embellish my depression or anxiety symptoms". The office is dirty and drab. If you feel like a second class citizen then this place will make you feel right at home. I told the office off before I left, vocally & publicly, and received a round of applause before I walked out. I am educated, a professional, and refuse to be a victim. Never allow yourself to be treated in such a demeaning and patronizing fashion as this office has adopted. Don't believe me?......go ahead, schedule that appointment and see for yourself !
5.0 Rating
August 16th, 2010
5.0 Rating
May 18th, 2010
Great Doctor
I've been in pain for several years - started in my back and traveled to my leg. This is the first doctor who was able to pinpoint the cause and ...
5.0 Rating
May 12th, 2010
Relief at last
I have been living with back and leg pain for over a year. Dr. Mayer took the time to fully evaluate me and finally pinpointed the source of the pain. Since my issue had been going on for so long, he explained that it could be a slow process to recovery - we avoided surgery and after only a few weeks of therapy at PRIDE, I am already seeing results. The therapist here are thorough, caring and knowledgeable. What a relief!!!
5.0 Rating
March 2nd, 2010
Very Knowledgeable
5.0 Rating
January 28th, 2010
Caring doctor
1.0 Rating
July 2nd, 2009
Bad DR
Wait over a hr to see this guy. takes work comp only and pushes his rehab. Did not evaluate me at all nor did he look at my medical history. He does ignore his patients. Seems most are afraid to cross this guy. I have a malpractice lawyer on call as I do not trust this guy. Sadly still stuck his care if you can call it care
1.0 Rating
January 13th, 2009
The man was suppose to eval my shoulder/neck,knees.hip/back. He never did this but did half way look at the shoulder when told he was hurting me he added more force leaving multiply bruises on me and ignored the fact that I was having tingling and numbness. He also refused to let me have a patient advocate in the room which I need due to a disabilty in which there is a communcation problem. He was very rude and unprofesional. Also ignored my medical history.
Nearby Doctors

Dr. Tom Mayer is similar to the following 3 Doctors near Dallas, TX.