Rate Now
Share Your Experience
Have you seen Dr. Tracey Wilson?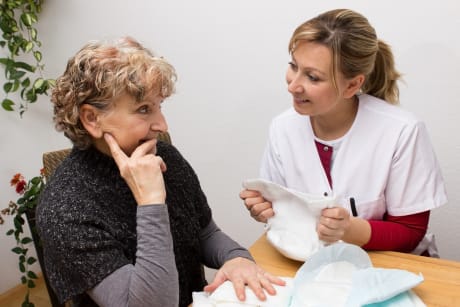 Urinary Incontinence
Learn about the symptoms and causes of urinary incontinence or urge incontinence.
27 Ratings with 13 Comments
5.0 Rating
October 11th, 2016
LOVE this woman!
3.0 Rating
May 26th, 2016
I saw this physician for the first time 3 years ago in the spinal cord injury clinic. Prior, I had been seeing one of partners for many years. When she walked into the exam room, the thought was all heck, strictly business like what the heck you want. The next year I saw her she was a little milder but presented an approach as, "state your business I don't have all day". The last time I saw her it was I don't your test results, I will call you later. Trust me, she was not in the room 3 minutes. To me, her personality is low, bedside manner is low. I can't see why the other doctors that have been there will allow her to stay in that practice. She has taken over the spinal cord clinic at Spain which appears to now be declining. Do your research first!!!!!
1.0 Rating
April 9th, 2016
Ms T
I have been seeing this doctor for about 3 miserable years. I had been to the group in Homewood that thought I was drug seeking and told me there was nothing else they could do. I call UAB and this is the doctor they assigned me too. Granted she got my pain under control without narcotics. She used Lyrica that helps nerve pain. I have had break through pain that is unbearable. I have had several back surgeries I am more than familiar with nerve pain. My last visit she recommended me to UAB pain clinic. I have interstitial cystis and it is a living nightmare to put it mildly. It is so bad I don't sleep and just shake like a dog.. Don't waste your time with Dr. Tracy Wilson, unless you love to be insulted. I am going out of the UAB health system to seek another doctor. I wish everyone luck that has left a review.
2.0 Rating
November 14th, 2015
Rude and Insulting
This doctor has major attitude issues. The first two visits, she was abrupt and to the point but on the third she was just down- right rude and insulting. Totally uncalled for and unprofessional. I have been pleased with most doctors at UAB but am very unhappy with this person and am planning to find another doctor. I tried to give her the benefit of the doubt, but no one should have to put up with such disrespect out of people who are supposed to be "caregivers".
5.0 Rating
October 7th, 2015
Absolutely Wonderful!! The Best!!
1.0 Rating
April 12th, 2015
Awful
1.0 Rating
January 16th, 2015
horrible woman
Horrible, horrible woman. I wouldn't recommend her to my worst enemy. Please seek medical help elsewhere.
1.0 Rating
January 11th, 2015
Mean
1.0 Rating
December 22nd, 2014
1.0 Rating
December 20th, 2014
Miserable
She is a disgusting person inside and out. One of the most obnoxious and socially inept people I think I have ever met. I saw her as a patient. I saw her interact with staff, patients, and families. Please accept this honest review: she is the absolute lowest form of person you will ever come across.
1.0 Rating
December 19th, 2014
Horrible Human Being
1.0 Rating
May 15th, 2013
Dr. Wilson is the rudest physician I have encountered and shows no Feeling for her patients. I love UAB but cannot continue to subject myself to her poor patient care. If she were not a minority, I would have called our dr/patient relationship over years ago, but I kept giving her the benefit of the doubt. Shame on Me!