Rate Now
Share Your Experience
Have you seen Dr. Tracy Crnic?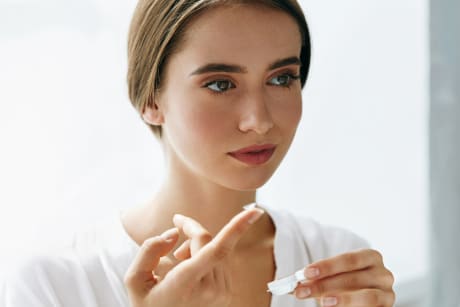 Contact Lens Care
A complete overview of what you need to know about your contact lenses.
21 Ratings with 12 Comments
1.0 Rating
July 20th, 2015
It was our first time here for my son that's almost 2. It was ridiculous our appointment was 9:15 it is now 11:15 and still no dr. So I have a tired cranky child that is just not having it. Very unprofessional and not to mention. The waiting room was jam packed and infested with bugs! We will not be coming back.
2.0 Rating
June 29th, 2015
They called the morning of my son's appointment to tell me I had to reschedule that afternoon. I didn't have time that afternoon. The soonest they would get him in was 6 weeks later. So 6 weeks later I'm sitting the waiting area. I've spotted 20 dead/dying bugs on the floor. Just unsanitary. On the upside my three year old is fascinated by the all the buggies.
1.0 Rating
June 20th, 2015
Took my son to Dr Crnic for 4 years. She kept telling me he wasn't getting better and kept changing his prescriptions and upping his patching time. Finally had enough at last appt when staff was rude and office smelled. Got second opinion from a doc in Lubbock. His prescription was way off and he doesn't have to patch anymore. Glad I got the second opinion!
5.0 Rating
July 13th, 2013
mother
1.0 Rating
April 22nd, 2013
The office visits were not too bad. Front staff was ok, not great. The nurses in the back were generally helpful. Time with Crinic was very short and had to drag info out of her for my 2 year old daughter's surgery. Day of surgery, we waited for 2 1/2 hours after being told to be there at 6:45 only to be told that paperwork was not correctly done prior to surgery, the surgery was cancelled, and it was MY fault. We had an appointment on Monday and I followed up on Tuesday to make sure there was nothing else I needed to due prior. Surgery was scheduled for Friday. I was told by several people on the same day that they also had similar issues. One person even told me that it was a blessing in disguise that the surgery was cancelled and HIGHLY recommended me to call around for another pediatric ophthalmologist.
3.7 Rating
August 7th, 2012
5.0 Rating
April 13th, 2012
Dr Crnic fixed a vision problem I had for 50 years.Both of my eyes constantly drifted. This now fixedand it also help my self esteem. Thank You DR CRNIC
5.0 Rating
September 30th, 2011
2.3 Rating
September 23rd, 2011
3.7 Rating
August 10th, 2011
My son has been a patient of Dr. Crnic's for about 7 years and he is doing great! Before Dr. Crnic came to Amarillo, the closest Pediatric Ophthalmologist was in Lubbock so we love that we have Dr. Crnic in town! It can be a long wait in the office but that beats driving to lubbock and waiting and driving back!!!
1.0 Rating
July 8th, 2011
Bad Outcome
5.0 Rating
July 6th, 2010