Rate Now
Share Your Experience
Have you seen Dr. Tracy Hays?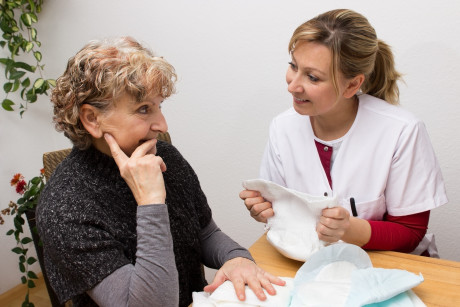 Urinary Incontinence
Learn about the symptoms and causes of urinary incontinence or urge incontinence.
Quality Rating
Highly Satisfied
40 Ratings with 17 Comments
1.0 Rating
July 16th, 2016
Horrible scheduling
I have had 3 appointments scheduled with Dr. Hays. The first one I waited for an hour and half after my appointment time before seeing her. The second appointment was cancelled the day of, after I had cleared my schedule to be there. The third appointment was scheduled for 3:00, I didn't see Dr. Hays until after 5:00. When I expressed my displeasure, the basic response was "I'm more important than you." I was willing to forgive the first time running late because I understand that happens. The rescheduling the next time was frustrating, and then to have to wait like that the third time was just ridiculous. Her attitude about it was the kicker. I get it that she's busy, but everyone is busy. I couldn't show up to the appointment 2 hours late and just say "I've had a very busy day" and "Try walking a mile in my shoes," which were both things she told me as the reason for her extreme lateness. I don't understand why doctors think this is acceptable.
5.0 Rating
August 23rd, 2015
5.0 Rating
July 31st, 2015
Great Person, Great Doctor
1.0 Rating
July 23rd, 2013
I was a patient of Dr.Hays for ten years and I am sad to say that I have been forced to switch Doctors. I have waited over an hour the last three times I visited while I was sitting undressed in the exam room, this is so unacceptable. I understand that doctors have emergencies but then perhaps I should have been told that she was running that far behind and I should have been left in the waiting room. Dr. Hays was a great doctor but her medical assistant is so rude, incompetent and difficult that I have decided it is a detriment to the care that Dr. Hays can provide. The medical assistant made a number if errors on my chart. The old assistant was wonderful, I hope that Dr.Hays will make some changes so that she does not lose any more patients because of her MA.
5.0 Rating
July 9th, 2013
I love Dr. Hays
5.0 Rating
October 23rd, 2012
5.0 Rating
January 11th, 2012
Exceptional pre & post natal care
Dr Hays was wonderful to work with during my pregnancy! My first pregnancy at 38 was a wonderful experience thanks to Dr Hays and her staff. Every time I had a question or concern, she called me back within 3 min of paging her. I recommend Dr Hays for all Ob/Gyn needs!
1.0 Rating
January 3rd, 2012
In the last week, both of my appointments with Dr. Hays had to be cancelled. My first appointment was my first one ever with her and she had to leave to deliver a baby. I opted to wait to see if you could see me when she returned. Apparently two other women were in labor and she stayed to deliver their babies. I can understand that so I rescheduled. At my rescheduled appointment, the same thing happened; she left to deliver a baby and would not be back for at least an hour and a half. So I have no other choice but to go through the pain of finding another doctor. I feel very put out by this and cannot believe she and her office cannot find a better method. I am a nurse and I understand situations happen but this is just wrong. I need a doctor that respects my time too. How does she see patients if she's delivering babies all day long? Her office is in a sketchy part of town and in an old, run down looking building. The office interior is not aesthetically pleasing either.
2.3 Rating
December 2nd, 2011
My husband and I are professionals and both have hectic work schedules, as most people do. We scheduled our appointment two months in advance and arrived to find we were the last appointment at 4 pm. I arrived at 3:45, my husband at 3:50. We sat and waited with one other patient. At 4:30 we finally asked the front office how much longer it would be, which they replied, "a couple of minutes". Fifteen minutes later, they put us in a tiny examination room (we were only there for a consult, not exam) and said Dr. Hays would be right in, and shut the door. After waiting another TWENTY FIVE MINUTES, without anyone checking in on us, we decided to leave. When we walked back up to the front we found the nurses and front office staff were concerning themselves with Christmas decorations. I told them we were leaving and the wait time was ridiculous--they just said, "Sorry." After walking out to an empty parking lot, I am starting to wonder if Dr. Hays was even at the office or if she had a delivery and they didn't bother to tell us. Very disappointed--I have been a patient for over 12 years and will not be back.
5.0 Rating
August 2nd, 2011
Wouldn't have another
Dr. Hays has been my doctor for about ten years. She has delivered both of my children, one of which was an emergency situation. She has handled all my care with professionalism and humor. The staff is busy, but I wouldn't say rude. This is an unpredictable field and everyone has to be ready to adjust at a moments notice. Whenever a baby or two decided to be born during one of my visits, which has happened a time or two over the years, I was always given a variety of options. I hope we are able to continue on together for many years to come.
5.0 Rating
July 26th, 2011
Wouldn't go to anyone else
2.3 Rating
June 16th, 2011
Staff is extremely rude. When I complaint to Dr. Hays about her staff being rude she was kind and said to make sure I told her whenever I had a problem. When I tried to make the next appointment her staff told me Dr. Hays no longer wanted to be my doctor. When I asked why she said we have sent you a letter explaining why? When I informed this staff person I had not received a letter she said "well that's too bad." It appears I was dropped as a patient after I made a complaint about the staff. If this is the way I was treated after having been her patient for over 10 years then that says a lot about Dr. Hays and her staff.