Rate Now
Share Your Experience
Have you seen Dr. Uma Ananth?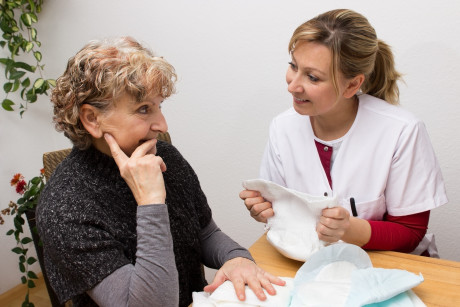 Urinary Incontinence
Learn about the symptoms and causes of urinary incontinence or urge incontinence.
32 Ratings with 14 Comments
5.0 Rating
September 14th, 2017
GREAT DOCTOR:)
5.0 Rating
September 11th, 2017
1.0 Rating
August 2nd, 2016
Go somewhere else
The experience I had trying to schedule an appointment with Dr. Ananth was horrific. I scheduled an appointment with her, and her staff called to change it twice, both times claiming Dr. Ananth wanted to leave early that day. The 2nd time I was asked to change my appointment was hours before the appointment. No consideration was given to me having a job that had to be worked around. I agreed to all of the changes, even though they were very inconvenient and caused me to miss an important meeting at work only to arrive and find out that Dr. Ananth wasn't even there. She was at a different office location, which no one mentioned to me. I had never been to another location, which was far out of my way, and no one told me to go to a different place. After preparing for my visit, changing my appointment multiple times, arriving for an appointment that never happened and missing work to do so, the staff never even apologized. There are a ton of people working at the front desk, and none of them seem to know what is going on or who is doing what. There is no way I would go through all of this again to try to get an appointment. The staff is incredibly rude, and they don't get that they are the first impression. A very upsetting experience especially since I wasn't able to get any help for my health issue.
Doctor's Response
As you have posted the same review on several sites, we will post the same response to each: We are sorry for the confusion. Because you did not identify yourself so we may reach out to you, we ask that you contact us so we may investigate your complaint and attempt to resolve the issue. Please call the office, we would be happy to speak with you.
SHOW
5.0 Rating
July 26th, 2016
I would trust her with my life
Dr. Ananth may seem a little bit brusque, but she is actually compassionate and empathetic and kind. She will not sugar coat or patronize you - she will give it to you straight. But she will give you all the information about what you're going through, she will pay minute attention to your medical history taking it into very serious consideration while treating you, she will review all your possible options and tell you her thoughts, but allow you to make your own decisions. I had a question about the timing of a procedure I needed and needed an immediate answer, so I emailed the practice - she called me back within hours, herself. I have been so impressed with her professionalism. Her practice treated my mother, who had uterine cancer, and when I found myself in the same practice I KNEW I was in capable, intelligent hands. I have been nothing but happy with Dr. Ananth.
5.0 Rating
January 26th, 2016
Very Impressed!
At first I was a bit frustrated because I had to wait well past my appointment time. Until! The personal time she spent with me was impressive. I saw her to get a second opinion because my healthcare provider had sent me for imaging and the tests came back "clean. " They said there was no reason why I should be having the pains I was having. Dr. Ananth listened intently and expediently got me an appt for imaging downstairs. Furthermore, she met me down in imagining to see the ultrasound for herself and talk me through what she was seeing. Next, I was scheduled for my procedure - there where many pain producing issues that Dr.Ananth was able to clearly diagnos from the ultrasounds. Finally! I appreciate the care given by Dr. Ananth and will forever be grateful for her expertise and care.
1.0 Rating
May 2nd, 2015
You will get poor care here
1.0 Rating
January 15th, 2014
Don't go
This is the worst experience with any doctor that we attended, No bedside manners at all, don't know what she thinks about her patients that they don't have other choice, we have never seen a doctor with that attitude.We got the appointment immediately, now we know the exact reason. I am not going to recommend this doctor to anyone.
1.0 Rating
January 26th, 2012
Worst docter ever seen
5.0 Rating
October 29th, 2011
I have been a patient of Dr Ananth for almost 20 years. She has delivered both of my children, one being a difficult 10+ lbs vaginal delivery. I can not say enough about Dr Ananth. She has a caring and mild manner. I would like to also add that Nurse Practionor Susan , also my L &D nurse with my son, is amazing. Lucky to have both of them caring for me.
5.0 Rating
December 3rd, 2010
great bedside manner
Dr. Ananth delivered my first baby. She is very professional during office visits. She shakes your hand and always listens to your questions and responds to them. I had a difficult vaginal delivery - 24 hour labor, stalled contractions, meconium. She was right there with me throughout this process. She gave me a game plan. This was extremely helpful during the stress of labor. My husband is a physician and felt lucky that we had Dr. Ananth to guide us through the entire process. She's well respected by others in her field. One person commented that she doesn't spend adequate time during office visits. I would recommend the intensive childbirth classes. It took me 4 Saturday sessions of 4 hours each to get even a cursory understanding of the birthing process. Overall, Dr. Ananth is a wondeful OB/GYN!
1.0 Rating
October 8th, 2010
Arrogant
So the reason I wasn't able to rate Dr. Ananth in a couple of the categories above is because I only had one short but very POOR experience with her.I was actually a patient of Dr. Somani's. However, Dr. Ananth was the one who was supposed to perform my discharge evaluation when it was time for me to leave the hospital. My nurse started calling the office arount 11 am that day just to make sure that someone was coming. After waiting almost all day for someone to come, I finally decided to get in the shower around 5pm. Then, Dr. Ananth walks in (who I didn't know at the time because I had never met her) and asks how I'm doing after she introduces herself with great pride and arrogance. When I tell her that I'm "okay" and that I was about to get in the shower, she tells me "That's fine. You're free to go. I'll tell the nurse that you can be discharged." And then she walks out! No type of evaluation! No type of assessment! My nurse had to check me.Fast forward, I mention to the office assistant that I'm terribly displeased with the way my discharge was handled when they call to schedule my 6 week check up. I tell her that I'll come back for my 6 week check up but that'll be the last vist for me. I go to my check up and am seen by Tara (who is great by the way). A couple days later, I receive a certified letter from who else but arrogant Dr. Ananth! She's telling me that I can no longer come to the practice and that I need to find a new doctor! She just had to have the last word! Completely arrogant!
Nearby Doctors

Dr. Uma Ananth is similar to the following 3 Doctors near Columbus, OH.