Rate Now
Share Your Experience
Have you seen Dr. Uri Ahn?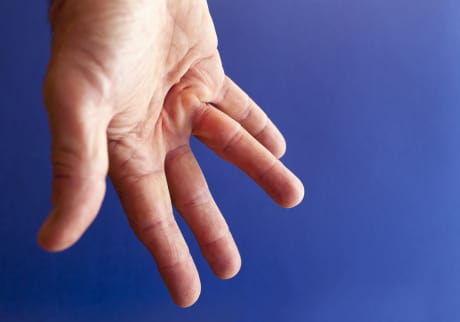 Dupuytren's Contracture
Dupuytren's contracture is a thickening of the tissue beneath the skin of the palm of your hand
Quality Rating
Highly Satisfied
139 Ratings with 65 Comments
5.0 Rating
June 30th, 2017
Professional and Proficient
After years of back pain and various pain management treatment methods, last year I was no longer able to walk, stand or even sit comfortably. I met with Dr. Ahn, who recommended surgery. His calm demeanor put me at ease and he didn't pressure me to make a decision. I had a list of questions, which he answered professionally, thoroughly and patiently. He also explained the downside possibilities. I opted to go forward with the surgery and an so glad I did. I am amazed at how nearly pain-free I am. Surgery was only 2 weeks ago, so I have a long recovery ahead of me, but I would do it all over again. I unhesitatingly recommend Dr. Ahn to anyone who has spinal issues. He is a miracle worker.
5.0 Rating
June 18th, 2017
Excellent
I went to see dr Ahn based on a referral from a friend. He was great and I would highly recommend him to my family and friends too. He was the tie breaking opinion between another location who was extremely negative about surgery and another dr who suggested surgery right away. I had a central herniation with significant numbness in both legs with periods of not being able to walk or stand straight. Dr ahn listened to me. I felt like he was really trying to help. He strongly encouraged me to try steroid injection before surgery despite my strong belief it wouldn't do anything. He ultimately left the decision up to me but reasoned for my own acceptance wouldn't it be best to at least try all non-surgical options to be secure In my decision for surgery. It was great advice and I agreed. After it didnt work and my symptoms got worse I was quickly scheduled for surgery. He and his team of PAs were extremely thorough and supportive before, during and after surgery. I had immediate relief. I recovered well. I was nervous I did something to my back a year later and went back for a follow up. He was very supportive, professional and helpful. Taking time to review the old and the new MRIs with me to show me that everything was ok. His office is externaly busy. There is always a full waiting room. The support office staff have always been great. They don't have the luxury of time for non- value added chatter. They get you in take care of you and then support the next patient. Susan from the front is a rockstar!!. She worked hard to make all my appointments fit my schedule. She was thoughtful of traffic since I came from an hour away.
5.0 Rating
June 16th, 2017
Life worth living again
5.0 Rating
June 2nd, 2017
My arms are not numb anymore
5.0 Rating
June 2nd, 2017
Best Doctor Around!!
I went to see Dr. Ahn for a herniated disk. Using my MRI, he showed me what was going on and explained my options. I opted for the surgery and it all went well, just as Dr. Ahn predicted. He is professional, polite and caring. If I ever need more back/spine surgery, I will go back to Dr. Ahn. I would recomment him to anyone.
5.0 Rating
May 30th, 2017
Incredible doctor.
I felt very comfortable from the very first meeting I had with Dr. Ahn. After talking with him, I was very confident that he was the doctor to take care of my severely herniated disc problem that was causing very bad sciatic nerve pain all down my leg. After my surgery, I felt incredible relief immediately and every day that went by I felt even better. His surgical staff, office staff, hospital he does surgery out and his aftercare program are all great. It has to be a team effort to have a highly successful surgery and it all starts with Dr. Ahn. If you meet him, you will understand why I had the confidence that he was going to be my surgeon.
5.0 Rating
May 25th, 2017
Thank you Dr Ahn!
5.0 Rating
May 20th, 2017
Phenomenal surgeon! Many, many thanks!
A great big thank you to Dr. Ahn! I February, I ruptured my disc at L4/L5, and suffered through unbearable and debilitating pain that left me unable to walk, sit, stand or sleep for a week. Shots of Lidocaine and corticosteroids took 1.5 weeks to feel relief, but I still had serious concerns that the steroid injection would wear off, and the pain would return. I was also concerned about permanent nerve damage, since I still had some numbness and no reflex in my left leg. After meeting with Dr. Ahn, I decided to pursue surgery. One month after the injury, Dr. Ahn performed a microdiscectomy, and two weeks after the surgery I was back to work! I lead a very active lifestyle, walk and run, and use an elliptical machine, doing 6-7 miles per day, 5 days a week. I have never had any injuries, and was very afraid that I would never feel like my pre-injury self. Six weeks later... I've been walking throughout my recovery... I'm back to 6+ miles a day, with no issues. My hamstrings are tight, and I haven't resumed all of my usual exercises, but I know that I will. I have started running in short intervals... no issues. Dr. Ahn did an AMAZING job! He gave me my normal life back! His straightforward, honest and reassuring manner was comforting, and his surgical skills are exceptional. My recovery went very well, and I've never had any recurrence of pain or numbness in my back or leg. My scar is very minimal, and within a few months, it will probably be completely unnoticeable. I highly recommend Dr. Uri Ahn... he is a phenomenal surgeon. The injury was unfortunate, but I feel incredibly fortunate to have been treated by Dr. Ahn!
5.0 Rating
May 15th, 2017
Great!!!
5.0 Rating
May 10th, 2017
Exceptional!!
5.0 Rating
May 3rd, 2017
An Outstanding Physician and Surgeon
Dr. Ahn performed my back-fusion surgery in 2017. From the very first appointment, my wife and I knew that we had made the right choice selecting him to resolve my medical condition and reassured we were in good hands. He was professional, straightforward, genuinely compassionate and sensitive to the significant discomfort that I was experiencing resulting from a herniated disc. He explained the surgery and the recovery thoroughly. I knew exactly what to expect and felt totally confident in his care. He adjusted his schedule and got me into surgery within a week. Following surgery, I felt complete relief immediately. I highly recommend Dr. Ahn and the NH Neurospine Institute.
Nearby Doctors

Dr. Uri Ahn is similar to the following 3 Doctors near Bedford, NH.

Dr. Adrian Thomas

Orthopedic Surgery of the Spine, Orthopedic Surgery, General Surgery

Bedford, NH 0.01 mi