Rate Now
Share Your Experience
Have you seen Dr. Vikram Parmar?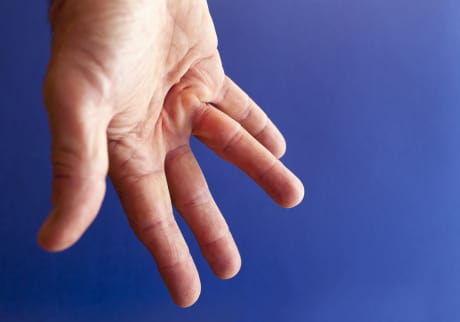 Dupuytren's Contracture
Dupuytren's contracture is a thickening of the tissue beneath the skin of the palm of your hand
57 Ratings with 21 Comments
1.0 Rating
April 29th, 2017
ABANDONED and DON'T LISTEN TO PATIENT
5.0 Rating
July 21st, 2016
5.0 Rating
June 2nd, 2016
After reading these reviews I was skeptical about seeing Dr. Parmar. However, I found his knowledge, enthusiasm about his work and your case, as well as his determined demeanor very comforting. Yes he using profanity, some find that to be unprofessional, however as an Army Brat and Spouse it doesn't bother me, it makes me feel like he's real. After ten years of suffering he has been the first to sit down and explain exactly why things are happening the way they are and what an appropriate next step would be. He even made sure to note it would take some time, but we'd get there. He has a very conservative approach, I'm at the point of grasping at straws and am willing to try anything, including surgery for some stuff that doesn't really need it, I just want a chance at relief. He bluntly told me "I'd love to make money cutting you open and doing what I love, but that won't help you, it'd hurt you. And it seems these vague diagnoses you've gotten over the years have been an attempt of doctors to line their pockets with money, I won't do that to you" I've never heard such honesty from a doctor and was comforted by it. Additionally, without there being major evidence of a reason my my debilitating pain, some doctors have implied that it's in my head and I'm a medication seeker. Without this knowledge he stopped and said " I want you to know you're not crazy, there are things here, something is happening in your body to make it go to sh*t, I can tell you're suffering and you're so young (30) and we need to find the true answer and get you relief outside of meds if possible, don't let anyone tell you this isn't real." Those were some of the best words I've ever heard. People have brought up his high strung demeanor, I wouldn't classify it as that. First I think the biggest thing is he is passionate about his work and helping his patients. There isn't any "well, ummm, it could be, let's see". It's boom I've looked over your history I've talked to your doctor here's what I see let's here your concerns and questions now here's what I would like to do. He's confident and passionate about your care. Secondly, he's a Surgeon, he's on the go seeing new patients, follow patients, and doing surgery all in the same day. So with his upbeat and big personality and coming to the point quickly some may feel that he's not giving them enough time. However he's a busy man he's addressing all concerns and is concise. I'd prefer that than someone who looks like they need another Starbucks before they can muster the energy to talk let alone operate and hem and haw and jump around to various theories and not have a clear and confident approach. Finally, my neurologist got Dr. Parmar on the phone during my visit in his office, Dr.parmer asked for a coupletests to be completed then asked that I walk in to his office and he'd make the time to see me. He abided by that agreement and stayed late that night to make sure my concerns were addressed. Finally, upon leaving his office he told me he was immediately calling my neurologist and asked for my PCMs assistants phone number so he could update him between surgeries the following day. With everything I've just said I don't know what else you could ask for in a provider. I will naturally get a second opinion due to the nature of this issue. However, I wouldn't hesitate to go back to see him if a new issue were to arise or my condition continues to deteriorate while we're at Fort Irwin and surgery becomes necessary. I would recommend him to anyone.
1.0 Rating
April 10th, 2016
should not be a doctor
I am going to be have other doctors look at me. Dr Parmar did not do what he said he was going to. I have pain every day. I would not let this man touch me again.
5.0 Rating
March 16th, 2016
Dr. Parmar is a great surgeon and I would recommend him to anyone especially if they have complicated spinal conditions, failed surgeries, degenerative disk disease, scolosis, Spinal cord injuries. I had them all and I am now completly pain free!He cares about his patients and has a great bedside manner.
5.0 Rating
March 3rd, 2016
Excellent Physician
1.0 Rating
January 7th, 2016
HIGH STRUNG
5.0 Rating
October 27th, 2015
Awesome Doc
5.0 Rating
October 27th, 2015
High Desert Spine Surgery
A very sharp and intelligent doctor. Not everyone's cup of tea. He made an accurate diagnosis and I was able to avoid surgery and regain pain control naturally with diet and exercise. Most surgeons get paid to cut people. But this kind doctor was more concerned with my well being rather than doing surgery on something that was unnecessary...
1.0 Rating
August 29th, 2015
RN
1.0 Rating
August 12th, 2015
Worst doctor ever
This doctor was by far the worst doctor I have ever met. First off I have never had a doctor diagnose me without examining me. Just going off of other doctors notes. He spent about 2 minutes with me the whole time using curse words while talking to me. Very unprofessional. He tells me that the doctor who worked on me before did my spinal injections wrong and I should go see another doctor who is really good.i did and she was wonderful but again the shots were not working so after another MRI she referred me back to him for possible surgery. Now he is telling me she did the shots wrong. That has got to be his mantra. Now I am back to square one with no relief and no help from this person. To top it all off the women behind the counter are extremely bitter and rude. I wish there was a way for someone to do some quality control for the sake of patients because this man is not helping anyone.
Nearby Doctors

Dr. Vikram Parmar is similar to the following 3 Doctors near Apple Valley, CA.