Rate Now
Share Your Experience
Have you seen Dr. Vinay Malviya?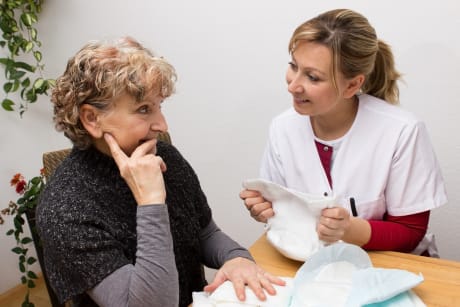 Urinary Incontinence
Learn about the symptoms and causes of urinary incontinence or urge incontinence.
67 Ratings with 25 Comments
5.0 Rating
June 20th, 2016
You might have to wait a bit for this doctor but it's well worth the wait
Dr. Malviya perfomed my hysterectomy and he is brilliant I can even wear a bikini! Professional, accurate in his observations and refreshingly truthful.
5.0 Rating
May 31st, 2016
5.0 Rating
October 11th, 2015
I love this mans talent. He has treated my 2 forms of ovarian cancer and I am in remission today. He works odd hours my appointment last night was at 5:20 they called me to come in to my appointment at 11:30. I left the office at 1:45 AM. This is dedication he will answer all your question I trust him completely. I would refer my sisters to Dr. Malviya in a heartbeat.
5.0 Rating
September 30th, 2015
The wait time at Dr. Malviya's office is controversial about him but he is truly the best gynecologic surgeon in the state of Michigan. He is extremely caring and works harder than any physician I know and GETS RESULTS. Yes you will wait long to see him, but you do get an appointment soon (instead of three-six months from that day), and he works tirelessly to make sure that all of his patients get the medical attention they need as soon as he can. Doesn't it show an immense amount of dedication that he is still willing to see you at 10-11 PM at night? It's unconventional, but you do get seen instead of told that you will have an appointment in 5-6 months from now. He isn't the "nicest" man who will pet your hand and baby you but quite honestly I needed a doctor like him in my corner to help me beat my stupid cancer! Thanks Dr. Malviya
5.0 Rating
August 4th, 2015
5.0 Rating
March 12th, 2015
waiting time
1.0 Rating
February 26th, 2015
Your 10pm appointment is here
I had a follow up visit scheduled a few weeks after my surgery, at 4:40PM. His staff informed me, when I scheduled that appointment, that I should NOT come to the office at that time. They said to CALL at 4:40pm. When I called at 4:40pm, they told me it would be a quite a while till he would be able to see me and that they would call me and tell me when to come in. THEY CALLED ME AT 9:55PM. The woman that called me said to "come on in," as if this was some normal time of the day. WHAT? I am outraged that he runs his practice without ANY regard for his patients. The women that go to him either have cancer or think they have cancer, then he makes them wait. As if WASTING time waiting for him is going to make things better. He should be reviewed for unbelievably poor business practices.
5.0 Rating
October 21st, 2014
This man can save your life.
A lot of people may not like his candor but I know from experience that he is the best around. I have talked to many other of his patients that had gone to other doctors only to have their cancer come back because the first doctor didn't remove all affected tissue or downplayed the seriousness of their condition. Yes you will wait to see him. We have been in his office at 2:00 am but they let you call in and then they will call you an hour before for you to come in. Yes he works long hours, but he is also the guy they call when another surgeon gets in trouble. He is kind and patient and will give you the time you need to think and ask questions. Many may not like to hear what he says because he tells it like it is. You are free to live in denial but odds are you won't live long if you don't heed his advise. Sorry to say not all patients will survive but that has more to do with you condition when you first see him than with his ability. Don't be fooled by others opinions, he may be tired because he works long hours but he knows his stuff and knows every detail of every patient he sees. You could not find better if you tried.
1.0 Rating
March 4th, 2014
Patient
1.0 Rating
April 17th, 2013
BUTCHER!
I would recommend you see a vet before this doctor. He has zero bedside manner. Will not explain anything to you about your condition. Watch out for Malviya Monday. He only operates that one day. Hope you are not one of the 2AM procedures after he has worked a full day! His interns are awful. Has a god like attitude. Seek other care.
1.0 Rating
November 28th, 2012
Awful, Abusive practive of medicine!
Diagnosed with ovarian cancer. Was told he was the best in the state of Michigan. Waited 5 1/2 hours the first visit and was told by others in the waiting room that was "short". Waiting 8 hours the second time and was told it would be at least another 2, probably 3 hours! I was too sick to wait for this doctor who is so highly recommended. I couldn't imagine waiting that long being nauseous from surgery and chemo! I find this treatment of patients abusive. Even the staff agreed, but couldn't do anything because that is the way he works. Others in the waiting room said he gets very little sleep and rumor has it he sometimes sleeps in his office or at the hospital! He must be high on energy drinks in order to work around the clock. One lady told me she probably wouldn't see him until 1:00 in the morning! Even the security guard in the building asked if we were the last to leave because he was waiting to lock up at 3:30 in the morning. He may be a great surgeon and really know his stuff, but I would rather find another specialist, even if I had to travel outside of Michigan. Someone could die in his waiting room. And it seems weird to me that he didn't have a partner to help see his patients quicker or at least several nurse practitioners to see you. Just awful doctor. This isn't India where people wait forever to see a doctor, and he isn't a resident and shouldn't be sleeping in his office! Terrible, Terrible, Terrible!
1.0 Rating
April 19th, 2012
This Doctor has a HORRIBLE bedside manner. He is insensitive and rude. His patients have to wait over 6 hours to get in after their designated appointment time (which usually ended up being about 3:00 a.m.). When my mother (his patient for 8 years) was dying in the hospital he never even came in to see her and he was at the hospital.
Nearby Doctors

Dr. Vinay Malviya is similar to the following 3 Doctors near Southfield, MI.