Rate Now
Share Your Experience
Have you seen Dr. Vincent Sammarco?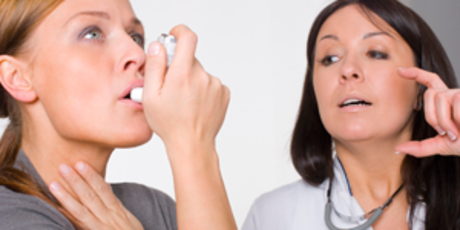 Asthma
More than 22 million Americans of all ages have asthma. Prepare to talk to your doctor about symptoms, diagnosis and treatment options.
Quality Rating
Highly Satisfied
70 Ratings with 36 Comments
5.0 Rating
April 8th, 2017
Knows what he is doing
I honestly feel like I owe my ability to walk to Dr. Sammarco! I came to his office for a second opinion after I had already had two repairs on my Achilles. I could clearly tell that something was wrong with my Achilles, but the doctor I previously had was not confident enough to take appropriate action. It turns out I had a terrible infection and if I had stayed with my previous doctor it could have completely destroyed my tendon. As soon as I saw Dr. Sammarco, he knew exactly what was wrong and got me on a path to healing. He was straightforward through the whole process and I can now walk as easily as before my injury.
5.0 Rating
November 1st, 2016
Great Doctor
Dr. Sammarco is a great doctor. My young daughter had two surgeries with him and I am about to have my second with him also. He is very knowledgeable and I completely trust his medical recommendations. He listens to understand and he is very thorough in diagnostics. He takes time to explain and answer any questions you have. Although appointments with him involves a lot of waiting. He is definitely worth that wait. He does not try to rush any appointment.
5.0 Rating
October 20th, 2016
Repaired my ankle
He did surgery to fix my ankle after I fell off of a wall, It is now healed and I am back to work. Healing was as expected and I have no complaints. He spent a lot of time with my wife and I early on to help us with the injury and I really appreciate that.
5.0 Rating
October 6th, 2016
Got it right!
5.0 Rating
September 7th, 2016
Great Doc!
I am 58 years old and have been suffering with painful, collapsed ankles my whole life. A few years ago, it got so bad I just stopped going out at all. A friend from church recommended I see Dr. Sammarco. My first visit he took X-Rays and showed them to me. We just talked for quite a while about what was wrong and what could be done to make me better. One foot just needed an orthotic, but the other required a complex surgery. The surgery went well and healed as expected. That ankle is now great. I had forgotten what it felt like to be pain free. His staff is attentive and my experience was that everyone caring for me was personally involved. You cannot find better care in orthopedics.
2.0 Rating
August 25th, 2016
Dr. Sammarco ruined my ankle and to this day I have no stability. In my last surgery he cut the stitching out that he put in place to secure my ankle. His suggestion was to fuse my ankle. The physical therapist kindly suggested I go see another specialist who will be operating to repair the mess Dr. Sammarco created with my ankle. He is very often late even when you are the first patient and wants to rush out thee door. I have never been so disappointed in the care that I have received. Not often will you have a therapist or another doctor suggest or make a comment about a doctors performance but in my case they did.
5.0 Rating
July 20th, 2016
Awesome Practice
Dr Sammarco and his staff are fantastic. I had surgery by another surgeon and had disastrous results. Read great reviews on this surgeon and booked an appointment. He reoperated and I am so glad I went to him.
5.0 Rating
June 28th, 2016
5.0 Rating
February 28th, 2016
Ankle is now good.
I twisted my ankle last year playing soccer. I was not able to return to my team because the ankle kept re-spraining over and over. I saw Dr. Sammarco who said the ligaments had pulled off the bone and needed to be re-attached. He did surgery to repair things and I am now back full action. Definitely worth it. A great office from the doctor and his assistants to the therapists who helped me strengthen myself and get back to sports.
5.0 Rating
November 12th, 2015
My experience with Dr. Sammarco was top notch. The day I visited, the office was busy, but I was not rushed, nor did I wait an inordinate amount of time. I came for a second opinion about whether or not I should have surgery on a torn tendon, but really wanted to avoid it if possible. Dr. Sammarco quickly diagnosed my condition and explained that while surgery would allow for a more permanent repair, the the torn tendon could be treated with a brace if desired. I have been using the brace for about 3 months and am now pain free. I may have the surgery done eventually, but just can't do it right now. I am really glad that I was given a non-surgical option.
2.0 Rating
October 27th, 2015
Poor Bedside Manner!!!!!
Wow, I've never had a Dr. be so distant. He may have credentials but I would not recommend him. He did not discuss much and left the room 3 times. Other people came in and did their procedures. I had a cortisone shot and was directed to physical therapy. Six weeks later I called and left a message that the shot did not help and the physical therapy did nothing either. He does not care. No One Returned My Call! It has been 3 weeks now. Going to see someone else.
Doctor's Response
I am sorry I did not meet your expectations and that I seemed distant. We recently changed our electronic medical record and the transition has been difficult. Unfortunately, I have been in and out of patient rooms as I have needed to get help while I learned the new EMR. I have no excuse for your message not being returned. If you call our office at 513-793-3933 and leave a message directly with my secretary Betty Lou and I will return your call personally.
SHOW
5.0 Rating
October 9th, 2015
Lives up to his excellent reputation
I was in a wheelchair and couldn't walk because my foot was collapsing. I went to see another orthopedic surgeon first. He told me that all he could do with my diabetic foot problem was amputate!! Then I heard about Dr. Sammarco and went to see him. He spent a lot of time with me and my wife and explained the problem and possible solutions. He performed a surgery on me that he had invented 12 years ago and now I can walk without crutches!! Then I found out that he has taught this technique at many orthopedic conferences internationally and has saved many a foot. I can't tell you how much it means to me and my family to have me walking again.
Nearby Doctors

Dr. Vincent Sammarco is similar to the following 3 Doctors near Ft Wright, KY.