Rate Now
Share Your Experience
Have you seen Dr. Viruch Vachirakorntong?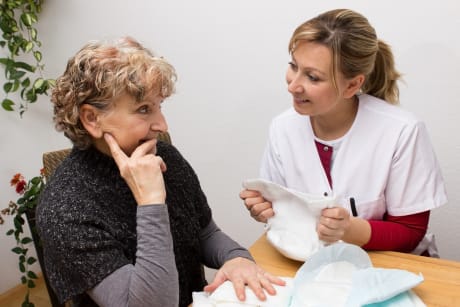 Urinary Incontinence
Learn about the symptoms and causes of urinary incontinence or urge incontinence.
28 Ratings with 10 Comments
5.0 Rating
January 11th, 2017
3.7 Rating
February 12th, 2015
Good Dr.s- horrid staff
I used Viruch for both of my pregnancies. It is true you see the PA more than the Dr. but she is absolutely awesome and really seems excited about each pregnancy. They are way over booked some of the wait times are ridiculous, with an overflowing waiting room. I loved Dr. Viruch, although we had only met a few times prior to birth he was friendly and completely comforting. He did and episeodomy for my first and you can not even tell I had one, it was big too. My second was a c-section by necessity but he went over all my options and allowed me to make the right decision for me. Now his staff on the other hand are HORRIBLE!!!! I was very sick during my pregnancies and his office staff could have cared less. I went in with severe anemia and blacking out, was told there was nothing they could do and I should go home. I could go on with stories of their incompetence but bottom line is they were horrific and made my pregnancies so much harder than they needed to be. Now I gave birth to my 2nd in 2012, so staff may have changed. If you choose him and have a problem, by pass the office chicks and go directly to the nurses or Patty.
1.0 Rating
October 24th, 2014
Wait time is ridiculous. 2 hours usually.
1.0 Rating
January 15th, 2014
Fearless
Stay away from this so called Doctor. He is a license preditor. He is Rude, he says and does inappropriate things, he deliberately hurts women when he performs a Pap-smear by intentionally not lubricating the speculum and treats women roughly when he performs a pelvic exam. He will then blame the victim for the pain he causes by using all kinds of absurd excuses. He is morally corrupt and his actions show it. Insists on performing a breast exam even if the women just had a mammogram a week prior to seeing him. Says to one pt when she hurt during the Pap-smear that the reason for her pain must be because her " boyfriend is small" , and to another that she is not sexually experienced. This Doctor 's friends have no idea what he is like when he is at his office seeing women behind closed door. Don't be fooled by his smile, and what seems like a professional demeanor . Oh, sure he knows how to deliver babies! ....He also Knows that he is deliberately hurting his patients but he does not care, because he gets a satisfaction out of it. Hard to understand how his nurse can be a witness to all his mistreatment of women and just stand there and not say one word, time after time, year after year!!
5.0 Rating
December 16th, 2013
great dr.
Dr Viruch was a great dr for me. I first met him when I was in the ER with lower belly pain. He was called in at 2 am and he semmed warm and comforting to me while I was in pain. My case was complex because I had a tubal abortion that flushed up between my left tube and ovary causeing internal bleeding. He preformed my surgery to remove the tube and overy. After he was sensitive and careing and even said he would like to help me have a baby in the future. I would recomend dr. Viruch
1.0 Rating
October 12th, 2013
What a NIGHTMARE!!
This is my first pregnancy and this office has made it more of a stressful experience than a joyful one. I've experienced nothing but setbacks with appointments and unnecessary problems with their office that could have easily been avoided. The majority of their staff are completely unprofessional and rude. The girls always gave off the impression that they did not truly care about the health of the patient but more about their work load. I would literally be standing there at the reception window waiting to be helped while they sat text messaging on their cell phones and plainly ignoring me. I had a UTI at the beginning of my pregnancy and I went in right away to get it treated seeing that it could cause many complications if not treated as soon as possible. The office FAILED to send out the urine sample for a culture and my condition ended up much more severe due to their immense lack of organization. I never once saw the doctor. The PA, Patty, was the only reason why I stayed as long as I did. I ended up switching doctors due to reoccurring issues and poor office structure. I definitely would NOT recommend this doctor, especially if it's your first pregnancy.
1.0 Rating
September 24th, 2013
Rude staff
5.0 Rating
March 20th, 2012
Maria Pena
I loved evrything about this doctor and the staff, i felt that they took the time to ask questions and also to guide me about how to handle stress during my pregnancy. I love the Nurse practitioner she made me feel very confortable. when my baby was delivered it was amazing, i love Dr Viruch's CARE. and also Patricia.
5.0 Rating
May 2nd, 2011
Viruch delivered my son Ben, I only saw him a few times before I had him, but I thought he was nice. He was really sweet once I went into labor. I was unsure when I should get my epidural, and knowing I was only 16, he said he was going to do it soon after he broke my water. Once I was ready, he took it nice and easy with me and got it done. I popped Ben out in less than 15 minutes, with a help with a well done episiatemy. So I do recommend Viruch, though I would consider pulling him aside and get more personal time with him because he is really busy and usually doesn't give you enough time with him.
5.0 Rating
May 11th, 2017
5.0 Rating
March 16th, 2017
Nearby Doctors

Dr. Viruch Vachirakorntong is similar to the following 3 Doctors near Apple Valley, CA.