Rate Now
Share Your Experience
Have you seen Dr. William Rodgers?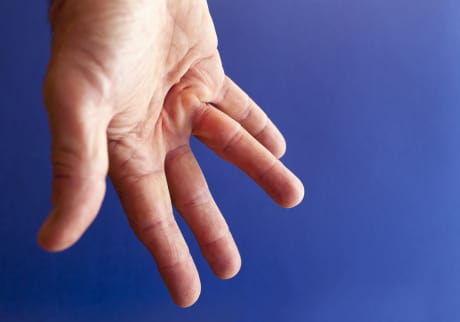 Dupuytren's Contracture
Dupuytren's contracture is a thickening of the tissue beneath the skin of the palm of your hand
37 Ratings with 13 Comments
2.0 Rating
July 28th, 2017
Unsatisfied after 4 surgeries
1.0 Rating
June 7th, 2016
4.0 Rating
May 4th, 2016
L4/L5 fusion patient
1.0 Rating
August 13th, 2015
1.0 Rating
April 25th, 2015
5.0 Rating
December 19th, 2014
I am a long term repeat patient. The fact that Dr. Rodgers referred me to a different surgeon for one of my surgeries reinforced my trust in him. He has always gone the extra mile for me.
1.0 Rating
May 20th, 2013
TERRIBLE AND NO FOLLOW UP PAIN MANAGEMENT
DO NOT LET THIS DOCTOR CUT ON YOUR BACK. TELLS YOU 90% SUCCESS RATE WITH DISCECTOMY AND THEN TAKES THE MONEY AND RUNS! WENT BACK FOR FOLLOW UP BECAUSE OF DEHABLITATING PAIN (THIS WAS 3 YEARS AGO AND STILL CAN'T SLEEP MORE THAN 2 HRS AT A TIME OR WORK). AND I HAVE WORKED 25 YRS AND NEVER DRAWN A SINGLE GOVT CHECK IN MY LIFE(AND PROUD OF IT!), SO THIS IS NOT COMING FROM A DEADBEAT. I AM STILL DOING PHYSICAL THERAPY AND MY DR (WHO DOES HAVE A LITTLE HEART) HAS ME ON PAIN MEDS TO WHERE I CAN HALFWAY FUNCTION. DO NOT LET HIM TOUCH YOU! OF COARSE FROM MY EXPERIENCE, HE WOULD RATHER FLIRT AND TOUCH MY WIFE THAN ME! MADE A SPECIFIC COMMENT ABOUT ME NOT BEING ABLE TO TAKE CARE OF SUCH A PRETTY GIRL PROPERLY, WITH MY BACK PAIN AND ALL! HOW RUDE AND CRUDE! THE ABSOLUTE WORST! A HEARTLESS OLD ARMY DOCTOR!
3.7 Rating
August 3rd, 2011
I have read the other reviews for Dr. Rodgers and wanted to share our thoughts. Front office staff was OK - nothing special. Ed (Physician's Assistant) was Great! Dr. Rodgers was very thorough, listened to us, answered our questions fully. Very direct and to the point. Listened to my concerns over the rating received here, we discussed them and I left feeling comfortable. Thank you!
2.3 Rating
April 23rd, 2011
Very knowledgable doctor. Got the appt. very quick. Did have to wait in the office for quite a while to see him. Did an excellent job with the surgery, in my opinion, so far. Did explain everything about the surgery and the results, such as, you may, have nerve pain for 6 months to a year after the surgery. Did not explian that he would cut off ALL pain meds 3 weeks after surgery and would have no compassion that there is still pain involved (as he previously stated). Now, will not return phone calls or prescribe additional pain medication. Oh, and do not take your 18 yr old daughter to the appt with you, unless you don't mind your doctor flirting with you daughter. Overall, great surgeon with no bedside manner or compassion, so here I sit with my back fixed, but severe sciatic pain in my leg (not able to work) for I guess 6 months until the pain subsides hopefully? Have you ever taken over the counter pain meds for nerve pain? May as well eat some M&M's. Would have to recommend checking into doctors in columbia or St. louis areas, rather than and old army doctor with 0 compassion. No wonder people go to the streets for pain relief. I have never been an addict of any sort- never even smoked a joint in my life, but yet "I don't want to become addicted to prescription pain medication" which I DO need for a short time after this surgery.
1.0 Rating
September 23rd, 2010
No time after surgery
1.0 Rating
April 1st, 2010
Dr. William Blake Rodgers
I had back pain and went to see Dr. Rodgers. He didn't touch me or even let me show him where my back pain was. His PA sent me for x-rays, then for MRI. They said I needed a Discogram. He had his partner Dr, Curtis Cox do that. He hit a nerve that went down my Left leg. His PA called there was nothing they could do for me since it wasn't a disc problem. and to go back to a pain clinic. The nerve hurt so bad, I called them and the nurse called back to tell me she ordered me pain meds. I asked her if it would help with nerve pain, she said yes. The pain pill didn't touch the pain. I called and wanted my records for the pain clinic Dr. They sent me my records, which included a 4 page complete physical. NOBODY EVER TOUCH ME , SO HOW DID THEY DO THE PHYSICAL???I Will NEVER GO BACK OR RECOMMEND MIDWEST SPINE CLINIC FOR ANYTHING.