Rate Now
Share Your Experience
Have you seen Dr. Zahid Aslam?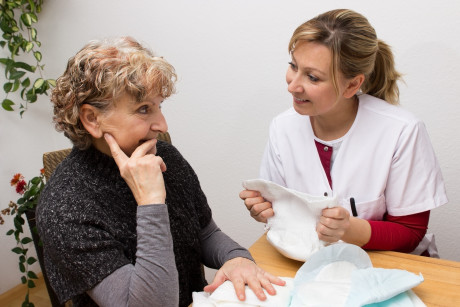 Urinary Incontinence
Learn about the symptoms and causes of urinary incontinence or urge incontinence.
45 Ratings with 12 Comments
1.0 Rating
November 11th, 2016
Better off with another office and doctor
The doctor ignores answering emails and patient questions. Took him 2 weeks of calling to get a response. Cold bedside mannner. His office staff are rude. As for diagnosis, I felt rushed and things weren't explained well. Come to find out through another doctor my issue was very different than his diagnosis. I'm just glad there are more choices now, in the area, than there use to be!
1.0 Rating
May 4th, 2015
my friend had surgery at Alfa Health center for a Hysterectomy... Dr Aslam Zahid did surgery... she was in recovery from 11Am till 4:30Pm then had to be taking to elkton Union hospital by ambulance because no one knew why she couldn't breathe... he didnt even check on her... come to find out he's not even allowed in Union hospital... when she was released 3 days later, Dr Aslam still didn't check on her... he didnt even do her surgery the way he said he was gonna do... she ended up with pneumonia and a collapsed lung... Please no one use him as a doctor... she could have died... he didn't even contact her family that she was sent to Hospital... i don't want this to happen to anyone else...
5.0 Rating
August 6th, 2013
I am one my third child and very depressed that Dr.aslam doesn't deliver any longer at Union Hospital! Dr.Aslam delivered both my children and did an excellent job thru both my pregnancies. I have even stopped by to visit him over the last few years to show off my children he help us bring into the world.
5.0 Rating
April 21st, 2013
Excellent OB-GYN
Dr. Aslam has been my OB-GYN for my last two pregnancies and I love the service he and his office provides. He is genuine, caring, professional, and has his patients best interest in mind. He listens to any concerns you have and works to address them to your satisfaction. He is soft spoken and nuturing, something needed for women who are experiencing OB-GYN related issues and high risk pregnancies. He and his wife( Dr. Awan) both work with patients at the office and also work shifts at the Union Hospital on call. In my experience if Dr. Aslam is busy, he will have one of his partners or wife take care of me. They communicate so he knows what's happening, but he may be in labor and delivery and unable to come personally. Dr. Aslam networks with other Dr.'s and has a good reputation in the community--so if you need a Specialist he is quick to refer you to a reputable one. In the last year, he has moved his office to a bigger space where he has partnered with other Specialist and his patients can now see some needed Specialists without having to leave the building. Dr. Aslam cares about his patients and I will go back to his practice with future pregnancies.
1.0 Rating
July 6th, 2012
felt ditched
a surgery was scheduled and there was 'accident' during surgery. hospital trying to release patient, while patient was bleeding and in pain. Dr Aslam was hard to contact. His co-doctor was the 1 releasing patient, when Dr Aslam was asked for several times! After all he was the 1 doing the surgery, he should have listened to the concerns & pain of patient and checked on patient himself instead of leaving it in the hands of some1 who the patient had never seen before. I think he should have been active in recovery start to finish since he also created the 'accident"'. That is a word u dont want to hear after surgery!
5.0 Rating
April 2nd, 2012
3.7 Rating
June 2nd, 2011
I came to this dr. after I had a miscarraige...They did some bloodwork, and realized that my Prolactin level was elevated...I wanted a hysterectomy, and the dr. talked me out of it, now I am happy that he did, cause I am in the process of trying to have another baby...I hope we get my Prolactin issue taking care of, so I can give my son and daughter another sibling...
5.0 Rating
September 8th, 2009
Helpful Visit
5.0 Rating
July 15th, 2009
best doc ever
I did not see Dr. Aslam during my pregnancy but when I had my miss carrage he was right there. He discovered I had a bigger problem than a regular miscarrige and he cared for me for over a year after that. He was always on time and returned every phone call.Now that I am pregnant again I am returning to hi, and maybe I can avoid the problems I had before with neglectful office.
5.0 Rating
August 26th, 2008
Excellent Doctor
He is a terrific doctor! the best I have had and this will be my 4th child and the first using Dr. Aslam. I have had negative experience before with the delivery of my twins with another doctor and am pleased to have such a attentive, caring and responding doctor as he is. If I have any complaints and sees to it to take whatever precautions neccessarry to insure safety for me and my unborn son. Before this, I had a miscarriage last year and even then he showed immediate care and response to my situation.
5.0 Rating
August 19th, 2008
Lousy Doctor
I went to him for one pregnancy and i will never go back to him again. I constantly complained to him about back problems, that he continued to ignore, turned out i was going into pre-term labor. Thanks to his carelessness to even try and see what was wrong, i went into labor and lost my daughter. Hes all about money and doesnt care about the patients needs.
Nearby Doctors

Dr. Zahid Aslam is similar to the following 3 Doctors near Scotch Plains, NJ.

Dr. Camille Walker

Maternal and Fetal Medicine, Obstetrics and Gynecology

Scotch Plains, NJ 0.08 mi