Rate Now
Share Your Experience
Have you seen Dr. Zoyla Almeida?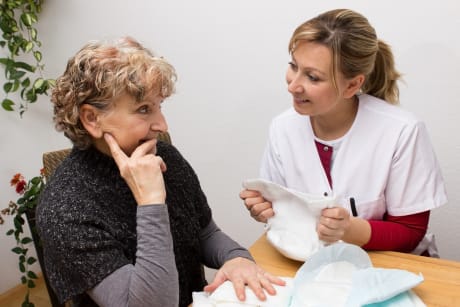 Urinary Incontinence
Learn about the symptoms and causes of urinary incontinence or urge incontinence.
69 Ratings with 31 Comments
1.0 Rating
May 25th, 2017
Beware of this doctor
I had an infection and this doctor told me that I needed a hysterectomy right away. She lacked compassion or sympathy especially seeing that I was a young girl wanting to have kids. I got a second opinion from a wonderful surgeon and he was able to save my uterus. If you ever get this lady as a doctor, stay clear and seek a second opinion.
5.0 Rating
May 3rd, 2017
Very professional and caring! Amazing surgical experience! Have told all my colleagues and family and highly recommend her.
4.0 Rating
May 2nd, 2017
No after care.
First appt with Dr. was easy and fast. No need for a long one, my gynecologist who referred me explained most. Surgery fine, 3rd day of recovery started feeling back to old self. Two weeks in was having terrible pain so I made appt. 4 or 5 appointment later with only pelvic exams being done I realized I was no longer a patient. Told they didn't "feel" anything wrong. Well you might need something more diagnostic then a pelvic. Being told go home take ibuprofen. Well what do most people take at home for pain, ibuprofen and it didn't help the pain and also didn't cure the problem. I was told by a billing friend that you get 90 days of post op care that you nor your insurance is charged for because it is part of the package. Since I was taking up time and energy for a money maker I realized they didn't care about my post op as long as I wasn't bleeding to death. And even though it is a small incision, you still experience real pain, yet I don't think this doctor believes in pharmaceutical grade pain relief.
5.0 Rating
May 2nd, 2017
Great doctor
1.0 Rating
April 29th, 2017
Alarmist Promoting Surgery
I went to this doctor for a second opinion regarding a mass on my ovary. I had seen a well known oncologist first who advised me to have the growth removed but felt it was not cancerous based on my MRI and that there was no immediate need for the surgery but it should be done over the next few weeks. As soon as the doctor entered the room to examine me she announced that I needed surgery and that I should be prepared for a cancer diagnosis. She said if it was her mother she would recommend having the surgery immediately because of the risks. I don't believe that she even looked at the film of my MRI. Her staff is incompetent and appears inexperienced. My advice is to stay clear of this doctor.
5.0 Rating
September 12th, 2016
5.0 Rating
July 25th, 2016
Excellent physician and surgeon. Compassionate to all her patients and meticulous in her care both in the office and in the hospital.
5.0 Rating
June 10th, 2016
3.0 Rating
April 12th, 2016
3.0 Rating
February 28th, 2016
Post Surgical Suffering.
Although my girlfriends surgery went well and her tubes and uterus were removed that was all we saw of the good doctor. She spent no time post surgically to explain anything about what to expect with the healing process and not word about the fact that her hormones would be raging through her body looking for a place to go. It took us over a week the learn that from a offhand comment from her staff. My girlfriend ran out of pain meds. She called to ask for some additional and was told there was no one to write one and she would have to wait for the dr. There is no back up. Her PA was not even available to help her. Finally they called in for 3 day supply of Tylenol 3. And that still was insufficient. When she called on a weekend still very uncomfortable the dr called her back. Said take Tylenol and call me later in the week. No empathy whatsoever to her condition and her minor complications. No apologies for her not explaining the post op emotions she should be aware of either.
Nearby Doctors

Dr. Zoyla Almeida is similar to the following 3 Doctors near Coconut Creek, FL.