Rate Now
Share Your Experience
Have you seen Dr. Alan Munoz?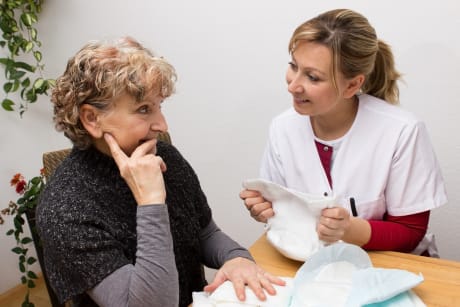 Urinary Incontinence
Learn about the symptoms and causes of urinary incontinence or urge incontinence.
Quality Rating
Highly Satisfied
45 Ratings with 20 Comments
5.0 Rating
December 15th, 2014
Excellent care. He spends as much time as you need to explain your care plan and to assess. He does this for every patient. So the wait time can be a little longer than I like. One year Cancer free and I only want follow up with him. I have changed my insurance so that I can continue with him and his office staff. His staff treats you like family.
5.0 Rating
June 11th, 2014
Caring Doctor
1.0 Rating
February 24th, 2014
In my opinion, BEWARE
In my opinion, BEWARE, Do not go to see Alan Munoz, MD and/or Dr. Alan Munoz, or have, Alan Munoz, MD or Dr. Alan Munoz be your OB/Gyn or your OB/Gyn Oncologist because in my opinion he is a piece of crap and in my opinion he did not tell me the truth or state the truth when he performed my surgery for removal of a benign fibroid on my uterus. And, although I sued Alan Munoz, MD and/or Dr. Alan Munoz and I demonstrated that my right Ureter was SEVERED by him during my operation, and I had to undergo months of recovery due to this injury, the jury found that this was not medical malpractice under the law. Furthermore, because my attorney did not properly plead certain actions that could have been brought against him, I wasn't able to sue Alan Munoz, MD and/or Dr. Alan Munoz for removing my ovaries and my tubes without my final consent and leaving me without ability to bear children. Therefore, if you have the need to go to someone who is an OB/Gyn or an OB/Gyn Oncologist do NOT go to Alan Munoz, MD and/or Dr. Alan Munoz. And if you have any questions about what Alan Munoz, MD and/or Dr. Alan Munoz did to me, go onto the Dallas county District Court website and search his name.
5.0 Rating
November 25th, 2013
I have always been afraid to go to doctors but Dr. Munoz made me feel very comfortable right away. I would recommend him to anyone. I love his caring, loving attitude. God was definitely looking out for me when I was referred to Dr. Munoz. He will always have a special place in my heart and my family's as well. The wait in the office is well worth it since he will take the time to talk with you and answer any questions that you have. He is also a take action now Dr. You cannot go wrong with Dr. Munoz
1.0 Rating
October 18th, 2012
5.0 Rating
November 22nd, 2011
Great Dr... Staff could show a little more compassion
As for the Dr, he is top knotch. Most of the staff is great also. Although there are a few that could work on treaing people like humans and not a number. Overall it is a good office! I have thought about looking elsewhere because of staff issues, but I trust Dr Munoz too much. You will sometimes find that a praticular nurse is listening to you, but not quite hearing you. She tends to over talk you or brush you off. I think its because she has lost touch with the patients. Maybe been in the industry a little too long... You will figure out who I'm talking about quickly.
3.7 Rating
April 27th, 2011
Dr. Munoz is eccentric, which is okay if the result is great patient care. Instead, I felt that as complex as my surgery was, I was given very minimal pre and post surgical time. My questions were barely answered, his dimeanor was questionable, and the results of my surgical report are so highly incompatable with the results of subsequent scans that I have serious doubts that the surgical report was accurate. I have had other physicians and radiologists call him that totally disagree with his surgical report. He may be a genius in his field, but a flawed one, as the genius I saw was a bizarre individual who was no longer in his prime.
3.7 Rating
March 23rd, 2011
reassuring
5.0 Rating
March 18th, 2011
Overall, wonderful physician & staff
I absolutely love Dr. Munoz and his staff (especially the chemo nurses-Stephanie & Michelle). Waiting can be irritating. Not bad forchemo bloodwork, but waiting for Munoz can be incredibly long if his rounds take longer than anticipated (I waited for 1.5-2 hours!). Buythat is the only negative. Staff bends over backwards to comply with your schedule. Overall, I would highly recommend Dr. Munoz and his staff!
5.0 Rating
March 9th, 2011
Gives the time you need...
5.0 Rating
December 13th, 2010
Dr Munoz is a miracle worker
Nearby Doctors

Dr. Alan Munoz is similar to the following 3 Doctors near Dallas, TX.