Rate Now
Share Your Experience
Have you seen Dr. Barry Simonson?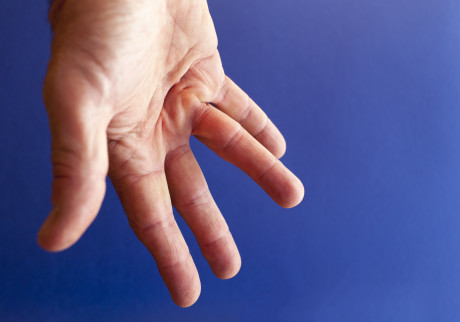 Dupuytren's Contracture
Dupuytren's contracture is a thickening of the tissue beneath the skin of the palm of your hand
Quality Rating
Highly Satisfied
47 Ratings with 11 Comments
2.0 Rating
April 20th, 2017
Doctor ignores 1 of patient's chief complaints
I made an appointment to have Dr. Simonson evaluate my pain in 2 different locations (knee and arm). He evaluated the knee problem and prescribed an appropriate therapy. When I told him I had a similar pain in my arm, he told me they were not related and to make another appointment for that. Hypothetically, If I had come into the office with a broken leg and broken arm, wouldn't he have treated both conditions in the same visit or would he have told me to come back for the broken arm at another time? This is a case of patient reimbursement issues interfering with a doctors clinical judgement. Suppose the two source of pain are coming from a common cause such as the nerves in the spine.. He paid no attention to it and I still have the pain in the arm.
5.0 Rating
August 2nd, 2016
4.0 Rating
June 21st, 2016
5.0 Rating
July 7th, 2015
Life savor
i went to Dr simonson after being told by a previous doctor that my knee pain for a year was caused by knee bruising and sent me to physical therapy. The therapy made the pain even more severe. I went to Dr simonson for a second opinion and i was greeted by a caring staff. When i the doctor came into my exam room he came off as such a caring person with a great sense of humor. He examined my knee and sent me for MRI's the MRI came back clean but this did not stop him he had me come back to his office so he could figure out the problem. He started me with physical therapy because i am an athlete and he didn't want me to have to be pulled from my team. As a final resort he finally decided surgery was the best option. He made room for me on a day he was already booked. While waiting for the surgery i had multiple Emergencies when we called dr simonson he had me come in right away with no wait. He finally went in and discovered i had a large amount of scar tissue and i had a mangled ACL. He cleaned my knee and prescribed me a brace to compete in so i would not have to miss the rest of the season luckily i am back with my team but we have decided an ACL surgery is necessary. Dr. Simonson is probably the only surgeon that is not eager to cut he makes sure there is nothing else that can be done before he opens his patients up.
1.0 Rating
October 7th, 2013
Arrogant doctor
I saw this doctor last week for a problem with my knee. He is arrogant to the point of ridiculousness. For example when he was examining my knee it was very painful. Not once did he sympathize with my pain, nor say anything to calm me. He than said I need X-Rays and I told him I just had X-Rays last week in the same system NS/LIJ, he said listen you come to me and I need my own. Lastly at one point he asked me a question and I wasn't sure I heard him right so I asked him to repeat it. He turned to my friend who accompanied me and said "and she cannot hear either" is that right? Stay away from this doctor and that is the best advice I can give anyone.
2.3 Rating
March 30th, 2013
ex-Patient
Very nice guy; if you dont mind waiting 2 hours to be seen. But it took 7 months and 5 visits for him to tell me i needed shoulder surgery; that's 7 months of not working out. When i called to schedule the surgery, i had a couple of questions - ie: how long before full recovery, and how long after surgery would my shoulder be immobilized. He called me back, but instead of answering my questions, he told me to schedule another appointment. Another 2 hours of waiting. Another $140. How about just answering my 2 questions on the phone, and being content with he $12000 for the surgery?
1.0 Rating
November 19th, 2012
5.0 Rating
September 4th, 2012
5.0 Rating
August 17th, 2012
5.0 Rating
July 14th, 2012
Very caring, knowledgeable, great bedside manner. Excellent follow-up care. Would recommend him highly!
5.0 Rating
August 30th, 2017